Milwaukee Bucks vs. Boston Celtics Pick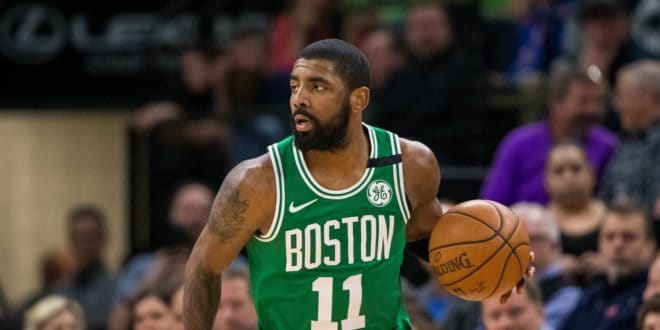 Milwaukee Bucks (21-9, 15-13-2 ATS) vs. Boston Celtics (18-12, 15-15 ATS)
When: Friday, December 21st, 2018 – 8:00 pm ET
Where: TD Garden – Boston, MA
TV: ESPN
By: Kyle Cash, NBA Basketball Handicapper, Predictem.com
Point Spread: MIL +1.5/BOS -1.5 (Intertops)
Total: 224.5
NBA Advent
To celebrate the holiday season, let's countdown with a fun NBA fact or statistic related to the number of days left until Christmas:
5 – Despite playing nearly simultaneous careers, it's not often that Tim Duncan and Kobe Bryant are brought up together in the same breath. If we were to think of them as great musicians, Duncan would've been more of a smooth jazz saxophonist while Kobe would've been shredding gnar on the electric guitar like Jimi Hendrix. But both legends came away with 5 titles a piece, and it led to two of my favorite all-time GIFs: both Kobe and Gregg Popovich counting on their fingers, extremely cocky and condescendingly, to five. Pure magic. I love NBA Twitter so much.
Last Night in the NBA
God damn – it feels good to win. I've almost forgotten what it's like to lose. How are those plebs over at Docs Sports doing? Not as well as Kyle Cash? Pity. Thank you, Miami nightlife!
With the holiday games fast approaching, the NBA has decided to award us with a juicy 10-game Friday night slate. I've already focused my attention to a Saturday evening showdown between the Raptors and the 76ers, but I suppose this slate will do as well. I'm salivating at the AD-LeBron match-up, but they say to keep your friends close and your enemies closer, so let's check in on the Boston Celtics. They are set to take on Giannis Antetokounmpo (again, no spell check needed) and his daunting Bucks squad in TD Garden in ESPN's premiere primetime slot, and it's a potential playoff matchup worth monitoring. The Celtics check in as a slight 1.5-point favorite with the total set to somewhat stunning 224.5 points. May the best man win (Giannis – Giannis is the best man).
Buck-le Up
Despite the league's second best record, the Milwaukee Bucks have been unable to string together long win streaks, and injured players coming in and out of their rotation is only adding more headaches. However, the Bucks were apparently good this year, and Santa has gifted them with a lovely holiday schedule: @Miami, @Knicks, Knicks, Brooklyn, Detroit and Atlanta. Giannis has led his team in points, rebounds and assists in 8 of their 30 games, and if he continues scorching his opponents, the rest of the East is going to need to add "Figure out how to beat the Bucks" to their list of New Year's Resolutions.
Before they get to a nice stretch of bad teams, the Bucks are going to have to contend with one of the teams they expect to have to go through to get to the Promised Land. Unfortunately, Brad Stevens and his crew know the Bucks inside and out from their playoff matchup last season, and this will be one of Milwaukee's toughest tests to date. Boston is the 3rd-best defensive team in the NBA while moving at the league's 9th-slowest pace, so the Bucks will need to squeeze out every drop of their 3rd-ranked offense to generate points. In a low-scoring, tightly contested affair, it's hard to shy away from the Bucks. They're 14-1 in games this season where they hold the opponent to less than 110 points, and with Horford's absence and a hobbled Marcus Morris, I don't love Boston's chances of topping that number.
The Boston Massacre
Oh my. There have been a couple of eye-raising losses this season, but the Celtics losing at home to a 6-win Suns team was definitely one that caught my attention. The counting stats for the Celtics are trending up, but their 18-12 overall record isn't as impressive when you see their 29th-ranked strength of schedule. Similar to the entirety of the Western Conference, the East has a cluster near the top of similarly talented teams, and Boston is clearly not the shoe-in Finals team that everyone assumed they would be.
Boston has a big date with the 76ers on Christmas Day, but they'll have to warm up versus the Bucks and the Hornets first. The Celtics are lucky to spend all of this week in their home arena, and let's hope that the Bucks can wear them down before Christmas. Milwaukee likes to push the tempo and shoot 3s, and Boston should be able to use that to their advantage. With their 1st-ranked defensive effective field-goal percentage, Boston is going to funnel Milwaukee toward the mid-range area where they are least comfortable. The Bucks only attempt 5% of their shots from 10-16 feet, good for the lowest mark in the league, and they only convert on 37% of them. In theory, the more mid-range that Milwaukee is forced to take, the worse they will do. But without Horford commandeering the back-line, coordinating a balanced counterattack is going to be easier said than done.
Best Bet
The thing that I'm most surprised about is seeing Intertops push the total all the way up to 224.5 points. Both teams are in the top-13 in Offensive Rating, but they both make their bones with their top-5 defenses. In 7 playoff games last season, they only went over that total mark once. Lock in the under. To make things a little spicy, let's go ahead and parlay that with the team we think is going to win. With a 1.5-point spread, we can feel pretty comfortable saying that the winner will cover. Boston was able to dispatch a couple of bad teams (Atlanta, Chicago, Washington) without Al Horford, but his stout defense is going to be sorely missed in this one. Kyrie has started to come alive Undertaker-style and is back to his superstar ways, but there's only one Greek Freak. Most importantly, the Bucks are not afraid to go into an opponent's stadium and ruin their fans' night. With road wins over Charlotte, Detroit, Golden State and Toronto already on their resume, the Bucks should be looking to add another notch in their bed post in TD Garden on Friday night. The Celtics will try to make this ugly, but the Bucks prevail late and secure another signature win. Under, Bucks, parlay. Dealer's choice.
Final Score Prediction: Milwaukee Bucks 108 – Boston Celtics 104