[et_pb_dcsbcm_divi_breadcrumbs_module hide_homebreadcrumb="off" homebreadcrumbtext="Home" separator="sep-raquo" hide_currentbreadcrumb="off" homebreadcrumborientation="left" _builder_version="3.8″ fontsbreadcrumbs_font="Lato||||||||" fontsbreadcrumbs_text_color="#000000″ fontsbreadcrumbs_font_size="15px" fontsbreadcrumbs_line_height="16px" fontsseperator_font="||||||||" fontsbreadcrumblinks_font="||||||||" fontsbreadcrumblinks_text_color="#2567cf" custom_margin="25px|||" custom_margin_phone="30px|||" custom_margin_last_edited="off|desktop" custom_css_main_element="font-family: Helvetica Regular;" disabled="on" global_module="3641″ saved_tabs="all"][/et_pb_dcsbcm_divi_breadcrumbs_module]
Phoenix Suns vs. San Antonio Spurs Pick ATS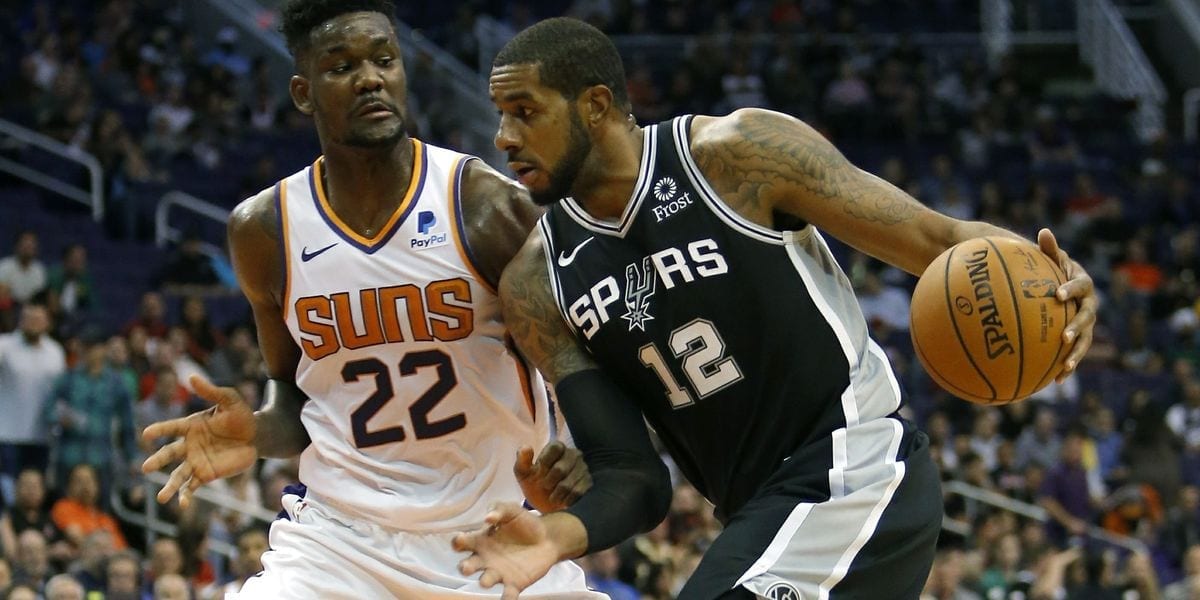 Phoenix Suns vs. San Antonio Spurs Preview – Pick ATS
When: Tuesday, December 11th, 8:35PM ET
Where: AT&T Center, San Antonio, TX
TV: Fox Sports Arizona (686 on DirecTV)
Point Spread: Pho +12.5/S.A. -12.5
Total: 216 (Opened at 218)
Power Rating: Spurs -14
The Spurs are in a Smash Spot Tonight
As a handicapper with 20+ years experience, all I really care about is if a team covers. It doesn't matter to me whether it's by a half point or 20 points. It's all the same in the end. The Same can be said for losses. I don't usually predict blowouts as they're not common and if I were to prognosticate such an event and it doesn't happen, it makes me look like a bozo. Even if the chosen team covers.
More Basketball Picks: Blazers at Rockets | Nova at Pennsylvania
With that being said. I'm going off the rails and predicting a blowout win by the Spurs tonight. I think they DOUBLE tonight's spread and win by 25.
Historically speaking, the Suns have been Coach Popovich's punching bag, as he's gone 15-3 against Phoenix in their last 18 matchups. More recently, the Spurs have won 3 of the last 4 by margins of 30, 48 and 14, with the larger margin wins being AT Phoenix.
More importantly, that lone loss is our focus tonight, and is likely to be the Spurs motivation to really "stick it" to the Suns this evening. That game was played on November 14th and the Suns not only beat the Spurs, they ran the score up on them 116-96. You better believe this will be bulletin board material tonight. Furthermore, the Spurs have played their best after revenging a loss, covering 9 of their last 10 contests when in that spot.
More Reasons I'm Betting the Spurs
Phoenix simply doesn't play well at the AT&T Center. In their last 7 games at San Antonio, they've lost by spreads of 14, 17, 21, 33, 14 and 16 points.
Phoenix will be without Devin Booker tonight. He's missed the last four games and the Suns have struggled to stay competitive in those contests, losing by margins of 17, 22, 17 and 4. Booker has missed four other games this season and Suns had the same issue, losing all four of those games by margins of 14, 30, 7 and 21 points. In summary, Booker has missed 8 games this season. The Suns have lost all eight by an average of 16.5 points per game.
The Suns are shooting 43% from the field and allowing 50% on defense over their last five games.
The Suns have shot 38 and 39% in their last two road games.
The Suns have lost their last 3 road games by 22, 24 and 16 points.
San Antonio has shot 51% from the field over their last 5.
The Spurs have shot 52, 50 and 60% in their last 3 home games.
The Suns are likely in tank mode. Furthermore, there's off-court turmoil which doesn't help. F Trevor Ariza is said to be on the trading block and can be gone at any second and Josh Jackson was recently quoted as saying the Suns have lacked success due to "instability", having had three different head coaches and two different general managers in the 14 months since the start of his rookie season. He's right!
Injuries
Suns Devin Booker will miss with a hamstring.
Suns Troy Daniels is questionable with a facial issue.
Spurs Davis Bertans will miss due to personal reasons, which is great, because this guy doesn't really fit into their chemistry.
Pau Gasol and Dejounte Murray have been out for quite some time with long term injuries.
Betting Trends
S.A. is 18-7 ATS in their last 25 games at the AT&T Center.
The Spurs have covered their last 5 at home vs. the Suns.
Phoenix has only covered in 1 of their last 9 games including 0-5 in their last five.
The Suns are 1-5 ATS in their last five road contests.
Phoenix is 5-15 ATS vs. teams that average 106+ points.
Kevin's Pick to Cover the Spread
With NBA players being prepaid gigantic contracts and living the lifestyle they do, one never really knows what kind of motivation they're going to get from a team on any given night. The stars are aligned here though. No Booker, no recent success at San Antonio, the Spurs having bulletin board material to revenge an UGLY 20 point loss and the Suns potentially tanking for the first pick in next year's draft, all point to a smash spot tonight in the lone star state. I'm betting the Spurs -12.5 at -105. For more articles like this and some occasional humor, please consider following me on Twitter @PredictemPicks. Thanks!