[et_pb_dcsbcm_divi_breadcrumbs_module hide_homebreadcrumb="off" homebreadcrumbtext="Home" separator="sep-raquo" hide_currentbreadcrumb="off" homebreadcrumborientation="left" _builder_version="3.8″ fontsbreadcrumbs_font="Lato||||||||" fontsbreadcrumbs_text_color="#000000″ fontsbreadcrumbs_font_size="15px" fontsbreadcrumbs_line_height="16px" fontsseperator_font="||||||||" fontsbreadcrumblinks_font="||||||||" fontsbreadcrumblinks_text_color="#2567cf" custom_margin="25px|||" custom_margin_phone="30px|||" custom_margin_last_edited="off|desktop" custom_css_main_element="font-family: Helvetica Regular;" disabled="on" global_module="3641″ saved_tabs="all"][/et_pb_dcsbcm_divi_breadcrumbs_module]
Portland Trail Blazers vs. Houston Rockets Pick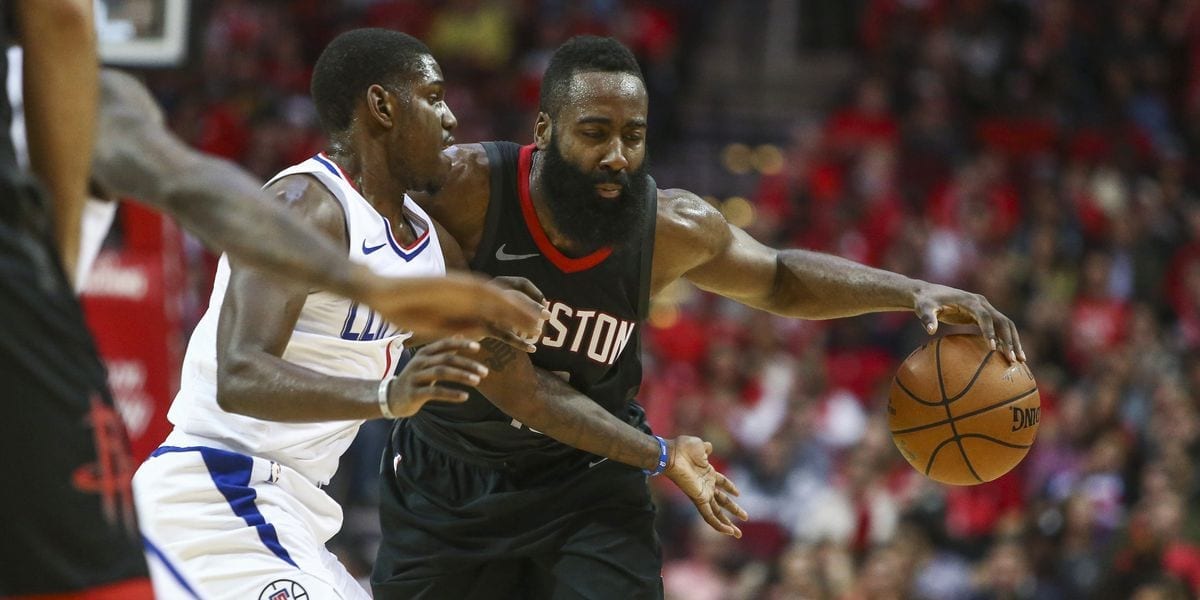 Portland Trail Blazers (15-11, 13-13 ATS) vs. Houston Rockets (11-14, 9-16 ATS)
When: Tuesday, December 11th, 2018 – 8:00 pm ET
Where: Toyota Center – Houston, TX
TV: NBATV
By: Kyle Cash, NBA Basketball Handicapper, Predictem.com
Point Spread: POR +6.5/HOU -6.5 (Intertops)
Total: 219
NBA Advent
To celebrate the holiday season, let's countdown with a fun NBA fact or statistic related to the number of days left until Christmas:
15 – I've had the idea for this one for two weeks, and I'm glad that the day is finally here. Outside of the first couple of picks, the NBA Draft is largely a crapshoot. That's how you end up with guys in the teens becoming All-NBA caliber players. But the 15th spot is arguably the oddest spot of them all. I've never made my own "Top-100 Players of All-Time" list, but I would have to think that Giannis Antetokounmpo (future MVP), Kawhi Leonard (Finals MVP at age 21), and Steve Nash (no qualifier necessary) would all make be a part of it. Their NBA Draft selection number? 15th. Further proof that nobody knows anything.
Last Night in the NBA
Unfortunately, my East Coast roots and 9-to-5 civilian work schedule have prevented me from enjoying the fruits of my labors and watching every NBA game, but I'm going to go ahead and assume that I predicted the Lakers-Heat score exactly. If I was wrong, blame LeBron.
Luckily for me, my schedule was free during the evening, and I got to enjoy another wonderful 76ers victory over my son's school bully Andre Drummond. Okay, you're right – Joel is the bully. Don't blame the parent. To make it sweeter, Blake Griffin even took the night off to avoid the embarrassment of having his ex-girlfriend's new younger, better looking and more talented boyfriend dunking on him repeatedly. I'm Team Kendall all the way. Elsewhere in the Association, Boston dismantled the Pelicans using their JV squad, the Kings continue to look like a playoff team and every Mavs fan shouted "Halle-Luka!" as Dallas successfully turned Orlando back into a pumpkin yet again. One of these seasons, Orlando will figure out that the season is longer than 20 games and maybe make a playoff run. But it will not be this year.
With a small Tuesday night slate offered by sportsbooks, let's head back down to Houston and give a shot at redemption to the aimless Rockets. The last two times that I picked the Rockets to win, they succeeded in taking a giant dump on my hopes and dreams, but maybe things will be different this time around (or maybe I'll pick against them). The Rockets are hosting the Portland Trail Blazers and laying a head-scratching 6.5-points to their visitors in a game with a total set to 219 points. Fool me once – shame on you. Fool me twice – eff you, Houston.
Follow the Trail of Bread Crumbs
If you do, you'll find one of the more entertaining teams in the NBA. Portland's defense has nearly fallen off of a cliff after a blazing (get it?!) hot start, and they've countered by ramping up their offensive intensity. They currently sit at 8th in the NBA in Offensive Rating thanks to their stellar backcourt play. More importantly, Portland has had to suffer through the 5th toughest schedule in the NBA to date, and now is the time to buy-low on them as they surge back towards the top of the Western Conference standings. They may not be a title contender just yet, but they are certainly a squad that no team, even the Warriors, are going to want to see come playoff time.
In order to get to that point, however, Portland has to take care of the business at-hand. One of the indicators of a good team is going on the road and laying the smackdown, but Portland has been relatively average away from home so far. However, their best road win came against this very Rockets team in a 19-point rout that felt more like 30. James Harden was out for that game, but the fact that Portland did the old Milton Berle and only pulled out as much as they needed to (don't look that reference up) is an encouraging sign for their chances in this one. Lillard has had so-so run-ins with Harden in the past, but the memory of his playoff performance from a few years ago, including a series-ending buzzer-beater 3, looms large in my mind, and I love everything about the Trail Blazers in this match-up.
Houston – We Have a Problem
I believe that is the second time this year that I've used that subheading, but it's just so apropos that I feel obligated. Last season through 25 games, the Houston Rockets were 21-4 with a +11.0 point differential. This year? 11-14 with a -1.4 point differential. They are currently on pace for the 3rd biggest drop-off by a 60- win team. The others? The post-Jordan Chicago Bulls and the first post-LeBron Cleveland Cavaliers. Last time I checked, this team still had the reigning MVP, and in fact, his numbers have been nearly identical across the board. Nothing significant has changed about this team – so why are they so bad? This team has a mystery diagnosis, and they are going to need Dr. House to solve their case.
The Portland Trail Blazers are not exactly the best opponent for a get-right game. There are no nights off in the Western Conference, but a double date with Damian Lillard and C.J. McCollum is not the way that James Harden and Chris Paul want to spend their Tuesday night. In some ways, Houston and Portland are mirror images of each other; a stellar backcourt, a bruising center, and a splattering of shooters and wing defenders sprinkled throughout. Houston created the mold, and Portland traced over it with a pencil.
Unfortunately, the Trail Blazers are executing Houston's playbook better than they are this season. Houston takes (and makes) more 3s, but Portland is a superior defensive and rebounding unit. The way to disrupt the Trail Blazer's offense is by forcing the ball out of their guards' hands with stout guard defense. With Chris Paul's tweaked hamstring and James Harden's matador impression, that may be easier said than done for the Rockets.
Best Bet
Welcome to the Fishiest Line of the NBA Season! As currently constructed, I'm not sure that the Houston Rockets should be 6.5-point favorites over the Duke Blue Devils, let alone the Portland Trail Blazers. The reeling Rockets have lost 7 of their last 9 games, including a 20-point thumping at home versus the Rookie of the Year Luka Doncic. Other losses: Cleveland, Washington, Minnesota, Detroit, and the Utah Jazz in the midst of a tailspin of their own. I'm not going to sit here and pretend that Portland has been lighting the world on fire, but losses to Golden State and Milwaukee on the road and two up-and-coming teams in the Clippers and the Nuggets don't exactly have me hopping off of Portland's bandwagon.
Unless this is an Eight Men Out situation for the Trail Blazers, I can't imagine them failing to stay with 6.5-points of James Harden and the rest of the Lost Boys. This is either a devastating trap or free money. Either way, I'm going to take the bait at Intertops, use a re-up Bonus, and hope I don't get reeled in. No stat-breakdowns necessary; Portland is better, and they are probably going to win. Say it with me: Portland Moneyline. +225. Portland – OUTRIGHT!
Final Score Prediction: Portland 118 – Houston 114