Minnesota Timberwolves vs. Denver Nuggets Pick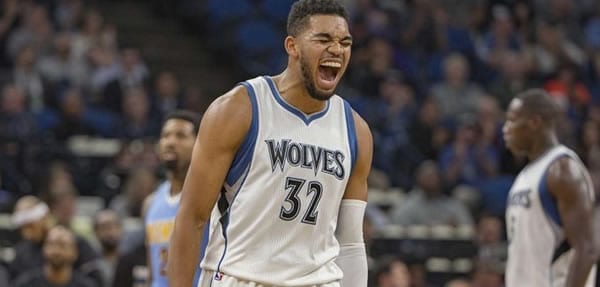 Minnesota Timberwolves (36-45, 39-41 ATS) vs. Denver Nuggets (53-27, 42-40 ATS)
When: Wednesday, April 10th, 2019 – 10:30 pm ET
Where: Pepsi Center – Denver, CO
TV: Local TV Only
By: Kyle Cash, NBA Basketball Handicapper, Predictem.com
Point Spread: Nuggets -10
Situations:
MIN: 3rd in 4 nights, Last game – Tue. vs. TOR, Next Game – Eliminated
OKC: 3rd in 4 nights, Last game – Tue. @ UTA, Next game – Saturday/Sunday
Last Night in the NBA
And that's all, folks. Anthony Davis' T-shirt summed up all of the thoughts I had perfectly. It was a wild ride through the 2018-19 NBA season. We went on crazy winning streaks and weathered heartbreaking defeats, and in the end, we properly split our money between Luka Doncic and Trae Young for Rookie of the Year, just like I told you. Don't go back and read that first NBA article I ever wrote – there's absolutely no talk about Deandre Ayton in there. Just take my word for it. I would never lie to you.
Tonight, let's put a bow on the regular season with a game that I will politely refer to as a "one-sided affair." Denver just snatched victory from the jaws of defeat from Houston thanks to their Lord and Savior Russell Westbrook, and the fate of the 2-seed now rests in their hands. Win and it's theirs to have. Lose and they slip to 3rd for a likely match-up with that very Thunder team. The same team that gave us the L with final second game winner. Sportsbooks are keeping their cards close to the vest this week, but let's give our analysis before choosing Denver by 20. How's that for foreshadowing?
Playing for Pride
There have been two championships won in Minnesota's stadiums over the last 15 months, but neither one of them were by a Minnesota sports team. With Andrew Wiggins' contract dragging Minnesota down like an anchor, a path to relevancy is more muddled than it has ever been. A few years ago, Minnesota was stockpiling picks and young talent and looked to be a potential powerhouse in the Western Conference. They had Kevin Garnett mentoring Karl-Anthony Towns and were on the verge of cashing in their chips for a marquee superstar – some guy named Jimmy Butler. And the rest is history. For the lovely people of Minnesota, I hope that Kirk Cousins can string a few Ws together this fall.
With nothing but pride on the line, it all comes down to Minnesota's will to win. I expect that the sportsbooks won't be a fan of the TWolves' roster on Wednesday night, so the question becomes this: can they do enough to stay in the game?
Prior results have indicated that they can. Despite whittling down their rotation to the bone over the past few games, they have yet to be blown out; they lost by 9, 10, and 6 respectively to Philly, Portland, and OKC over the last week and a half alone. Ryan Saunders has proven himself to be a competent up-and-coming coach, and if you feel confident in Minnesota's ability to keep things close, I won't talk you out of it. There's worse guys in the world to wager on than Josh Okogie and Tyus Jones (see: Stephenson, Lance).
Nothing Wrong with Silver
Ricky Bobby might adhere to a "If you ain't first, you're last" mantra, but second place is a massive achievement for the Denver Nuggets. Their last foray into the playoffs resulted in a devastating loss to an up-start Warriors team, and their sacrifice paved the way for the best basketball team of the 21st century. Now, they have a chance to complete the loop and meet the heavily-favored Warriors in the Western Conference Finals and end the dynasty that they began. And after seeing UVA win the title this year, I'm beginning to believe in the cyclical and poetic nature of sports more and more.
But we're way too far ahead of ourselves. First, Denver needs to timber the Wolves and lock up the 2-seed. Luckily for them, they shouldn't have a problem against a wholly uninterested Minnesota team. Gorgui Dieng is the current focal point of the Timberwolves' offense, and Denver's top-10 defense should have no problem taking him out.
50% Cash up to $250

Even if Minnesota trots out their A-team to try to play spoiler, Denver owns a 3-0 series lead against the Wolves this season. Jokic has surrendered nearly 30 points per game to KAT this season while playing poorly himself, but it's a testament to the talent around him that they still dispatched Minnesota in all three meetings. In the worst-case scenario, KAT plays through his knee pain for pride and caps off an All-NBA season with one last hurrah. Best-case scenario: Denver's starters are sipping on champagne on the bench by the time the 4th quarter rolls around. Hint: I'm thinking it's the latter.
Best Bet
I told you I wouldn't lie to you. Denver has been sneaking in rest for their starters as of late, but with a loss to the Jazz last night, they have no choice but to lace 'em up tonight against the Timberwolves. Minnesota, due to a rash of injuries and general disinterest in victory, has been broken down into a glorified G-League roster, and they have no vested interest in the outcome of this game. There's always some chicanery that goes on in the last day of the NBA regular season, but my money is on the outcome that happens every year: the Knicks accidentally win one too many games and knock their odds for Zion down a peg (relax, Knicks fans – you already locked up the worst record. It's just a joke). But this isn't the game for that, and Denver should smoke Minnesota right out of the building and to their local recreational marijuana clinic. No drug tests for five months, T-Wolves. Feel free to indulge.
Final Score Prediction: Denver 125 – Minnesota 97
Who else wants $60 of FREE member picks & predictions?