Portland Trail Blazers vs. Denver Nuggets Pick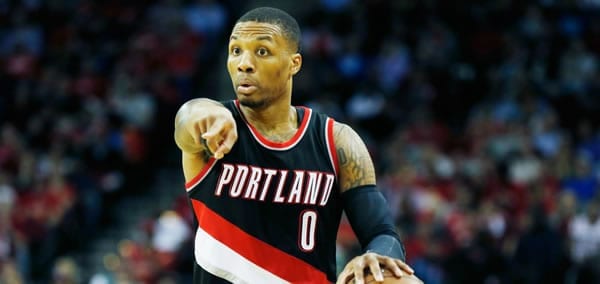 Portland Trail Blazers (50-28, 44-33-1 ATS) vs. Denver Nuggets (52-26, 40-38 ATS)
When: Friday, April 5th, 2019 – 10:30 pm ET
Where: Pepsi Center – Denver, CO
TV: ESPN
By: Kyle Cash, NBA Basketball Handicapper, Predictem.com
Point Spread: POR +6.5/DEN -6.5
Total: 216
Rest:
POR: Last game – Wed. vs. MEM, Next game – Sun. vs. DEN
DEN: 3rd in 4 nights, Last game – Wed. vs SAS, Next game – Sun. @ POR
Last Night in the NBA
Okay, I may have overthought that one last night. That's my bad. People make mistakes – some people make the wrong NBA betting predictions, and some referees let a visiting team shoot 43 free throws to the home team's 18. Nothing fishy about that at all, @OfficialNBARefs! Also, the Warriors handed us a B- game to work with: the Lakers just absolutely blow.
Tonight, I have date night scheduled with the wife, so I'm glad I'll have a 10:30 pm game to fall back on when she inevitably falls asleep on the couch. I'll be able to indulge in a game with actual seeding ramifications as the Denver Nuggets look to secure home-court advantage over Portland Trail Blazers. With PDX down to their 10th, 11th, and 12th men, they find themselves as 6.5-point underdogs with the total set to a grizzly 216 points. Help us, Damian Lillard – you're out only hope!
The Lone Survivor
Despite Portland being down to one solo gunman in Damian Lillard, the Trail Blazers have still managed to wrap up their 50-win season with a neat little b ow. They're in the midst of an 11-2 stretch over their last 13 games, and they've lost as many starting players as they have games during that time frame. Both McCollum and Nurkic have been sidelined with varying degrees of injuries, and they were thought to be turning into easy prey come playoff time. Instead, the supporting cast has been excellent in their starring roles, and Enes Kanter, Seth Curry, and Evan Turner have been able to make valuable contributions. Surprisingly, Lillard's numbers have dwindled over the last 10 games; you would expect that he be on a tear if they're winning games. Maybe Portland is actually a real team now – Who knew?
More NBA: Celtics vs. Pacers Pick
The sad truth of the matter is that Portland doesn't match-up well with Denver. Nurkic was their best shot at slowing down Jokic, and he roasted the Blazers to the tune of 40 points in their last meeting. Denver has switchable wing and guard defenders and a coach that knows how to use them; they are going to hound Portland at the point of attack and get the ball out of Lillard's hands.
If PDX is going to steal a W here, they're going to need to rely on their offensive rebounding to get them extra opportunities. They still own a top-five offense on the books, but I'm dubious of their chances tonight short-handed against an improved Denver defense. Fingers crossed for you, Portland.
Second Team All-NBA
I understand that Jokic is an awesome and unique talent, but the First Team All-NBA narrative needs to stop. Jokic may be more important to Denver's success than Embiid is to Philly's (debatable), but that's the exact reason why he shouldn't surpass Joel. You and I know all too well that Denver has repeatedly gotten their asses handed to them in big spots, and most of the blame lies on Jokic's shoulders. He does a lot of impressive things on the basketball court, but taking over in a dominant fashion isn't one of them. His numbers are eye-popping, but he's basically their point guard; let's not pretend that his assist statistics are outside of the realm of possibility for what a guard could average in the same role. Final verdict: Jokic is awesome and an MVP-level candidate due to how important he is to his team, but Embiid had a better season. Numbers never lie.
With that being said, Jokic is going to extremely important to take down the Blazers tonight. His former teammate Nurkic won't be down low to bang bodies with him, and his numbers should sky rocket. Bless Enes Kanter's heart, but his defensive arsenal is dried up. It's going to be a blood bath.
Unless Denver turns in another crapfest like they did versus Washington last weekend. When your starting five goes 5-25 from 3, it's probably a bad sign. And that's the problem with Denver; they are littered with young, inconsistent talent, and they can look like entirely different teams in two different games. As the professionals like to say: you gotta make shots to win the game. Hopefully Denver can do so tonight.
50% Cash up to $250

Best Bet
I know that I am a world-famous Denver doubter, but I think I may be throwing my hat in the ring with them tonight. I was in my own head last night, and I need to just use my muscle memory to get back on the horse. Denver is supremely motivated to secure their home-court advantage and Portland seems pretty content with their seeding. If they could leapfrog Houston to avoid a 2nd round date with the Warriors, I'm sure they wouldn't be shedding any tears. But the reality is that Portland is in survival mode right now, and they're doing all they can not to break down or suffer any more injuries before the playoffs. No team is going to be afraid of a first-round matchup versus the banged up Blazers, and they should be more worried about energy conservation than taking down Denver in their home arena. Also, Portland closes with a second date versus Denver followed by a Lakers/Kings tandem that will surely pad their stats. This isn't the game they need to worry about winning, and I don't think they will. Save it for the post-season.
Final Score Prediction: Denver 113 – Portland 101