NBA Prediction: San Antonio Spurs vs. OKC Thunder Pick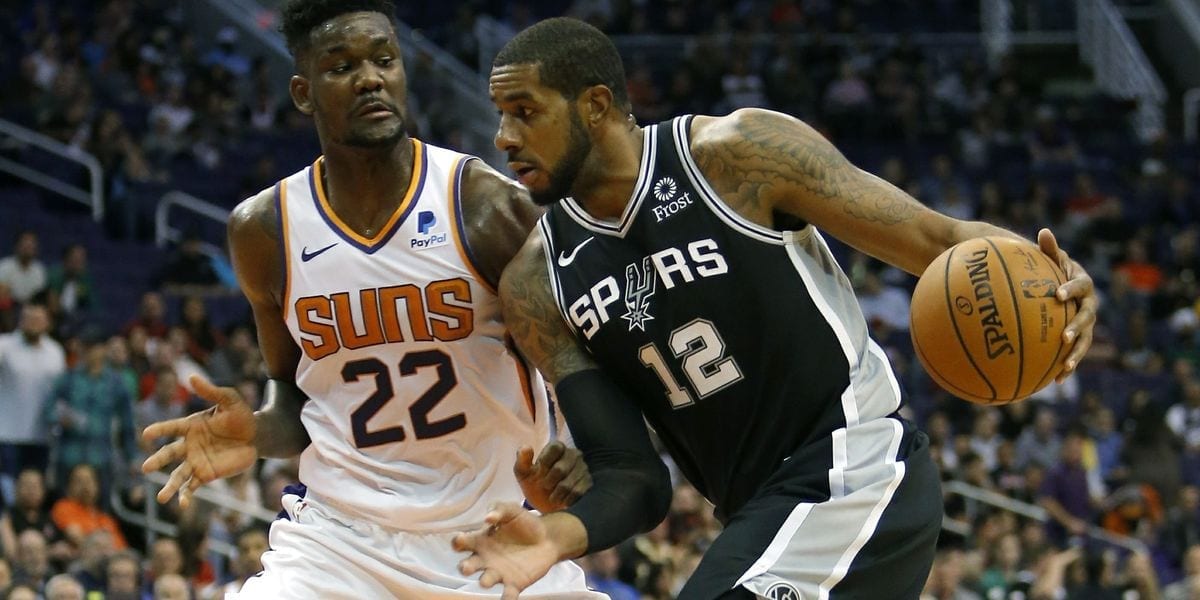 San Antonio Spurs (25-18, 26-17 ATS) vs. OKC Thunder (25-16, 22-19 ATS)
When: Saturday, January 12th, 2019 – 8:00 pm ET
Where: Chesapeake Energy Arena – Oklahoma City, OK
TV: NBATV
By: Kyle Cash, NBA Basketball Handicapper, Predictem.com
Point Spread: OKC -5.5 (5Dimes & Bet365)
Last Night in the NBA
I have to admit – I'm even starting to impress myself. I think that in the beginning of the season, I was blinded by my excitement to finally be living my dream of having my own column to write about hoops. Between that and my preconceived notions about teams coming into the season made for a slow start, I was bound to have a few slip-ups. But we're in mid-season form now, and there's no end in sight. If I keep up this pace for the rest of the year, I might be able to quit my day job. Fingers crossed.
While I was celebrating, the Sixers were swooning, and back-to-back losses to the Wizards and Hawks do not have me stoked for their upcoming slate of games. Elsewhere in the NBA, James Harden created an X-rated box score that should only be viewed by children with adult supervision, Steph Curry slid into the 3rd all-time slot for 3-pointers made, and Luka went full Luka. At some point, we're going to have to talk about Luka, but I'll hold my thoughts for now. But boy, oh boy – I have thoughts.
They say you can never have too much of a good thing, and when it comes to games between the Spurs and the Thunder, I tend to agree. The rematch is set to tip off right before the Cowboys meet their maker, and if the Thunder have their way, it's going to be a sad night in Texas. For some reason, online sportsbooks have yet to provide a line on the game, so I'll make my analysis and give my score prediction and you can fill in the Mad Libs later. Sound like a deal? Perfect.
I imagine @luka7doncic looks at D-Rose after and says "Hi, My name is Luka, How you say… Uhh uh, I leev upstar from you haah haaah. You see me before. Yes?" #Luka #Mavs #Mavericks pic.twitter.com/VMEITuj6py

— Predictem (@PredictemPicks) January 12, 2019
L.A. Confidential
I stayed up way past my bedtime in order to watch LaMarcus Aldridge dismantle the Thunder, and there's something obtuse about watching a guy score 56 points without shooting a single 3-point shot in 2019. Like watching a dog walk on its hind legs. It's not like the Spurs are incapable of making 3s – quite the contrary, in fact. They canned 14 of them in a row versus the Thunder, and as a team, the Spurs lead the NBA in 3-point percentage. Bryn Forbes, Patty Mills, Davis Bertans – these guys can let it fly. My advice to them: let it fly!
If the Spurs plan on scoring 154 points again on Saturday night, my analysis can end here. But if OKC decides to change a few things, we may see a drastically different basketball game. Say it with me: past performance does not indicate future production. It's the wrong way of thinking, but at the very least, we can learn from what went down the other night. The Spurs were more efficient from the field and from the free throw line, and it won them the game. But as the visiting team, they'll be much less likely to have a favorable whistle in this one. Part of the reason LA was able to get into such a groove was that he gained confidence through his 16 free throw attempts. Without that boost, the entire blueprint of the game could've been altered.
With their scoring outburst, the Spurs now sit as the 6th best offensive in the NBA by offensive rating, and they're ability to make shots and take care of the basketball have been the two biggest reasons for their success. The bad news is that the Spurs look more like the Flint Tropics when they're on the road, and they're only 3-10 as a road underdog. That is almost assuredly the spot they'll find themselves in tonight, and I'm not convinced they have another tour de force of scoring left in them. Prove me wrong, Spurs.
OK Can You C…
When the number one defense in the entire league allows 154 points in a single game, something went horribly wrong. The sick irony is that Russell Westbrook, long chastised for his erratic and often ill-timed shot selection, played one of his most beautiful games. The perfect blend of defensive intensity and playmaking for himself and others saw him soar his way to an absolutely ridiculous stat line. But with Paul George (predictably) coming up short when his team needed him the most, I was left wondering what would've happened if savage Russ had come out to play for just one possession in that one. Balance is key, and if Russ ever strikes the perfect chord – look out.
The Spurs better hope that today is not the day that Russ puts the puzzle together. Despite the best shooting performance of their lives, the Spurs didn't manage to knock OKC down any pegs as they still preside over the league's best defense by defensive rating. The Thunder did an excellent job rebounding the ball and punishing the Spurs' lack of a rebounding big, and they would be wise to build on that strength in tonight's affair. Steven Adams is, to put it bluntly, a big sonofabitch, and more involvement from him in the unstoppable Russ-Adams pick-and-roll action is just what the doctor ordered. Good luck figuring out how to stop that one, Pop.
Best Bet
This is the part of the movie when the hero (Russell Westbrook) goes through some type of montage. It's right after his daughter gets kidnapped or his wife gets murdered or his dog goes missing. Right now, Westbrook is in his house stockpiling his weapons, doing pull-ups and push-ups, and mapping out the blueprint for his revenge. San Antonio's home-road splits are too drastic to be ignored: 114 points per game and allowing 105 at home, but 110 points per game and allowing 113 on the road. A 12-point swing is more than enough to tilt the pendulum towards OKC's favor, and I think that we might be in for a vintage Westbrook game. It's been far too long! With John Wick 3 set to hit theaters early this summer, it's only fitting for Westbrook to give us a tiny preview of the chaos and bloodshed that is sure to be littered throughout that film. If I've said it once, I've said it 1000 times: bet against Russ at your own peril.
Final Score Prediction: OKC Thunder 122 – San Antonio Spurs 106