49ers vs. Rams Pick ATS 11/29/20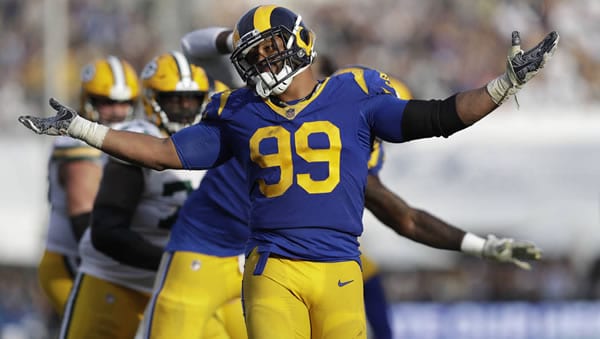 San Francisco 49ers (4-6 SU, 4-6 ATS) vs. Los Angeles Rams (7-3 SU, 6-4 ATS)
Week 12 NFL
Date/Time: Sunday, November 29, 2020 at 4:05PM EST
Where: Sofi Stadium, Inglewood, California
TV: Fox
Point Spread: SF +7/LAR -7 (GTBets - Deposit $100 to $500 and get a 100% real cashb bonus! The ultimate bankroll booster!)
Over/Under Total: 45.5
The San Francisco 49ers come to SoFi Stadium on Sunday for an NFC West battle with the Los Angeles Rams. For the Niners, they finally got the bye week, a deserved respite if there ever was one. Let's face it, the defending conference champions aren't going to achieve similar heights this season, but they soldier on nonetheless, losers of three straight and completely decimated by injuries in a manner seldom seen in team sports. Coming off a two-touchdown loss on the road to the Saints, they now face their fourth road spot in their last five games when they take on a Rams team that scored a nice win on the road on Sunday night in a 27-24 win over Tampa. At 7-3, they are now atop the NFC West, having beaten Seattle already this season. Can they take another step forward in this big divisional game at home?
First Game: Hope for the Niners?
By week 6, the Niners were already crushed by injuries, and they still managed to pin a 24-16 win on the Rams at home. I suppose a potential 49ers' backer could glean some hope from this result—at least on the defensive side of the ball where the 49ers are ultra-battered, with at least a semblance of their former venom. But the offense had one of its rare healthy periods in Week 6, and all the productive pieces from that victory are gone—Jimmy Garoppolo, Raheem Mostert, George Kittle, and possibly Deebo Samuel and Brandon Aiyuk. So at root, it's really not the same team.
The 49ers: Taking Stock
It's been a weird season, even within the context of a weird season. Decimated by injuries, they still managed to spring a few surprises and get back to 4-3, but three straight defeats have served as a sort of reality sandwich. The injuries were absorbable to a certain point, as the Niners do have a lot of depth. But the onslaught of misfortune never let up, to the point where the injury-list looks way more like the 49ers than the actual lineups. And in the last three weeks, they haven't been able to buck it, and it really shows.
Even with their condition widely known and the oddsmakers acting accordingly, they have managed to be pretty flat in that context in recent weeks. Their loss to the Saints in their last game was the third week in a row they didn't cover, with only two covered spreads since September 27. Part of you wants to defer a little to the heart that allowed this team to rise as a conference power last season. And maybe the bye helped them recharge a little mentally and physically. But then the string of recent lethargy makes you wonder if, in a difficult type of season, to begin with, they've started to wilt.
More Picks: Browns vs. Jags Week 12 Predictions >>>
The Good Stuff SF Still Has
It hasn't always shown in the last several weeks, but there are have been some decent things still happening on defense. A resurgent Jason Verrett has given a hand to a secondary that can still stifle QBs, Jared Goff having already been one of them. With Dre Greenlaw and Fred Warner, some of the Niners' venom in the middle is still intact. They're not nearly as stout as last season, nor do they make as many big plays, but on the right day, they can be serviceable. Backup QB Nick Mullens may have benefitted from the off-week after a couple of rough outings. Still, with all the injuries to Garoppolo the last several seasons, he has spent a lot of time behind center, sometimes putting up impressive passing totals. He lacks the horses to do it, but if Samuel or Aiyuk resurfaces this week, it could help.
A Fired Up Rams?
Having lost to the Niners already, it wouldn't be good to suffer a season-sweep to a team like that. This is crunch-time for the Rams where they either take the bulls by the horns and make a run at this thing, or they could still be left in the dark. The signs are positive on both sides of the ball, but it can sometimes be easier for the Rams to revert to poor form that some might think. But with consecutive wins over the Seahawks and Bucs, they've beaten two teams that will likely be in the playoffs, and it would be strange for them to fall flat at home this week.
Look for an impactful Rams' defense to have a big say on this game. On Sunday night, two picks from Jordan Fuller helped change the complexion of the game. That Rams' front can really rain down on opposing offenses. They completely shut down a Tampa run-game that was showing signs of life, and a similar showing this week would put a major crimp into the San Francisco prospects of winning this game. And with the waning San Francisco defense, one that has allowed 101 points in the last three games, it might not be a good mix with the Rams' offense. With Jared Goff sharp-shooting and Robert Woods and Cooper Kupp all over the field making catches (23 combined on Sunday), it's a tough thing for opposing defenses to contain.
Lay the Number
On the surface, this might not seem like the best spot for the Rams, a team that sometimes labors to put away lesser opponents. The last three times the Rams failed to cover the spread came against the Dolphins, Niners, and Giants. I just see this being a spot that lines up well for the Rams to exact revenge on the 49ers and continue their push to a playoff spot and possible division title. I see the Rams breaking through in the second half, as they put a little distance between themselves and San Fran and get the cover. I'll take the Rams.
Loot's Prediction to Cover the Point Spread: I'm betting on the Los Angeles Rams minus 7 points. Question: Why would you lay -110 odds on games when you could be laying -105? It doesn't make sense! Spend the five minutes it takes to switch books and start saving money EVERY TIME you bet! Find this killer offer at BetAnySports Sportsbook!