[et_pb_dcsbcm_divi_breadcrumbs_module hide_homebreadcrumb="off" homebreadcrumbtext="Home" separator="sep-raquo" hide_currentbreadcrumb="off" homebreadcrumborientation="left" _builder_version="3.8″ fontsbreadcrumbs_font="Lato||||||||" fontsbreadcrumbs_text_color="#000000″ fontsbreadcrumbs_font_size="15px" fontsbreadcrumbs_line_height="16px" fontsseperator_font="||||||||" fontsbreadcrumblinks_font="||||||||" fontsbreadcrumblinks_text_color="#2567cf" custom_margin="25px|||" custom_margin_phone="30px|||" custom_margin_last_edited="off|desktop" custom_css_main_element="font-family: Helvetica Regular;" disabled="on" global_module="3641″ saved_tabs="all"][/et_pb_dcsbcm_divi_breadcrumbs_module]
Arizona Cardinals vs. Green Bay Packers Pick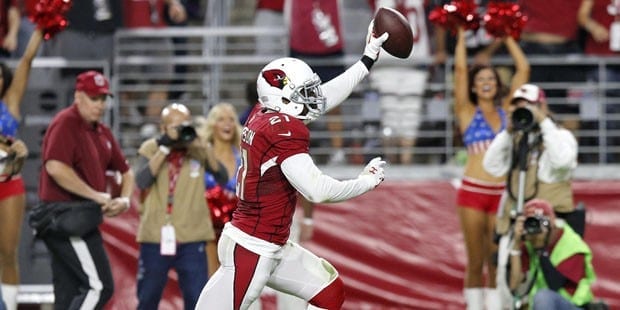 Arizona Cardinals (2-9 SU, 5-5-1 ATS) vs. Green Bay Packers (4-6-1 SU, 4-6-1 ATS)
NFL Football Week 13
Date and Time: December 2 at 1pm ET
Where: Lambeau Field
TV: FOX
By: Ted Walker, NFL Football Handicapper, Predictem.com
Point Spread: ARZ +14/GB -14
Over/Under Total: 44.5
We are firmly in the do-or-die time portion of the NFL schedule with only five games remaining. There are plenty of teams that are looking forward to next year already and many more that are essentially in must-win scenarios from here on out if they want to see the postseason. Green Bay is one of the teams on playoff life-support but they can stay alive for another week with a win over the visiting Arizona Cardinals this Sunday. The Cards have flailed for most of the season so far, beating only San Francisco, and come into the week at 2-9. Arizona has been heavy underdogs in many games and has done fairly well against good teams in potential blowout situations. A twelve point loss at Kansas City and a ten point defeat at Minnesota were solid efforts by this Cardinals team that doesn't appear to be tanking for draft picks. If they can manage that kind of production on Sunday, they should be a serious threat backed by a two touchdown cushion. Of course, they also are the team that just lost by 35 to the Chargers so there is a chance the Cards best games are behind them.
Bringing a Knife to a Gunfight?
The glaring deficit that Arizona will have to overcome is their complete lack of offense. Heading into the week, the Cards rank dead-last in rushing yards, passing yards, points scored, third down conversions and time of possession. Getting consistent offensive movement has been nearly impossible with Arizona scoring 20-points just twice this season, topping out at 28 in one of their two wins against the Niners. They are even last in field goal makes, further hamstringing their ability to put points on the board. They do have a highly capable back in David Johnson but he is averaging just 3.2 yards and the Cards fail to average 80 rushing yards per game. Josh Rosen is going through the standard rookie growing pains and is completing just 55% of his passes with ten touchdowns against eleven interceptions. The Packers are 0-6 on the road this season but haven't lost in Lambeau, going 4-0-1 at home. Playing in Titletown isn't easy and the Cards aren't likely built for what promises to be a day near freezing with chances of snow. It doesn't look like a recipe for Arizona to break out of their offensive funk but they will only need ten points if they are able to hold Green Bay to their average of 24 points per game.
Injury Woes Continue in GB
Any number of factors can be pointed to when trying to explain why Green Bay is in the spot they are but injuries may be the most important. The offense has been without Randall Cobb and Geronimo Allison (IR) for weeks and Equinimeous St. Brown joins the questionables for Sunday with a bad elbow. Trevor Davis (WR/KR) has been back for just a few games but is now dealing with a hamstring and is likely to miss this one, further limiting the options for Aaron Rodgers and the passing game. David Bakhtiari, Green Bay's best OL, is questionable with two bad knees and bum ankle. He missed time during last week's Minnesota game and the Vikings got pressure on every snap Bakhtiari missed. The secondary continues to be paper-thin with Kentrell Brice, Bashaud Breeland, Kevin King and Raven Greene all listed as questionable for Sunday. The Cardinals are barely averaging 150 passing yards per game but that many injuries in the back-seven is still cause for concern. The injury situation is so bad that Green Bay would not have 46 healthy players to dress if the game were played on Wednesday.
Normally, Aaron Rodgers can cover up any amount of injuries. The Green Bay Superbowl run in 2010 was plagued by injuries as well and that didn't stop the Packers from putting up a ton of points. Something is different this time however and some of the blame falls on Rodgers. He is hitting on just 61% of his throws which is near his career-low and there have been several instances over the last few games where Rodgers either ignored or missed an open-receiver at critical moments. His preference to hold the ball and look for a big play is part of the reason Green Bay is 27th in sacks allowed. Arizona is rather pedestrian on defense in general but they do lead the NFL with 37 sacks, led by Chandler Jones with eleven. That stat is meaningful for a team that is often trailing and seeing more runs than passes as the game wears on. Green Bay leads the league in number of passing plays so the Cards will have plenty of chances to hunt Rodgers if the game result is still in doubt.
Green Bay does have the advantage in playmakers as the Rodgers to Davante Adams (77/1,022/10) connection is better than anything Arizona can produce. Aaron Jones is still averaging six yards per carry and has stepped up his receiving presence with 19 catches for 162 yards and a score as a pass catcher. David Johnson has the better pedigree but Jones is electric and will get to run against the 30th ranked run defense. Larry Fitzgerald (44/460/5) is still a consummate professional but his presence is limited by the inconsistencies of Rosen. Jimmy Graham is also a better receiving option than the secondary pass catchers in Arizona, even while battling a broken thumb.
So much of the on-paper stuff points to Green Bay cruising in this one but the eye-test shows a Packers team that cannot answer the bell on most occasions. They had a chance against the Rams and Patriots but fumbles in each game scuttled pivotal drives. Green Bay led Seattle but went silent on offense in the second half and that left the defense on the field for so long they eventually caved. Last week saw Green Bay convert only 2-of-10 third down opportunities in a game they lost by seven. The Packers have scored just 13 total points in the second halves of their last three losses so they may be losing the half time adjustment battle as well. It is hard to believe they are 14-points better than anyone in the league right now.
I think Green Bay is in no danger of losing this one but I like Arizona to get enough points on the board to make things very difficult for the Packers in terms of covering this spread. With all the injuries to the secondary, Green Bay will have just one interception among the Sunday starters so Rosen will have a shot to make some plays. David Johnson should find a few creases against a 23rd ranked Packers run-defense that is again without DL Mike Daniels. Arizona gets 13 points on the scoreboard and Green Bay is no safe bet to get to 28. The weather will affect them as well in a negative way and Rodgers has not been up to his high standards, throwing for less than 200 yards in two of the last three games. S Budda Baker is second on the Cards in tackles and he appears ready to suit up again after missing the last two contests. This one could be an ugly watch but the messier the better for the Cards in my opinion and they will get the ATS win with Green Bay winning 26-13.
Your Name's Pick to Cover the Point Spread: Arizona
<h4 class="widgettitle">NFL Picks</h4><!-- [et_pb_line_break_holder] -->
<div style="width:340px; margin: 0 auto;"><!-- [et_pb_line_break_holder] --> <a class="twitter-timeline" data-width="340" data-height="500" data-link-color="#008156" href="https://twitter.com/PredictemPicks?ref_src=twsrc%5Etfw">Tweets by PredictemPicks</a> <script async src="https://platform.twitter.com/widgets.js" charset="utf-8"></script><!-- [et_pb_line_break_holder] --></div>