Arizona Cardinals vs. San Francisco 49ers Recommended Wager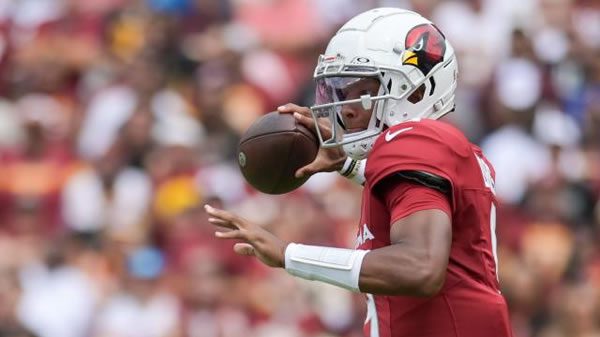 Arizona Cardinals (1-2 SU, 3-0 ATS) vs. San Francisco 49ers (3-0 SU, 2-1 ATS)
Week 4 NFL
Date/Time: Sunday, October 1, 2023 at 4:25PM EDT
Where: Levi's Stadium, Santa Clara
TV: Fox
Point Spread: ARI +14 / SF -14 (Checkout our list of 100% sportsbook bonuses! Tons!)
Money Line: Arizona +575, San Francisco -900
Over/Under Total: 43.5
The Arizona Cardinals travel to the Bay Area to face the San Francisco 49ers in an NFC West showdown on Sunday. Arizona played late on Sunday, scoring the upset of the week in an eye-popping 28-16 win at home over the Dallas Cowboys. Meanwhile, the Niners are coming off a nice Thursday Night Football win over the New York Giants, 30-12. Again at home, they look to keep it rolling this week in what seems like a winnable spot against a divisional rival that might have a long season ahead of them, despite last week's upset win. Who can get it done at Levi's Stadium this week?
Can the Cardinals Stop the 49ers
So far, going against the Steelers, Rams, and Giants, the 49ers have oddly put up 30 points in all three of their games. Their offense looks to be running smoothly behind a line that looks to really be doing their job. QB Brock Purdy has looked very good bouncing back from his season-ending injury last season. We also see Christian McCaffrey running well, very physically and sitting at 353 yards and three TDs already. Brandon Aiyuk started fast, before missing the last game, giving more opportunities to Deebo Samuel, who is looking like his old self. Both men's status bears watching leading into this game. Also filling the void was rookie Ronnie Bell, who scored his first NFL touchdown against the Giants last Thursday.
Arizona has issues on defense that look to be tested to their full limits in this matchup. There will certainly be spots this season where Purdy and Company will be tested and we'll see perhaps diminished results. But at home against subpar defenses such as these, there is this almost-foolproof vibe to this San Francisco offense where their depth and automaticity really seems to surface. And the thought of this Cardinals' defense going on the road to face a good SF offense should provide pause for potential Arizona backers this week, despite some buoyed hopes with the Cardinals beating the Cowboys on Sunday, in addition to having covered all three of their spreads this season.
Can the Cardinals Put up Points?
Through three games, the 49ers' defense has given up four touchdowns, most of those situations working with a pretty large margin for error. The pass-rush is getting cranked up with Drake Johnson getting involved, along with established contributors like Nick Bosa and Arik Armstead. They've already picked off opposing quarterbacks five times, so in addition to their general levels of stoutness, we're also seeing an enhanced level of playmaking. This might not be the best spot to thrive for a Cardinals' team that is seeing some pretty tough defenses to open the season.
It's a tough spot for the Cardinals with Joshua Dobbs leading the way. Their overall aerial package isn't terrible, with guys like Hollywood Brown, Rondale Moore, Greg Dortch, and the short-yardage work of their lone compelling figure James Conner. It's just with substandard QB play and an offense where Conner is the main star, the Cardinals might need a pretty specific set of conditions to be in place in order to thrive consistently. And facing a team with a good offense that will likely force the Cardinals to play from behind, while also smothering them with a stout and game-changing defense doesn't seem on paper to be one of those spots. The same thing applied last week, however, and we see how far that got Dallas backers, with their team favored by 11 and losing by 12.
Last Sunday should force a reappraisal on Arizona. Dobbs is not ideal as a starter, but he's competent, a decent game-manager, and never seems to really undermine the team-effort. While not a great thrower, he's not horrible and is pretty nifty with his legs. He works well with Conner, sometimes utilizing the speedy Moore on sneaky run plays, as well. What they lack in aerial star-power, they make up a little in their variety. For all their faults and the preseason designation as perhaps the worst team in the league, we've really only seen one half where their defense really took it on the chin, as the Giants overcame a late-third quarter 28-7 deficit in week 2 to beat the Cardinals. Sequences like that might not bode well for the Cardinals in spots like this, but the point is that we haven't really consistently seen the hapless football product that many promised.
Major Questions for This Week
After this week, a 49ers' schedule that opened easily enough starts to ramp up and you wonder if we see Shanahan start to conserve a little on offense. If the Niners create a little distance, maybe we don't see so many tough McCaffrey second-half runs and the like. Arizona beating Dallas last week likely perks up the Niners a little as to what could happen if they try to phone this one in, but even with that result and the long week, does this week offer some letdown potential for SF? Can the Cardinals continue to surprise?
Take the Points
Even the most sure-minded Arizona backers this week have to be feeling some pangs when plunking down their money, knowing a 40-7 win for the Niners isn't going to register much of a shock. But the Cardinals' ATS results this season do attest to what seems like a general negative feeling surrounding Arizona that might be overstating the case slightly. Arizona has shown a little pep and with the Niners laying two touchdowns in a divisional game, you're asking a lot of Brock Purdy and a 49ers' team that still has some drawbacks and a lack of overall appeal in the role of a frontrunning juggernaut. I see Arizona keeping it respectable and covering the spread on Sunday. I'll take the Cardinals.
Loot's Prediction to Cover the Point Spread: I'm betting on the Arizona Cardinals plus 14 points. Make the Cardinals a +33 underdog or the Cowboys a +5 underdog by inserting either team into a massive 19 point NFL teaser at Wagerweb Sportsbook!