NFL Week 4 Betting Picks: Raiders vs. Chargers – Expert Analysis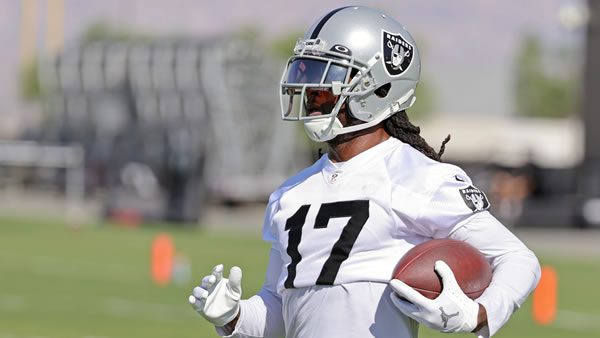 Las Vegas Raiders (1-2 SU, 1-2 ATS) vs. Los Angeles Chargers (1-2 SU, 1-2 ATS)
Week 4 NFL
Date/Time: Sunday, October 1, 2023 at 4:05PM EDT
Where: SoFi Stadium, Inglewood, California
TV: CBS
Point Spread: LV +5.5 / LAC -5.5 (BetUS – 100% cash bonus w/code PREDICTEM)
Money Line: Las Vegas +210, Los Angeles -250
Over/Under Total: 47.5
The Las Vegas Raiders come to Inglewood on Sunday for an AFC West battle with the Los Angeles Chargers. Both teams enter this game at 1-2, looking to kick their seasons into gear in this classic matchup of old division rivals. The Chargers were able to narrowly avert an 0-3 start to the season last week, picking up a needed win against the Minnesota Vikings on the road last Sunday, 28-24. The Raiders were not nearly as lucky, taking a 23-18 loss at home against the Steelers last Sunday night to fall to 1-2. Who can get to .500 and put a little wind in their sails this week at SoFi Stadium?
Obstacles to Overcome
The price of the Chargers getting their first win last week was steep, losing key receiver Mike Williams for the rest of the season with a torn ACL. We'd imagine they get Austin Ekeler back in the fold soon, perhaps hastened by the shoddy replacement work being provided by RB Joshua Kelley, but with the bye coming after this game, maybe they want to take that time to get Ekeler to full strength. In that case, they could be a bit strapped offensively, and although Keenan Allen is off to a fast start with 32 receptions through 3 games, they're going to need something else, as we see a defense not really being very stout, despite stepping up nicely last week late against the Vikings. With the Raiders still flexing some offensive firepower, it's food for thought.
For the Raiders, the issues might run deeper, no doubt exacerbated by QB Jimmy Garoppolo reportedly suffering a concussion in a game that didn't go well, other than his big-time connections to Davante Adams. His status will need to be monitored leading up to this game. It seemed to punctuate a pretty bad run that followed a one-point win over Denver in week one that doesn't look so good now. After a 38-10 shellacking at the hands of the Bills, they started and ended well against the Steelers, with the entire middle of the game controlled by Pittsburgh in a Vegas home game where the win was there to be had. And that O-line that was pushed around by the Steelers will be dealing with a nice pass-rush this week, though a defense that isn't as good overall.
Who is in a Better Spot This Week?
The Bolts might have a slight deficit in offensive firepower in this spot down Williams and with the prospects of them holding Ekeler out until after the bye. The Raiders will always be able to wield the Joshua Jacobs/Davante Adams 1-2 punch, though Jacobs hasn't really put forth any big games yet. It wasn't until week four last season when we started seeing those big games for the Raiders' lead back, so I wouldn't hold his slow start against him. Playing Buffalo and Pittsburgh in consecutive weeks might not be the best time for your new-look offense to take flight. Maybe in a slightly easier situation this week, we can see some things develop better aerially and especially on the ground.
Other than the Chargers' injury issues on offense, however, their edges are numerous. Their defense never plays as well as their talent suggests, but at least they have that talent to rely on in a pinch, unlike a Vegas defense that might really be up against it this season against the better offenses they face. The Bolts are stronger along both lines of scrimmage in the trenches and while Adams and Jacobs might be the best at their positions on the field Sunday, the Chargers have more depth with a little bit more of an impactful supporting cast. And even if Garoppolo's status wasn't partly-shaky heading into this week, the QB gap between the two teams is pretty vast.
What to Expect
Unfortunately for the Chargers, a home-game isn't much of a home-game, especially with a team like the Raiders. But with some ground to make up at 1-2, I'd expect their offense to have a little edge to it this week. Whether they have the horses to keep it rolling remains to be seen. Allen is getting up there and you wonder if he can continue to produce at this pace. Now is when they'd like to see guys like TE Gerald Everett, along with receivers Joshua Palmer and rookie Quentin Johnston come to life after slow starts. The falloff from Ekeler to Kelley, however, is a major concern and really deprives this offense a major source of production. It's just that the Raiders should be in a better position to convert production into points this week against this Chargers' defense. They're not terribly good against the run and if anything, Jacobs is due. And they've shown they really can't zero in and stop a team's top receiver and with Adams coming off a 13 reception performance for 172 yards and two touchdowns, that also looms as a potential thorn in the side of the Chargers this week.
Take the Points
While definitely keeping an eye on the status of Garoppolo leading into this game, it might not be such a bad spot for a Raiders' team that usually performs fairly well in this particular pairing. With the Chargers facing some deficits in firepower and it seeming unlikely they'd bring Ekeler back right before the bye, maybe a beleaguered Raiders' defense can find themselves in a manageable spot, where they get enough of a spark on offense to keep themselves afloat. I'll take the Raiders and the points.
Loot's Prediction to Cover the Point Spread: I'm betting on the Las Vegas Raiders plus 5.5 points. Bet your Chargers/Raiders pick for FREE by scoring a 100% real cash bonus at the web's oldest and most trusted bookie! Simply register for a sports betting account at Everygame Sportsbook through this special link, deposit $100 to $500, go to their Special Offers page and enter bonus code PREDICTEM and your account balance will magically double!