Atlanta Falcons vs. Miami Dolphins Pick ATS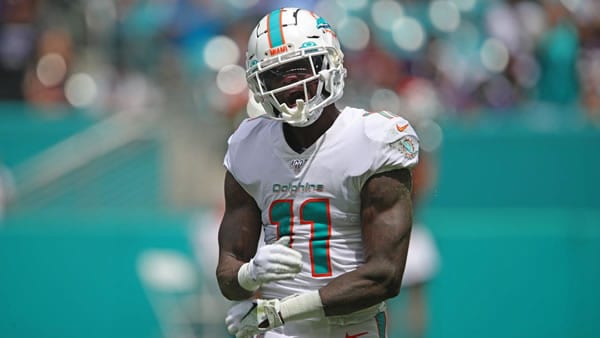 Atlanta Falcons (2-3 SU, 2-3 ATS) vs. Miami Dolphins (1-5 SU, 2-4 ATS)
Week 7 NFL
Date/Time: Sunday, October 24, 2021 at 1PM EDT
Where: Hard Rock Stadium, Miami, Florida
TV: Fox
Point Spread: ATL -1/MIA +1 (BetOnline - This is THE sportsbook you want to bet at if you're depositing using Bitcoin! They offer special bonuses for doing so + 35% reloads when using crypto!)
Over/Under Total: 48
The Atlanta Falcons come to Hard Rock Stadium for a Week 7 showdown with the Miami Dolphins. Atlanta is coming off the bye week, which followed a 27-20 win over the New York Jets in London. They have a chance to get to .500 this week over a 1-5 Dolphins bunch. Miami is coming off a tough 23-20 loss to the previously winless Jacksonville Jaguars in London. They now return home as they try to resuscitate a season that started with promise and has fallen on hard times. Who can get it together and cover the spread this week in south Florida?
Bad Spot for Miami
On one hand, they catch the Falcons at home, outside, and in a stadium for which they have little or no familiarity. And it was hard not to notice that they actually are better offensively with Tua Tagovailoa, who returned after missing a few weeks. Then again, after an overseas game, they face a team coming off the bye. Being the first team to lose to the Jags is deflating emotionally, as is the realization that after a 10-6 season, the recipe for success has totally fallen flat in 2021. In addition, what seems like a manageable spot against the Falcons might be tougher than it looks.
Atlanta: Finding Some Answers
The rest-differential is one thing, but Atlanta actually needed the time to maybe get some pieces back, especially aerially. Maybe Calvin Ridley, Russell Gage, or both can get back in there. Running the ball behind this O-line is not a given, and some weeks, Mike Davis simply disappears. They have a rising rookie at tight end in Kyle Pitts, and with some receiving help, Matt Ryan can maybe make it work. The Miami pass defense has gone into the tank this season, and even Davis can make it work with this Dolphins' defensive front. With Cordarrelle Patterson delivering as an X-factor in a big way, he's another weapon Ryan can wield.
They only beat the Giants and Jets, so it's not like Atlanta is sneaking up on anyone. But they've covered the spread in two of their last three, with the only non-cover being when they totally collapsed late against Washington when it seemed all but locked up. Give them a week off to find more answers and rest some hurting bodies, and maybe we see a little push-starting this week from the Falcons. Offensively, they're in a decent matchup. And an Atlanta defense that has gotten its act together on at least a couple levels won't be facing one of their toughest challenges of the season in Miami.
Could a Miami Surge Be Coming?
In the next month, the Dolphins get the Falcons, Texans, and Jets, and now is the time to start piling up some wins. Tua is back. It didn't manifest into much on Sunday, but his 329 yards passing were at least promising. Also creating optimism were his ten connections with rookie Jaylen Waddle, which resulted in two TDs, as well as a big day from growing TE Mike Gesicki. Running the ball, well, that's another issue, as the Dolphins are ranked last in that category. But at least there was some life on offense. Again, it's hard to find optimism in a loss to Jacksonville, losers of 20 straight, but that was London. In their wheelhouse against a largely imperfect Atlanta team where some of their weaknesses aren't so brought to light, maybe they can get pointed in the right direction.
More Picks: Get the Zman's Saturday LSU at Ole Miss Best Bet
The Problem With Both Teams
While some suspected the Miami formula for success wouldn't progress this season, no one thought it would descend to the point where they can't do anything well. They can't run the ball. The air attack is only slightly better but miles from being a force. Their defense has been getting chewed up in games, showing none of the resistance we saw at times last season. But the Falcons cannot run the ball much better. And Ryan is strapped with people to help aerially, unable to get vertical as he used to while being a statue working behind a troubled O-line. The "D" isn't horrible against either the run or the pass. But when you consider that they might be the least clutch unit in football, with almost zero big play-making ability, it puts into better perspective what they really represent.
I see both offenses having some success in this game, with who can see it through better being the key. Miami should be able to put a growing cast of pass-catchers to good use, but relying on Tua to air it out well is a tough proposition. This would also theoretically be a good spot for Atlanta to get things going, but with such uncertainty surrounding their offensive personnel, you have to wonder. And in this environment out of conference, it just doesn't seem like an ideal spot, even if the matchup says otherwise, based on Miami's defensive difficulties this season.
Take the Small Home Dog
Last week was deflating in more than one way for the Dolphins, now having to pick up the pieces of a season that already looks lost after losing to the Jags overseas. But with them may be better seeing through some of the offensive production we saw last week in Tagovailoa's return, things can turn around. Tua won't be facing a harassing defense and one against which he can operate more smoothly. The issues the Dolphins face and the bad look from last week make it hard, but I still think they can thrive enough in this context to bring home a cover. I'll take the Dolphins.
Loot's Prediction to Cover the Point Spread: I'm betting on the Miami Dolphins plus one point. Bet your Week 7 NFL picks for FREE by taking advantage of a 100% REAL CASH bonus on your first deposit of $100 to $500 at GTBets Sportsbook!