Baltimore Ravens vs. Cincinnati Bengals Thursday Pick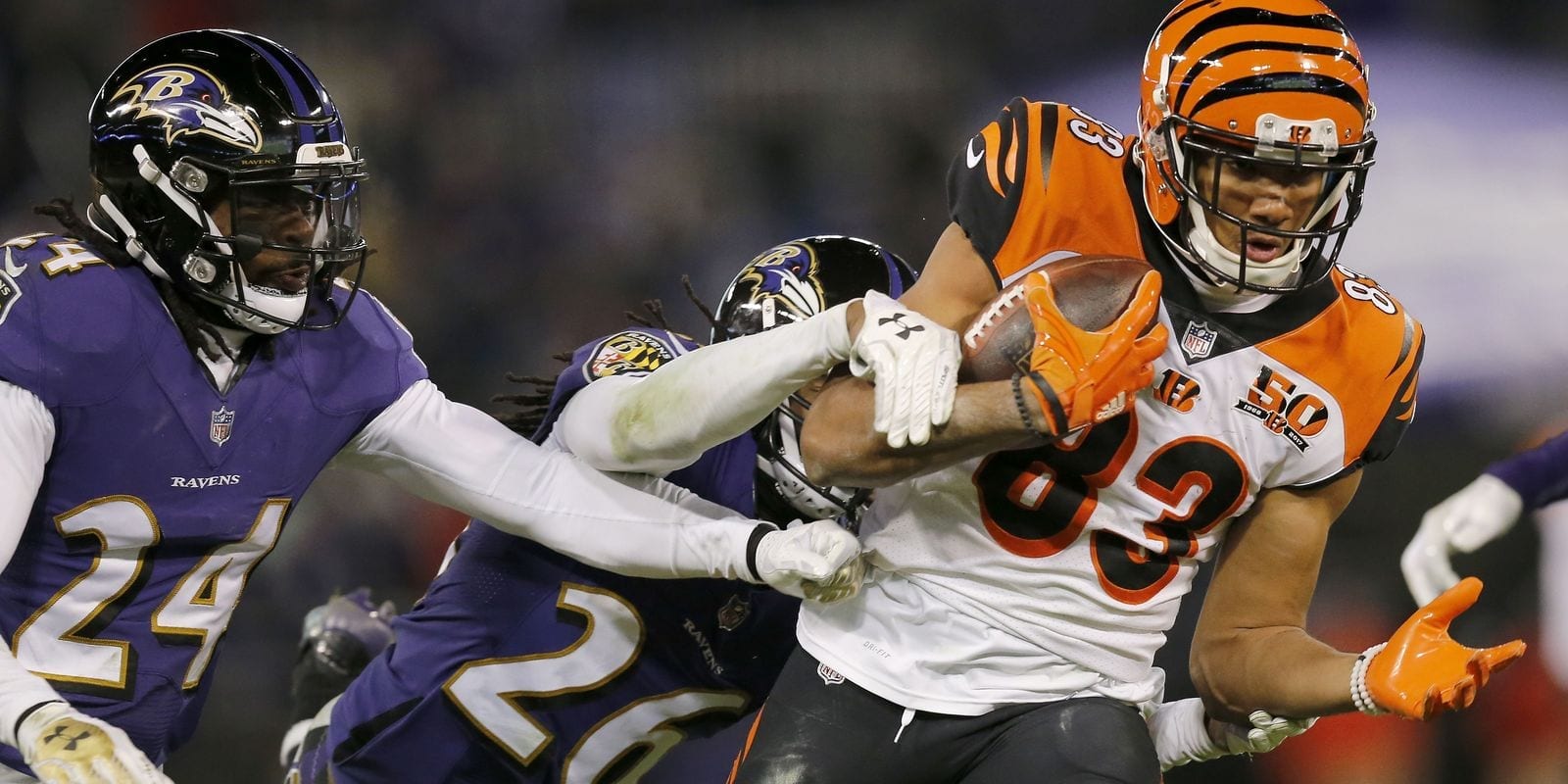 Baltimore Ravens (1-0, 1-0 ATS) vs. Cincinnati Bengals (1-0, 1-0 ATS)
When: Thursday, Sept. 13th, 2018, 8:20pm EST
Where: Paul Brown Stadium, Cincinnati, Ohio
TV: NFL Network, DirecTV, Channel 212
By: Kevin West, NFL Handicapper, Predictem.com
Spread: Pick'em
Total: 44  (MyBookie)
Power Ratings: Ravens by 5
Take-aways From Week 1
The Ravens absolutely destroyed the Buffalo Bills 47-3, going over the 38.5 total all by themselves! They probably could have hung a 70-spot on them if sportsmanship didn't exist. For those who didn't watch the game or the highlights, Baltimore was up 40-0 with 11 minutes left in the 3rd quarter. The Ravens dominated almost every statistical category, with Flacco tossing 25/34 for 236 yards and 3 TD's (in 3 quarters). Seven different receivers had 3 or more catches, which is going to be tough for opposing teams to defend against. It appears that the decision to invest in a new set of receiving corps by bringing in Michael Crabtree, John Brown and Willie Snead was a wise one. Flacco is willing to involve the tight ends as well, going as deep on the depth chart as the 3rd stringer.
There were a couple things that stood out to me, with the first being that the Ravens only averaged 3.4 yards per carry. This was very surprising, considering all we heard going into Week 1 was how "Alex Collins (7 rushes for 13 yards) was going to run wild vs. a Buffalo defensive line that is expected to be the worst in football this season." It didn't go down that way. Conversely, the Ravens threw a lot more than I thought they would. Buffalo's secondary was projected to be the strength of their defense, but was lackluster at best, as Ravens receivers seemed to always be open for the dink and dunk passing game.
The Ravens D was nasty, allowing only 11/33 passing for 70 yards, 2 INT's and 6 sacks, while winning the line of scrimmage with 9 tackles for loss. While impressive, you can throw these out the window as the Bengals are volumes better than Buffalo and have had ownage against them in recent years.
The Bengals had a stellar come-from-behind victory as they were down to the Colts 10-23 with 8 minutes left in the 3rd quarter. The Bengals finished the game with 17 unanswered points for a 34-23 win. Having been the team's first game and a road win, these are the types of events that can create confidence, which creates momentum, which can line your wallet with the good stuff. You'll never see momentum in the box score, but it's for real. Especially in football, where all moving parts need to work together like a finely tuned machine in order to achieve success.
For stat lovers, Andy Dalton went 21/28 for 243 yards, with 2 TD's and 1 throw to the wrong team. RB Joe Mixon looked good, rushing for 95 yards on 17 carries. The dual threat tailback also grabbed 5 balls for 54 yards and looked to have some nice burst after losing some weight in the offseason. WR AJ Green went for 6/95/1. On an unrelated note, Indy's secondary is putrid. Receivers were getting behind them all day. If Dalton were a better QB, he could have had a monster day. Make note that Indy's secondary is ridiculously weak and use that info to attack them later in the season. It'll be a money maker more than not.
How the Public is Betting the Ravens/Bengals Game
The Ravens are receiving 71% of the action against the spread. The public is siding with the OVER to the tune of 63%. With the Week 1 Buffalo bloodbath fresh in everyone's minds, novice bettors (squares) are sure to have bias towards the Ravens. A sleek way to bet this game would be with a reduced vig parlay at Sportbet (you can bet parlays here at discounted odds vs. the normal prices dealt at other sportsbooks) by going contrarian with the Bengals and UNDER.
On the flip side, talk around the water cooler is that the Bengals were lucky to pull off a win at Indy, as Luck and Company were driving down the field (with momentum) prior to TE Jack Doyle fumbling after a catch, which Bengals backup Safety Clayton Fejedelem scooped and ran back for an 83-yard TD. The vibe that Cinci was lucky to beat Indy looms large, as only 29% are backing the Bengals. Don't let that scare you though… Vegas wasn't built on winners, so it's never a bad thing to be on the other side of the general consensus. In fact, I know people that make a good living doing just that. Indy's crappy secondary will cause the team to be down a bunch this season, which will in turn force them to throw. This will create some very high scoring games. The bookmaker knows this of course, so the value will likely be on UNDERS this season, however, this info is useful for those who can pair this up with other advantage plays in a teaser bet.
The Historicals
Oddly enough, each team won on each other's turf last season. On 9/10/17, Baltimore went into Cincinnati and shut them out 20-0.
On New Year's Eve, Cincinnati went into Baltimore and beat them 31-27, knocking them out of the playoffs.
The most glaring variable in play here is that the Bengals have had Baltimore's number, winning 7 of the last 9 meetings.
Injury Concerns
Ravens backup RB Kenneth Dixon went down with a knee injury in garbage time. This will make Buck Allen the clear-cut backup to Alex Collins.
Bengals LB Preston Brown is questionable at time of print (9/10/18) with an ankle issue.
When Baltimore Has the Ball
They'd be smart to stick with the dinking/dunking scheme that Indy used against the Bengals last week. It was very effective as Luck completed 75% of his passes and that could have been 85% if he wasn't rusty. This will surely pop up on Baltimore's radar. Baltimore's willingness to spread the ball around will make them difficult to defend. They spread the field out nicely with Brown going deep, Crabtree hitting the sidelines and Snead willing to go over the middle and get the snot knocked out of him.
When Cincinnati Has the Ball
The team looks like that of years past. Give the ball to the running back, throw a few screens and take a shot deep every now and then. In this case, with the 7 of 9 ownage, expect them to do more of the same from last year. In last season's New Year's Eve game, the Bengals were extremely effective running the ball at the Baltimore D, averaging over 5 yards per rush. While this game is a fairly even matchup, I envision Baltimore trying to suffocate the run and Dalton finding A.J. Green for a big play based on play action. It's very likely that one successful big play in this game by either side will be the deciding factor. I expect a hard fought game as multiple sets of revenge are alive here. (Balt winning @ Cinci last year and the Bungles knocking Balt out of the playoffs last season). Don't get overly excited about revenge though, as it's overrated and in this case could cancel each other out.
Betting Trends
The Ravens are 4-10 straight up in their last 14 on the road.
Baltimore is 3-6 ATS in their last 9 games vs. Cincinnati.
The Ravens are 4-9 ATS at Paul Brown Stadium in their last 13 games there.
Baltimore is 1-5 straight up in their last 6 games playing on the road vs. Cincinnati.
The Bengals have been a point spread covering machine at 7-2 in their last 9 games.
Prop Bet Opportunities: Please bookmark this page and check back late in the week as I'll be investigating all props involving Joe Mixon. With the perception that Baltimore's D is so nasty, the young running back is likely to have excellent value. Unfortunately those props don't come out until late in the week.
Kevin West's Pick to Cover the Spread
At first, I thought this game was a pass. After doing some in depth analysis, I started getting a much stronger lean to the Bengals. This is saying a lot, as I'm not a Marvin Lewis guy.
Things I came to love about the Bengals to win include Baltimore being the road team on a short week, Bengals 7 of last 9 ownage and being on the other side of the public in a prime time game. I also think the "revenge factor" of the Bengals knocking Baltimore out of the playoffs last year will get overblown by ESPN's talking heads and their square cronies. If I were a little guy and you kicked my ass and I challenged you to a rematch, that doesn't mean I'm going to get the best of you in our second fight because I'm out for revenge. I do believe it would hold more weight if it were being played on the Raven's home field, which is not the case this week. Marvin Lewis has made me wanna pull my hair out in season's past, however, he knows how to beat Baltimore and that cannot be ignored.
I'm laying a fatty on the Bengals at a pick'em. Good luck and thank you for reading Predictem.com! We appreciate it! Please consider following us on Twitter @PredictemPicks where you'll find me live tweeting during NFL Sundays and make you wonder if I'm the sharpest handicapper on the planet or if I live in a barn. - Kevin