[et_pb_dcsbcm_divi_breadcrumbs_module hide_homebreadcrumb="off" homebreadcrumbtext="Home" separator="sep-raquo" hide_currentbreadcrumb="off" homebreadcrumborientation="left" _builder_version="3.8″ fontsbreadcrumbs_font="Lato||||||||" fontsbreadcrumbs_text_color="#000000″ fontsbreadcrumbs_font_size="15px" fontsbreadcrumbs_line_height="16px" fontsseperator_font="||||||||" fontsbreadcrumblinks_font="||||||||" fontsbreadcrumblinks_text_color="#2567cf" custom_margin="25px|||" custom_margin_phone="30px|||" custom_margin_last_edited="off|desktop" custom_css_main_element="font-family: Helvetica Regular;" disabled="on" global_module="3641″ saved_tabs="all"][/et_pb_dcsbcm_divi_breadcrumbs_module]
Best Sportsbook Props For Betting On The Rams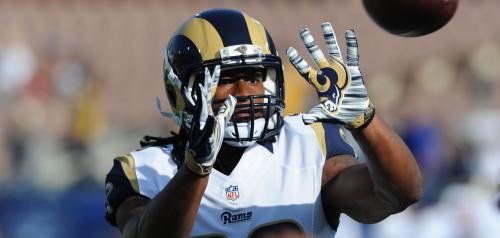 Super Bowl 53 is upon us and with it, hundreds (or maybe thousands) of prop bets. There is no better way to enjoy the game – and hopefully turn a little profit – than investing in some of these props. All of the best online sportsbooks have a huge prop betting menu. Here are 15 of the best prop betting options related to the Rams from 5Dimes, MyBookie and Bovada Sportsbooks.
Patriots win first half, Rams win game, 5Dimes +650
 If you feel LA will win the game, but can't decide whether to take the points or the money line, look at this option. The Pats have controlled the first half in both of their playoff games while the Rams have been slow out of the gate. With New England having the experience advantage in super bowls, expect the same in Atlanta which would mean NE is likely to lead after the first half. If LA can come back in the second half, this pays +650 vs the current money line at +120. A slight derivative of this at 5dimes is Patriots score first, Rams win that pays +380.
No score in the first 6 minutes, 5Dimes +105
 This builds on the logic above that the Rams may be a little shaky at the start of the game. The Patriots have started their 2 playoff games with long drives that have taken more than 6 minutes and their game plan will probably be the same in this one. Also, last year when New England kicked a field goal in the first quarter it was the first time Brady had put up points in the first quarter of a Super Bowl. 0-0 through 6 minutes is the most likely outcome.
Rams score first touchdown rushing, 5dimes, +567
 Although I do think there is a better chance the Pats strike first, if it is the Rams it will probably be on the ground. If there is 40% chance the Rams reach the endzone first and a 75% chance it is a rushing TD, this prop has a 30% chance to hit. +567 is a good payout for a 30% chance. Again, if you think the Rams will win the game, this would be a good prop to pair with the prop above that the Pats score first but the Rams win the game.
Rams win by 1-6 points, Bovada +375
 LA won 7 games against teams with winning records this year and 4 of them were by 6 points or less. Tom Brady has played in 8 Super Bowls and the winning margin was 6 or less in every one until the Eagles won by 8 last year. This game should be decided by 6 or less making this also a good option compared to Rams money line at +120. 5dimes has a similar offering with Rams winning by 1-9 points at +262 for a little more breathing room, but 30% lower payout.
Rams are first team to call timeout, Bovada -115
 Playing in the Super Bowl is old hat for New England and Tom Brady, but there will be some nerves showing for the Rams. There is almost no chance Belichick burns a timeout before the final 2 minutes of the first half, and it's very likely Goff burns one in the first quarter.
Jared Goff under 2 touchdowns, Mybookie -115
 Goff has been under 2 touchdowns in 6 of his last 7 games including just 1 last week. McVay's preference is to pound it in when he gets in the red zone, and that shouldn't change against a Belichick defense. 2 is a push, so Goff has to get to 3 to lose this one.
Jared Goff over 8.5 rushing yards, Bovada and Mybookie, -115
 Goff averaged 6 rushing yards per game and finished last week with 10. New England will primarily play man to man defense that generally provides quarterbacks better opportunities to run. Patrick Mahomes had 11 yards last week, so look for Jared Goff to get into double digit rushing yards.
Jared Goff MVP, Bovada +225
 The winning QB has won the game MVP award in 8 of the last 12 years. The Rams attack has been very balanced in their first 2 playoff games, and though Goff hasn't done anything to remind fans of Kurt Warner's days in a Ram uniform, if there would have been a game MVP award last week, it would have been Goff. With a running back by committee and no receiver likely to go off against the Patriot secondary, if the Rams score 28 points to win (which they will probably have to) Goff is the most likely Ram offensive player to be MVP.
Todd Gurley over 30.5 receiving yards, Bovada -115
 Gurley is still the best player on the Rams and Sean McVay has to give him an opportunity to make plays. LA has a playbook full of screen passes and linemen that can get out and lead the way. Gurley averaged over 40 receiving yards per game on the season and NE gave up 66 receiving yards to Damien Williams last week. Look for McVay to get Gurley the ball in space and him to go over 30.5 receiving yards.
Aaron Donald MVP, Mybookie +1800
 Twice in the last 5 years the MVP has been a defensive player. Donald is the best defensive player in the league and certainly has the ability to record 2 or 3 sacks and maybe force 1 or 2 fumbles. It is not the most likely scenario, but at +1800 is worth a flyer.
Todd Gurley under 83.5 rushing yards, Mybookie – 135
 Gurley is the hardest guy to figure out heading into the big game. He is not on the injury report, but he has not been an MVP caliber player the last 2 weeks. I expect an improved performance from Gurley in Atlanta, but expect C.J. Anderson to share the load in the running game. Anderson has been a more than capable runner over the past month, so I look for him to get enough carries to keep Gurley under 83 rushing yards.
C.J. Anderson over 5.5 receiving yards, Mybookie -105
 Although I expect Anderson to primarily be used as a runner, McVay will throw him the ball just to keep the defense honest. He had 6 targets for 4 catches and 17 yards in the last 2 regular season games has had a target in both playoff games. Through his career he has proven to be a capable receiver so there is an excellent chance he gets 6 or more receiving yards.
Brandin Cooks under 77.5 yards, Mybookie -120
 Cooks averaged 75 yards on the season and lit up the Saints last week for 107 yards. However, before last week Cooks highest total in the previous 6 weeks was only 65 yards. Cooks played for the Pats last year and Belichick will no how to stop him. Also, Belichick will prioritize not giving up the big play as he did last week when Tyreek Hill only managed 1 catch for 42 yards.
Tyler Higbee over 20.5 yards, Mybookie -115
 Higbee has had 25 and 30 yards in the 2 playoff games and had 36 in the season finale. With Belichick being famous for shutting down opponents' stars, Higbee should have some room to work and be able to get over this low bar. He has been a part of the game plan the last 3 weeks, so look for him to get 21 or more yards.
Cory Littleton over 8 tackles, Mybookie -125
 Littleton is the Rams leading tackler and averaged 8 tackles per game. The Pats game plan during this playoff run has been a run heavy / short passing ball control attack that has seen them run 78 and 94 plays in their first 2 playoff games. This makes for a lot of tackles by linebackers, and Littleton should be the beneficiary to exceed 8 tackles.