Cleveland Browns vs. Pittsburgh Steelers Pick ATS 10/18/20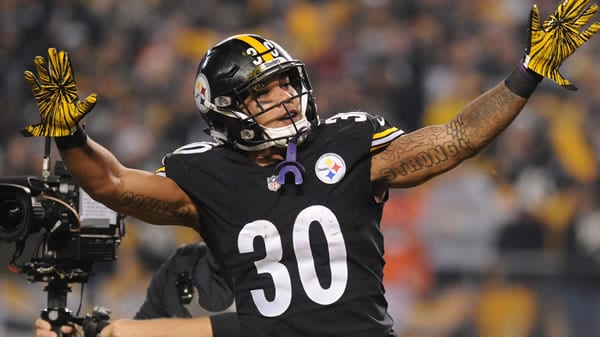 Cleveland Browns (4-1 SU, 3-2 ATS) vs. Pittsburgh Steelers (4-0 SU, 3-1 ATS)
Week 7 NFL
Date/Time: Sunday, October 18, 2020 at 1PM EDT
Where: Heinz Field, Pittsburgh, Pennsylvania
TV: CBS
Point Spread: CLE +3.5/PIT -3.5 (BetOnline - Sweet Live Betting! 35% Re-loads!)
Over/Under Total: 51
The Cleveland Browns take on the Pittsburgh Steelers in a big AFC North showdown at Heinz Field on Sunday. The division is packed with three contenders, and we see two of them duke it out here. Since an alarming 38-6 loss in week one, the Browns have strung together four wins in a row in their greatest stretch of success since they made the moves to become winners. Meanwhile, Pittsburgh has been able to put the last few seasons behind them, looking sharp at 4-0. On Sunday, they beat the Eagles 38-29, and they now look to make their presence known in their division. Cleveland, meanwhile, was impressive on Sunday with a 32-23 win over a good Colts team. Who can cover the spread on Sunday?
Cleveland for Real?
When a team struggles for so long and then tries to win, and it doesn't happen right away, it can be hard to separate a team like that from their momentum when they finally do grasp onto something positive. They worked hard to get to this spot. And now that they're on the right track, they're primed to take it to another level. And for them, that would start here—beating a good divisional team on the road. It's a win that could really shoot them into true contender status. So this is big for Cleveland. And not to demean the success they've had, but when you beat Cincinnati, Washington, and Dallas and then beat an erratic Indy team at home, it's nice, but not necessarily evidence that we have a real contender on our hands. That's why this win would go a long way.
We're starting to see Baker Mayfield in better form. With nine TDs and four picks, he has been iffy in spots but has been able to play better with more consistency so far this season. Having an impactful backfield goes a long way, with Kareem Hunt taking over lead duties with Duke Johnson chipping in, as Nick Chubb nurses an injury. Odell Beckham has shown he is ready to come through with big plays, while Jarvis Landry and Mayfield showcase their good chemistry. With that O-line still one of the best in the conference, it's not hard to see this offense being a legit power.
Can Cleveland's Defense Hang with Big Ben?
The Cleveland defense is a contradicting tale on some levels. On one level, they're a little leaky. So far this season, we've seen opposing quarterbacks feasting on this Cleveland secondary. And they haven't played the most potent offenses in the league, either, making one wonder what will happen when they take on a diverse and balanced offense like Pittsburgh's. But that front is pretty deep, and they've been outstanding against the run this season. They get after the quarterback and lead the league in securing turnovers this season, an aspect of their game that was key on Sunday in their win over Indy. One concern is injuries, as they're a little banged-up on this side of the ball, particularly in the secondary.
Ben Roethlisberger has been looking good, and that is in large part due to an offensive line that is really tip-top. If they control the line-of-scrimmage, we will see some of these new weapons Big Ben has with which to work. On Sunday, we saw Chase Claypool make his presence known, as the rookie receiver had four touchdowns. They still have James Conner, TE Eric Ebron, and JuJu Smith-Schuster. But there are all these role guys who step up who really add another dimension, and between James Washington, Ray Ray McCloud, Benny Snell, Jr. Diontae Johnson, and others, there are a lot of weapons with which to work. And coming back from injury, Roethlisberger is getting used to some new pieces, and the offense is getting better and better. Their point totals are rising with each passing week. I think this is a game where a Cleveland defense that has been using their edge on the line-of-scrimmage to trouble opposing offenses could potentially hit a bit of a wall.
Still, the Steelers haven't been facing great defenses this season. They did take it to a Philly defense last week that had started showing some fire, but averaging 29.5 points a game against the Giants, Broncos, Texans, and Eagles doesn't mean they're going to automatically fire against the better defenses they face. So what we end up having are two teams who have thrived at a lower context now pitting their strengths against each other in a game that's actually hard to decipher on a few levels. We keep having to ask if our eyes have deceived us leading up to this point if images correlate to actual reality.
More Picks:Lions vs. Jag Week 6 ATS Play
Breaking Down the Equation
You have two teams that are both strong on the line-of-scrimmage. Both of their lines on both sides of the ball are strong. I think once you begin to move away from the line on defense, things are in better hands with Pittsburgh, and injuries have sapped Cleveland of some of their zest in the back. The Steelers' O-line is a little banged-up, and that's something to keep an eye on. The Cleveland playmakers are shinier, and guys have more spelled-out roles. But Pittsburgh has greater depth in the playmaking department, galvanized by a veteran quarterback who is less likely to make game-costing mistakes than Mayfield.
Take the Points
There is some give-and-take in this analysis, giving credence to both sides of the argument. Something tells me Pittsburgh is due for an off-game. Maybe this is slightly more important to the Browns. To them, this means starting to see the culmination of a massive effort that began a few years ago and has been filled with infinite disappointment. For the Steelers, it's just a chance to beat the Browns again, something that is old-hat for this bunch. I just see the Browns hanging in there and covering the spread on Sunday.
Loot's Prediction to Cover the Point Spread: I'm betting on the Cleveland Browns plus 3.5 points. Note; Now that we've got some data behind us, Jer has fired up his NFL Computer Picks! Check'em out!
$100% Cash up to $500

Get $60 of FREE member picks & predictions
(NO commitments. NO Credit Card. NO Salesman.)