Denver Broncos vs. Minnesota Vikings Pick 11/17/19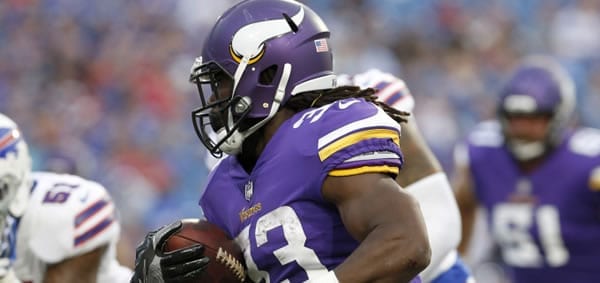 Denver Broncos (3-6 SU, 5-4 ATS) vs. Minnesota Vikings (7-3 SU, 6-4 ATS)
NFL Week 11
Date/Time: Sunday, November 17, 2019 at 1PM EST
Where: U.S. Bank Stadium, Minneapolis, Minnesota
TV: CBS
by Loot Levinson, Expert Football Handicapper, Predictem.com
Point Spread: DEN +10.5/MIN -10.5 (Intertops - Oldest and most trusted bookmaker! 50% bonus up to $200 FREE!)
Over/Under Total: 39.5
The Denver Broncos come up to US Bank Stadium for a Sunday afternoon matchup with the Minnesota Vikings. It's sort of a random matchup, but one that offers some interesting challenges to bettors nonetheless. The Vikings are cruising along now, coming off a triumphant week ten win on Sunday night over the Cowboys, 28-24. They have won five of six now and were able to bounce back from a tough loss at the Chiefs the previous week. After two straight on the road, they return home and would love to go into the bye with a win—something that may be in the cards against the 3-6 Broncos. Denver is coming off the bye, which followed a nice win over the Browns. After an 0-4 start, they have shown some life. Can they give the Vikings a run for their money or will the peaking Vikes maintain their unbeaten home-record?
How Denver Might Be Able to Compete
Again, with three wins and a two-point defeat in their last five games, the Broncos have been able to pick up the pace a bit. Having a QB making his first NFL start in his sixth season in Brandon Allen isn't ideal, but he won his first start. He has some things upon which to rely, with backs Phillip Lindsay and Royce Freeman, though they will be challenged to thwart a robust Minnesota run-defense. Targets Courtland Sutton and rookie Noah Fant are a big part of an aerial attack that isn't very potent. But let's face it, the Minnesota pass defense isn't the best part of their team and Denver could make some things happen. Still, the Broncos are going to need their defense to step up in a big way.
The "D" is the shining light of the Broncos, still going strong after all these years. Even with the offense not moving the chains with regularity, the "D" still stands tough. They've been getting a nice pass-rush, with Von Miller along with Derek Wolfe and Demarcus Walker (questionable) chiming in. They get big plays from Justin Simmons in the secondary, along with Kareem Jackson, Chris Harris, and others. In their last five games, the Broncos have allowed opponents to surpass 20 points just once. So the Vikings' offense might not have it as easy as they had it against recent foes.
More Picks: Bills at Dolphins Prediction 11/17/19
Obstacles to a Broncos Cover
Strong defense aside, the Broncos will be up against it facing a Vikings offense that has hit its stride. There is a lot to like, and in the last six games, they are averaging just under 30 points a game. With 18 TDs and only three picks, Cousins has been prolific, clutch, and gutsy in leading this team back from a rough 2-2 start to the season. Tough secondary or not, Denver isn't that great against the run and with Dalvin Cook looking to eclipse 1000 yards early in this game, they're going to be up against it, also with Alexander Mattison lending a big hand on the ground.
Matchups don't shake out that well for Denver. The Vikings can be thrown on a bit, but Denver's aerial game has ground to a halt. Denver has a good secondary, but if Minnesota runs the ball well, it might not matter a ton. We see the Vikings on the road, giving up point totals only in the twenties to teams like Dallas and Kansas City the last two weeks, Now at home, what kind of number can one righteously expect from a Denver offense that is a bit stuck in the mud?
The Minnesota Winning Formula
For a team that fell flat on their face last season and started the season off rough amidst a lot of criticism, the Vikings seem to be a team with a chip on their shoulders. They're on a mission. Their win over Dallas showed a team playing with a lot of feeling and heart. The aerial game is finally taking on the look they expected when getting Kirk Cousins before last season. Stefon Diggs is putting up some big games. Adam Thielen should be coming back. Kyle Rudolph caught two TD passes on Sunday night. And Dalvin Cook has over 400 receiving yards this season and is a significant threat aerially.
Denver's Brandon Allen figures to struggle against an aggressive and big-play Minnesota front seven on defense. Again, they have been stiff against the run, and that puts a significant crimp into Denver's offensive prospects. But behind an offensive line that has issues from time to time, the pass-rush with Everson Griffen, Danielle Hunter, and others could be problematic for Denver. That also goes for a playmaking secondary, led by Anthony Harris' three picks, alongside another active safety in Harrison Smith. It's a lot of mayhem to contain for a Denver front that is lacking, alongside a shortage in playmaking ability. With the Minnesota defense holding their own against the Kansas City and Dallas offenses, it would be odd for them to be humbled at home by this offense.
Take the Home Favorites
Denver is a team where their true sense of value can be overlooked. They are scrappy and can run the ball while playing good defense. It's just that Minnesota can do those things too, only with infinitely more offensive potential, as they have been one of the better groups in the league over the last handful of games. I see a gutty effort from Denver start to unravel in the second half, as the Vikes get to the finish line with the win and cover at home.
Loot's Pick to Cover the Point Spread: I'm betting on the Minnesota Vikings minus 10.5 points. The Vikings are almost a lock to win Sunday. Reduce your risk of covering the spread by adding them into a 10 point NFL teaser at 5Dimes! (Home of -105 odds, which will save you BIG $$$$)
STOP LOSING TODAY! START WINNING WITH DOC'S TEAM OF PROFESSIONALS! GET A FREE NO STRINGS ATTACHED $60 FOR THIS WEEKEND'S GAMES!