Free Pick: Jacksonville Jaguars at Houston Texans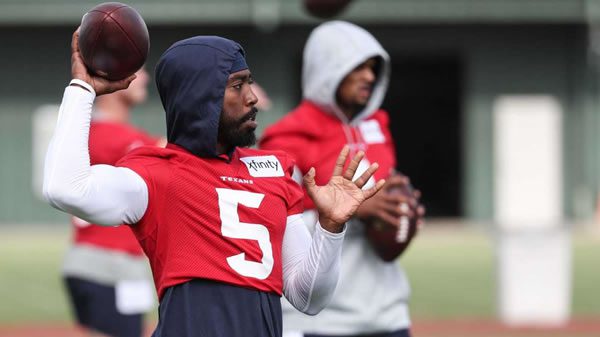 Jacksonville Jaguars (1-15 SU, 7-9 ATS in 2020) at Houston Texans (4-12, 6-10), 9/12/21
When: 1 pm ET Sunday, Sept. 12
Where: NRG Stadium
TV: CBS
NFL Betting odds: Jax -3/Hou +3
Total: 44.5
(Top Parlay Sportsbooks - Get the Highest Payouts>>> Don't you dare leave money on the table when you win! It's hard enough to beat these bets! Get paid accordingly!)
Two teams that combined for five wins last season open their 2021 campaigns when the Texans host the Jaguars for an AFC South bout Sunday afternoon in Houston. Jacksonville, now under Coach Meyer, is going with rookie Trevor Lawrence at quarterback. Now under Coach Cully, the Texans are going with journeyman Tyrod Taylor in place of the compromised DeShaun Watson.
The Jags, who accounted for one of those five combined wins last year, are actually lined as short road favorites for this game. Which way are we going with our Week 1 spread pick?
NFL Betting Lines
The Week 1 NFL betting odds opened Jacksonville at -1.5 for this one, with an over/under of around 45. Early betting action then bumped the Jags to -3.
Bettors looking to eschew the point spread here could find Jacksonville at around -150 on the NFL money line, with Houston getting +130 to win this one outright.
Jacksonville-Houston NFL Betting Preview
The Jaguars are coming off a lost 2020 season in which they won their first game, beating what turned out to be a pretty good Indianapolis team, then lost their last 15. There were a few close ones along the way, as Jacksonville lost by three points to Tennessee, two points to Houston, four to Green Bay, two to Cleveland, and by three to Minnesota (in overtime), but there were a bunch of blow-outs, too.
The Jags canned Coach Marrone and replaced him with college big-shot Urban Meyer when the season was over. Who's got a lot of work to do.
Jacksonville ranked 28th in the NFL in total offense last year, averaging only 326 yards per game, and 29th in rushing at just 95 YPG. The Jaguars also ranked 31st in total defense, allowing 418 YPG, and 30th against the run, giving up 153 YPG on the ground.
Over the off-season, the Jags used their top two picks in the draft to take Clemson QB Lawrence and Clemson RB Travis Etienne. Unfortunately, Etienne is already out for the season with a foot injury.
Just four seasons ago, Jacksonville nearly won the AFC and seemed to have a very bright future. Now, they're starting from scratch.
The Jaguars will play against an over/under win total of 6.5 this season.
The Texans, meanwhile, are coming off a lost season of their own, going 4-12 and missing the playoffs for only the second time in the last six seasons. Houston started 0-4 last year, then canned Coach O'Brien, replacing him with Coach Crennel. The Texans then played 4-8 SU, 6-6 ATS from there, but six of those losses came by seven points or less. That's how they finished 5-3 ATS over the second half.
Over the off-season, Houston hired Coach Culley, an NFL offensive assistant for the last 25 years, as its new HC. But the Texans also didn't get a pick in the draft until the third round.
Houston ranked 13th in the league in total offense last year at 375 YPG but 31st in rushing at just 92 YPG. On the other side of the ball, the Texans ranked 30th in total defense, giving up 417 YPG, and dead last against the run, allowing 160 YPG.
Of course, the huge news out of Houston is Watson's messy situation. He will not play in this game, and we wonder if he'll ever play again. So the Texans are going, for the moment, with Taylor, who's 24-21 as an NFL starter in 10 seasons with four different teams.
Houston will play against an over/under wins total of four, the lowest number on the board.
More Picks: Get Jay's Fish vs. Pats Total Pick >>>
Jaguars-Texans Recent History
Houston owns a six-game winning streak in the rivalry with Jacksonville, going 4-2 ATS along the way. Last year the Texans swept the two games from the Jags by scores of 30-14 and 27-25, covering the first game at -6.5 but giving away the cover late in the second at -7.
Also, that first meeting played under a total of 55, while the second meeting played over a total of 49 when Jacksonville scored a touchdown with a minute and a half left.
None of the three quarterbacks who started those two games will play in this game.
Totals Report
Totals split 8-8 in Jaguars games last season, which averaged 50 total points.
Totals split 8-8 in Texans games last season, which averaged 53 points.
Unders are 5-1 over the last six meetings between these two teams, which have averaged just 33 total points.
Free NFL Betting Pick
We gotta give Taylor the edge in the quarterback comparison because we just don't trust rookies. Some are great right out of the gate, sure, but most are not, even No. 1 overall picks. Also, Houston owns the recent rivalry with Jacksonville, quarterbacks be damned, and it's getting three points as a home dog. In a game that looks like a total toss-up, we'll take those three points. Bet this game for FREE by grabbing a free $50 bet on only a $25 deposit! How? Register for an account through this special link at Intertops Sportsbook, deposit $25 (or more) and go to their special offers page and enter bonus code ROOKIE200. The FREE $50 will magically appear in your account balance!