Giants Win Total Under 7 Is The Play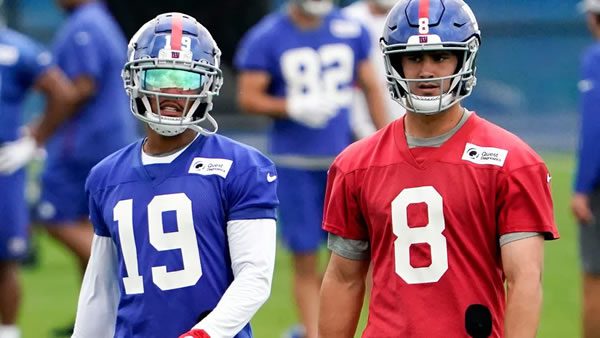 The New York Football Giants will take the field in 2021, looking to turn around a franchise that has lost ten or more games in six of the last seven years. Last year they opened the season with five straight losses, then limped in to finish 6-10. Betanysport.eu has set this year's win total for the G-Men at 7, with a bit of juice on the over. The play is to take the +105 odds and play Under. Here are three reasons.
The Offense Is Anemic
Joe Judge fell off of the Belichick tree last year to become the head coach of the Giants. Judge was the Special Teams Coordinator for the Patriots, so he sought out the best offensive mind he could to utilize the talents of Saquon Barkley and develop his young quarterback, Daniel Jones. The offensive mind Judge landed on was ex-Cowboy coach Jason Garrett. Garrett hadn't run an offense in multiple years at Dallas and proceeded to guide the Giant offense to 17 points per game. Were it not for their cross-town rival Jets; it would have been the worst offense in the league. Somehow Garrett gets a second chance to lead the offense, and we should expect results similar to last year. To pile on the bad stats, New York managed only 12 passing touchdowns – worst in the league and took 50 sacks – second-worst in the league. The Giants made a splash in free agency and signed Kenny Golladay – who excelled in 2019 with the Lions but only made 20 catches in 5 games last year due to fighting a hip injury. They also added a gadget receiver in the first round of the draft – Kadarius Toney from Florida and took a flier on ex Bengal speedster John Ross III. Golladay has struggled to be healthy early in camp but should marginally help the receiving corps when he gets on the field. However, it's hard to see how Toney or Ross will move the needle. In any case, New York didn't address their primary need – the offensive line.
Giant quarterbacks were brought to the ground 50 times last year, and their rushing game was 19th in yards per game. The O-line never gave Daniel Jones much of a chance. Center Nick Gates and left tackle Andrew Thomas can hold their own, but the guards and right tackle are big question marks. Previous second-round pick Will Hernandez has never panned out, and big-ticket free agent Nate Solder is expected to start the season on the bench after opting out last year. With the line problems, Jones was not able to elevate his game leaving big questions about his career trajectory. Jones threw for only 6.6 yards per attempt last year, ranking 26th in the league. New York is counting on 2018 #2 overall pick Saquon Barkley to return from his week 2 ACL tear to be the cornerstone of the offense. Barkley was a true dual-threat back in '18 and '19 and requires the defensive coordinator's full attention. But reports out of Giants camp are not promising, so we should not expect a lot from Barkley, at least early in the season. With the offensive line woes stated above, I wouldn't expect Barkley to return to 2018 form this year. The Giants' offense is not likely to make much of a step forward this year, making it hard to invest in them to win eight games.
The Defense Can't Do It All
The G-Men defense put up reasonable numbers last year. They were 9th in points allowed, and 8th in rushing yards per carry which should put them is a position to win. Their passing defense was not as impressive, allowing 7.2 yards per attempt and only notching 40 sacks. They did add Adoree Jackson to play corner opposite of James Bradberry, giving the G-Men a very formidable set of corners. Getting pressure on the QB will be the problem for New York. Leonard Williams came to life last year and led the team with 11.5 sacks. However, in his previous six years in the league, he had averaged three sacks per year. After Williams, no other Giant had more than four sacks last year, and there was little help added. They are counting on Dexter Lawrence to get more pressure, or possibly free agent Ifeadi Odenigbo formerly of the Vikings. There just isn't enough talent or speed rushing the passers to impact opposing offenses. The corners may be good, but with enough time, NFL QBs will move the ball and put up points against this D.
I also believe the Giants D were not as good as their numbers indicated last year. Opponents knew if they scored 20 points and didn't give up a pick-6, they would probably walk away with a win. The Giants had the benefit of playing twice against anemic WFT and the Eagles and got the Cowboys once without Dak, the Bengals without Burroughs, and the Bears. That represents half of their games against the bottom ten offenses to help pad the stats. New York also struggled on the money down, only getting off the field on 55% of third downs. They were 25th in the league in this category, and only one team worse than that made the playoffs. The Giants D has some strengths – especially if Williams repeats his 2020 performance, but to win in the 2021 with your defense, it has to be the best in the league, and this is just a middle-of-the-pack unit.
Why Would We Bet Over
The third reason to bet on the Giants under seven wins is there are no reasons to bet on the over. Their best player is a running back coming off of a torn ACL and running behind a very questionable offensive line. Their quarterback is not very accurate, hesitant to throw downfield, and constantly under pressure. Their defense is good but doesn't have true shutdown corners, doesn't have a pass rusher that can turn a game around with a strip-sack, and isn't even great against the run. Their coach is an inexperienced former New England assistant that certainly hasn't proved he elevate the level of play of a mediocre team, and their offense is run by one of the worst coordinators in the league. The Giants schedule pits them against the AFC West and NFC South, which offers very few easy games, and their own division will be better this year as the WFT has a much-improved offense, and Dak Prescott should be healthy for the Cowboys. They have a GM on the hot seat, so if the season starts off poorly, the team could quit on the current management, knowing they will be ushered out after the season closes. To believe the Giants get to 8 wins requires a belief that Jones will take a big step forward, Barkley is close to 100%, and everything goes right for the defense. I don't see it.
Play the G-Men Under 7 Wins
I struggle to look at the schedule and find eight wins for this Giant team. They have been at six or fewer wins in five of the last six years, and this year should make it sx out of seven. Sign me up for +105 on the Football Giants Under seven wins. Question: Where are you betting your NFL picks this season? Does your online bookie offer you the ability to wager on games at reduced odds? Did you even know that you could be laying -105 odds instead of the more expensive -110 option that the books have been hammering you with since you first started betting on sports? Stop overpaying for your betting odds and start saving $5 per $100 you're trying to win by making the switch to BetAnySports! We've advertised them for over 10 years with not one complaint! Click here to start saving big bucks!
Football Betting Guide
New to football betting? NFL point spreads can be confusing at first, but our how to bet on football article help you bet like a seasoned pro! You'll also learn how to wager on teasers, parlays, over/unders, prop bets, futures and how point buying works.