[et_pb_dcsbcm_divi_breadcrumbs_module hide_homebreadcrumb="off" homebreadcrumbtext="Home" separator="sep-raquo" hide_currentbreadcrumb="off" homebreadcrumborientation="left" _builder_version="3.8″ fontsbreadcrumbs_font="Lato||||||||" fontsbreadcrumbs_text_color="#000000″ fontsbreadcrumbs_font_size="15px" fontsbreadcrumbs_line_height="16px" fontsseperator_font="||||||||" fontsbreadcrumblinks_font="||||||||" fontsbreadcrumblinks_text_color="#2567cf" custom_margin="25px|||" custom_margin_phone="30px|||" custom_margin_last_edited="off|desktop" custom_css_main_element="font-family: Helvetica Regular;" global_module="3641″ saved_tabs="all"][/et_pb_dcsbcm_divi_breadcrumbs_module]
Green Bay Packers vs. Los Angeles Rams Prediction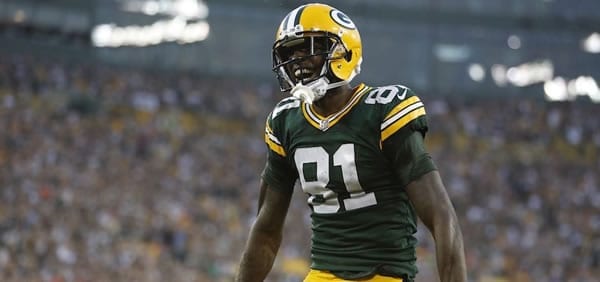 Green Bay Packers (3-2-1 SU, 2-4 ATS) vs. Los Angeles Rams (7-0 SU, 4-3 ATS)
NFL Football Week 8
Date and Time: October 28 at 4:25pm ET
Where: L.A. Memorial Coliseum
TV: FOX
Point Spread: GB -9.5/LAR +9.5
Over/Under Total: 56.5
There is a serious changing of the guard that is going to take place over the next few years in the NFL with guys like Brady, Brees, Rivers and Big Ben having many more yesterdays than tomorrows. Guys like Pat Mahomes, Mitch Trubisky and Jared Goff have taken strides to be in the conversation of who may lead the next generation of NFL star QB's but the best signal caller in town still resides in Green Bay and Aaron Rodgers isn't going to give up his seat at the table without a fight. A-Rod and the Packers travel to L.A. this weekend to test Goff and the undefeated Rams. Sean McVay has L.A. looking like an unstoppable offensive force, but the Pack is coming off a bye week in which they got significantly healthier. Green Bay has a brutal schedule coming up, and they cannot afford to lose too many or this season may slip away before the snow flies in Titletown.
Welcome Back, Guys!
After several weeks of horrible luck on the injury front, Green Bay is anticipating the return of several key contributors. Most notably, wide receivers Geronimo Allison and Randall Cobb should be back in the lineup, giving the Packers their full skill complement for the first time this season. Rodgers finally got a no-contact week in since the Week 1 knee injury so it should be all systems go for the offense. Even with the injury limitations, Green Bay ranks 4th in total yards and 4th in passing at 317 yards per game through the air. Rodgers has thrown for 12 touchdowns against just one interception while on one leg, imagine what this offense can do if he is again able to escape the pocket to throw downfield. The defense has healed as well, especially in the secondary and that will help against the Rams 8th best passing attack. There are still a lot of Q's on the official report out of Green Bay but the only non-participant in the early week was Rodgers, and that was just for rehab, he was on the field in full for Wednesday's session.
The Greatest Show (not) on Turf
The Rams impressed many last season by going 11-5, but it doesn't appear that was enough for them. The offense has led the way to a great extent, especially with Todd Gurley powering the league's best rushing attack. Gurley is averaging 4.8 yards per carry and has 11 rushing scores with the Rams at 153 yards on the ground per game. Goff has been aces with 14 touchdown passes, and L.A. has an impressive trio of receivers with Brandin Cooks, Robert Woods and Cooper Kupp all averaging at least 14.5 yards per catch. Since McVay took over, Goff has thrown for 43 touchdowns against 12 interceptions in 23 games. Green Bay is going to provide a decent antidote to Goff as they are 5th against the pass, allowing just 211 yards per game. Ha-Ha Clinton Dix has three interceptions to lead the secondary, and the front seven has averaged three sacks per game. The key decider may be if the Packers and their 22nd ranked run defense can limit Gurley at all.
The Rams are going to get theirs, they average 33.3 points per game after all, but their defense has not been overly stout against quality opponents. L.A. enters the week 4th in scoring defense, but they gave up 23 to the Chargers and 31 each to Minnesota and Seattle. Green Bay has all the offensive firepower of those teams and perhaps more at their peak. Aaron Donald is a beast with eight sacks, but a mobile Rodgers has diffused a good pass rush before. If the Packers want to play keep away a bit, they could deploy RB Aaron Jones and his 5.9 yards per carry against a middle-of-the-road Rams run defense. LA nickel-corner Troy Hill is day-to-day with a concussion so that Ram secondary could be down a man come Sunday.
Green Bay has the pieces to pressure L.A. and get points on the board. Rodgers averaged 100.7 QBR while injured and has only one pick so far this year. Davante Adams has been facing double coverage for most of the last month but still leads the team with six touchdowns, and Jimmy Graham is still a matchup problem in the red zone. The Rams are allowing a 42.4% conversion rate on third down and 4.7 yards per carry so they can be creased. Rodgers will find those soft spots on that defense and exploit them. The Rams have walked to easy wins against the bottom-tier opponents but have had close battles with the better than average teams. Green Bay is clearly better than average, especially coming off a bye week.
Packers at Rams Prediction
The 9.5-points Green Bay is getting marks the largest underdog status in Aaron Rodgers career. This is a guy that is driven by slights like that, and he is going go out looking to win by ten. I don't think that happens for the Packers as they do have some legitimate inefficiencies and shortcomings but I trust the Green Bay offense to get 24-28 points on the board. That total requires L.A. to be north of 35 for sure, and that is a lot to ask for a team that is still a run-first unit. The Packers short passing game keeps the clock moving, and neither of these teams is reckless with the football so there shouldn't be too many short-field scenarios. A quickly paced game works against a Rams cover, and while they do get another close win, it is going to be a Packers ATS W after a 31-26 final.
Ted Walker's Pick to Cover the Point Spread: Green Bay plus the points! Editor's Note: Need an additional sportsbook to shop lines? Check out our list of recommended betting sites.
<div class="clickable CTA" style="margin: 0 auto; background: #fff; border-radius: 10px; text-align: center; padding: 10px 20px 20px 20px;"><!-- [et_pb_line_break_holder] --> <img src="https://www.predictem.com/wp-content/uploads/2018/05/mybookie-logo.png" alt="MyBookieer" class="cta-image" /><!-- [et_pb_line_break_holder] --> <p style="margin-top: 5px; font-size: 22px; line-height: 30px;"><!-- [et_pb_line_break_holder] --> $1,000 Free Play Offer<!-- [et_pb_line_break_holder] --> </p><!-- [et_pb_line_break_holder] --> <hr class="cta-divider"><!-- [et_pb_line_break_holder] --> <p style="padding-bottom: 20px; font-size: 15px; line-height: 20px"><!-- [et_pb_line_break_holder] --> $1,000 Football Sign Up Bonus<br>Free Play - 15X Rollover<!-- [et_pb_line_break_holder] --> </p><!-- [et_pb_line_break_holder] --> <a href="https://www.predictem.com/out/Mybookie" rel="nofollow" target="_blank"><button class="et_pb_button" style="color: #fff; cursor: pointer; width: 90%;"><!-- [et_pb_line_break_holder] --> Bet Here<!-- [et_pb_line_break_holder] --> </button></a><!-- [et_pb_line_break_holder] --></div>
<div class="widget105"><!-- [et_pb_line_break_holder] --><h4 class="parlays">Best Sportsbooks for Parlays</h4><!-- [et_pb_line_break_holder] --><!-- [et_pb_line_break_holder] --><table id="parlay"><!-- [et_pb_line_break_holder] --> <tr><!-- [et_pb_line_break_holder] --> <th><span class="team"></span></th><!-- [et_pb_line_break_holder] --> <th>2 Team Parlay</th><!-- [et_pb_line_break_holder] --> <th>3 Team Parlay</th><!-- [et_pb_line_break_holder] --> <th>4 Team Parlay</th><!-- [et_pb_line_break_holder] --> </tr><!-- [et_pb_line_break_holder] --> <tr><!-- [et_pb_line_break_holder] --> <td><a href="https://www.predictem.com/out/SportbetP"><img src="https://www.predictem.com/wp-content/uploads/2018/06/sportbet-sm.png"></a></td><!-- [et_pb_line_break_holder] --> <td>2.74 to 1</td><!-- [et_pb_line_break_holder] --> <td>6.24 to 1</td><!-- [et_pb_line_break_holder] --> <td>13 to 1</td><!-- [et_pb_line_break_holder] --> </tr><!-- [et_pb_line_break_holder] --> <tr><!-- [et_pb_line_break_holder] --> <td><a href="https://www.predictem.com/out/BovadaP"><img src="https://www.predictem.com/wp-content/uploads/2018/06/bovada_sm.png"></a></td><!-- [et_pb_line_break_holder] --> <td>2.64 to 1</td><!-- [et_pb_line_break_holder] --> <td>6 to 1</td><!-- [et_pb_line_break_holder] --> <td>12.3 to 1</td><!-- [et_pb_line_break_holder] --> </tr><!-- [et_pb_line_break_holder] --> <tr><!-- [et_pb_line_break_holder] --> <td><a href="https://www.predictem.com/out/MybookieP"><img src="https://www.predictem.com/wp-content/uploads/2018/06/mybookie-sm.png"></a></td><!-- [et_pb_line_break_holder] --> <td>2.64 to 1</td><!-- [et_pb_line_break_holder] --> <td>6 to 1</td><!-- [et_pb_line_break_holder] --> <td>12 to 1</td><!-- [et_pb_line_break_holder] --> </tr><!-- [et_pb_line_break_holder] --></table><!-- [et_pb_line_break_holder] --><div class="widget-footer"><a href="https://www.predictem.com/best-sportsbooks/parlays-odds/">See all Sportsbook Parlays</a></div><!-- [et_pb_line_break_holder] --></div><!-- [et_pb_line_break_holder] --><!-- [et_pb_line_break_holder] --><!-- [et_pb_line_break_holder] --><style><!-- [et_pb_line_break_holder] --> #parlay {border-collapse: collapse;<!-- [et_pb_line_break_holder] --> width: 100%; border: 0px;<!-- [et_pb_line_break_holder] --> font-size: 14px!important;}<!-- [et_pb_line_break_holder] --> #parlay td, #parlay th {<!-- [et_pb_line_break_holder] --> border: 0px;<!-- [et_pb_line_break_holder] --> padding: 8px;<!-- [et_pb_line_break_holder] --> text-align: left;}<!-- [et_pb_line_break_holder] --> #parlay th {<!-- [et_pb_line_break_holder] --> padding-top: 5px;<!-- [et_pb_line_break_holder] --> padding-bottom: 5px;<!-- [et_pb_line_break_holder] --> font-weight: bold;<!-- [et_pb_line_break_holder] --> line-height: 14px;<!-- [et_pb_line_break_holder] --> text-align: center;<!-- [et_pb_line_break_holder] --> color: #000;}<!-- [et_pb_line_break_holder] --> #parlay tr {border-bottom: 1px solid #edeef0;}<!-- [et_pb_line_break_holder] --> .team {font-size: 16px;}<!-- [et_pb_line_break_holder] --></style>