MNF Pick: Atlanta Falcons vs. Green Bay Packers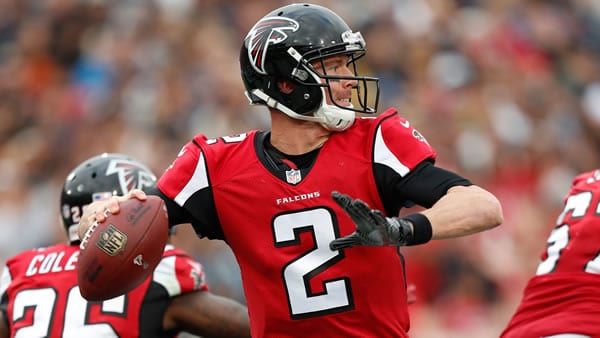 Atlanta Falcons (0-3 SU, 1-2 ATS) vs. Green Bay Packers (3-0 SU, 3-0 ATS)
Week 4 NFL
Date/Time: Monday Night Football, November 5, 2020 at 8:20PM EDT
Where: Lambeau Field, Green Bay, Wisconsin
TV: ESPN
Point Spread: ATL +7/GB -7 (BetNow)
Over/Under Total: 58
On Monday Night Football, the Atlanta Falcons come into Lambeau Field for a week four showdown with the unbeaten Green Bay Packers. The Packers have started well at 3-0, covering all their spreads, including a 37-30 road-win against the Saints on Sunday night. They now return home to face a team in Atlanta that is really struggling to have something good happen after an 0-3 start. It's not just that they're losing, but it's really been disheartening the past few weeks, as they blew big late leads in both games, first to the Cowboys, then last week to the Bears in a 30-26 loss. Can they hang in there against the Packers this week?
Atlanta: The Good and Bad
Atlanta is definitely an 0-3 team with a twist, good enough to lead in all their games. And against Dallas and Chicago, they really had their opponents where they wanted them, leading Dallas 39-24 midway through the fourth quarter and leading Chicago 26-10 with less than 7 minutes left in the fourth quarter. To tank in consecutive weeks with leads like that is a tough pill to swallow. For an optimist looking to make a case for a Green Bay letdown this week, they could point to the fact that Atlanta was good enough to build leads in those games, at least suggesting that they're dangerous.
Still, their level of folly late in games makes the Falcons a major drawback. The lack of mental toughness that the last two weeks illustrates in very alarming. And seeing Dan Quinn on the sidelines as the ceiling if falling in is probably getting old for ownership at this point, as any franchise success has been minimal since blowing that huge lead against the Patriots in that Super Bowl. As if it that weren't enough, they lost K Young Koo and CB Darqueze Dennard, with a lot of other players getting banged up in the loss to the Bears on Sunday, including DT Grady Jarrett, WR Russell Gage, and most importantly, WR Julio Jones, who didn't play on Sunday.
Green Bay As Good As They Look?
A 16-3 start to Matt LaFleur's head coaching career, three straight covers this season, and a well-oiled team suggest a real contender. They lead the league in scoring, with Aaron Rodgers flexing one of his more-balanced offenses in years. After beating a struggling pair of teams in Minnesota and Detroit, they saw it work really well in a hard-earned road-win against a Saints team that was pushing hard for a win last Sunday. They didn't get out of the Bayou unscathed, however, with key defensive talent like Kenny Clark, Christian Kirksey, and Rashan Gary listed as questionable for this, with number-one receiver Davante Adams still questionable after missing the Saints game.
If looking for faults, one could point out that all three teams the Packers faced were not exactly in top-form, with their opponents now a combined 2-7. But then again, the Falcons aren't in any better of a position. If you combine the Falcons at least being able to succeed, however, even if it hasn't been throughout an entire game, with the Packers' defense being banged-up and having not been that iron-clad under ideal circumstances this season, you can start to see the winning case for Atlanta starting to form. Truth is, the Green Bay defense has been a bit loose this season and Atlanta's Matt Ryan can still crank it up. It's just something to ponder when you need a big favorite to cover a number, something a late-sagging defense in games doesn't tend to help.
The Case for Green Bay
While Atlanta can still air it out on offense, their secondary is in shambles. It's not just that they're not very good, but it's actually scary how easily teams playing from behind that have a fire lit underneath them can move the ball against this bunch. Against a smooth-running Green Bay offense, that doesn't bode well, especially at Lambeau. Even with Adams out of action, Rodgers was able to work well with other targets like reliable Marquez Valdez-Scantling, Allen Lazard, and tight ends Mercedes Lewis and Robert Tonyan. But it's the growth of Aaron Jones at running back that has really given this offense a boost over the last few seasons. He's a huge threat coming out of the backfield averaging over 6 yards a run and even aerially where he does a lot of damage.
One could envision that the Falcons could move the ball against this Green Bay defense, especially if Julio Jones returns to the fold. However, the Green Bay defense has played well when need be. There have been lapses, but when the offense is putting up so many points, a defense can let up a bit mentally and appear more vulnerable than what is really the case. But while they're maybe better than they've looked at times, it's unclear if the recent injury setbacks has rendered them a bit dicey.
Take the Home Favorite
I can see what Atlanta backers are thinking this week—that Green Bay will have little urgency, while the Falcons will be pushing hard for their first win. And Green Bay is a little banged-up. But so is Atlanta and while the Packers might not be a fever-pitch mentally, didn't last week mean a lot to Atlanta when they were up by 16 halfway through the fourth quarter? It's just that in this spot, I'd rather have my eggs in the basket of the more positive football machine and that's the Packers. I'm taking Green Bay.
Loot's Prediction to Cover the Point Spread: I'm betting on the Green Bay Packers minus 7 points.