2020 NFL Draft Prop Bets – Picks from Bovada Sportsbook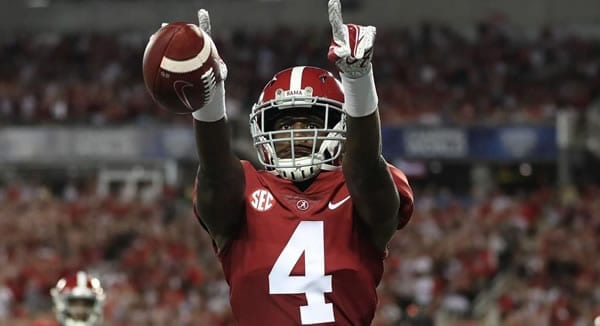 With Fuhrer Goodell ignoring the pleas of owners across the league begging for a delay, the NFL Draft will continue to be held starting on April 23rd and running through the 25th. Below you will find a handful of Draft prop bets that should land you a profit. With literally nothing else of relevance to wager on, you might as well head to Bovada (See our Bovada Review) and grab some value in anticipation of what should be the highest-rated NFL Draft in league history.
FIRST KICKER DRAFTED
Rodrigo Blankenship -190
Dominik Eberle +300
Tyler Bass +375
Sam Sloman +1000
Jonathan Song +1500
JJ Molson +1600
Former Georgia Bulldog Rodrigo Blankenship is the front-runner in the odds to be the first kicker drafted, and it's easy to see why. He is coming off a 2019 season in which he won the Lou Groza award for the best placekicker in the country and will be looking to join Matt Gay (2019), Robert Aguayo (2016), Mike Nugent (2005), Nate Kaeding (2004), Sebastian Janikowski (2000) and Martin Gramatica (1999) as recent Groza winners to go on to be the first one at their position to be picked in the draft. Blankenship certainly has the requisite accuracy and long-distance kicking ability to succeed in the NFL, having never missed an extra point during his college career (190/190) while also tying the NCAA leading mark in field goals made from 50 yards or more with three last season. The range is something that clearly differentiates him past nearly everyone else in the pack. Dominik Eberle and Tyler Bass didn't make a kick from 50 or more last season, Jonathan Song has never even attempted one from that distance in his career, and JJ Molson is one for six over his career. I would definitely lay the chalk odds on Blankenship to be the first kicker chosen, while also putting a small amount down on 10-1 shot Sam Sloman, who like Rodrigo has long-distance ability having gone four of five from 50+ in 2019.
PICK: Rodrigo Blankenship (-190) and Sam Sloman (+1000)
---
TEAM TO DRAFT JERRY JEUDY
Las Vegas Raiders +180
New York Jets +240
San Francisco 49ers +375
Denver Broncos +700
Philadelphia Eagles +1400
It's easy to see why these are the top five teams listed for Alabama wide receiver Jerry Jeudy, as all have the wide receiver position at the top of their draft needs list. Jeudy is the current odds on favorite to be the first player chosen at his position with odds of +115 compared to +175 for Ceedee Lamb of Oklahoma and fellow Crimson Tider Henry Ruggs III at +185. The Jets are the first of the teams to go at with the eleventh pick, and I don't believe Jeudy will be sliding past them. With Tom Brady gone from the AFC East, Jets quarterback Sam Darnold has a chance to ascend to the top of the divisional position ranking and possibly gear his team toward a top spot that has been simply dominated by the Patriots for the past two decades. To do so Darnold will need weapons, and with Robby Anderson now gone via free agency, there is a dire gap at the position on the team that can be immediately filled by Jeudy, who I think is the well worth the wager to end up being picked by the Jets on draft day.
PICK: Jerry Jeudy to Jets (+240)
BET ON THE 2020 NFL DRAFT USING YOUR CREDIT CARD AT BOVADA! YOU ALSO GET A 50% REAL CASH BONUS UP TO $250 FREE ADDED AUTOMATICALLY!
---
TOTAL ALABAMA PLAYERS DRAFTED IN ROUND 1
OVER 5.5 EVEN
UNDER 5.5 -140
Since arriving in Tuscaloosa, Alabama coach Nick Saban has had more players chosen in the first round (26) than he has games lost (23). In all that time though, the most players picked in the first round was four, and going over the mark of 5.5 would at least tie them for the "all-time record" of six held by the Miami Hurricanes set back in 2004. The Crimson Tide have as many as seven players that could be chosen in the initial round, with four of them an absolute lock (Tua Tagovailoa, Jerry Jeudy, Jedrick Wills, and Henry Ruggs III). The question will be how many of Xavier McKinney, Trevon Diggs, and Terrell Lewis could go as well, and I believe by the end of round one, only five players will have been chosen from Alabama.
PICK: UNDER 5.5 (-140)
---
TOTAL DEFENSIVE LINEMEN DRAFTED IN ROUND 1
OVER 5.5 -110
UNDER 5.5 -130
In doing out a consensus ranking of all of the draft prospects, there are six defensive linemen in the Top 27 (Chase Young, Derrick Brown, Javon Kinlaw, A.J. Epenesa, Ross Blacklock and Yetur Gross-Matos). Additionally, there's a handful of linemen that could also sneak their way into possible first-round contention (Jordan Elliot, Neville Gallimore, Justin Madubuike, Marlon Davidson, etc.). With all those names out there, especially the first six mentioned, I would definitely put your money behind more than 5.5 defensive linemen going in the first round of the draft.
PICK: OVER 5.5 (-110)
---
MORE 1ST ROUND PICKS
Auburn Players +0.5 (-230)
Georgia Players -0.5 (+160)
With Derrick Brown and Andrew Thomas, both locked in as first-round picks, the only remaining variables at play are D'Andre Swift of Georgia and Noah Igboghene of Auburn. Swift is the highest-rated running back on the board (-200 to be the first one at his position to be taken). While Igboghene is rising up on a lot of draft charts, he has only played the position for two years, and there is still ample talent ranked ahead of and around him at cornerback. I believe Swift has a far greater or chance of going in the first round then Igboghene and because of that think it is worth the value pick grab at +160 to go with the Bulldogs
PICK: Georgia -0.5 (+160)
---
JUSTIN HERBERT DRAFT POSITION
OVER 5.5 -230
UNDER 5.5 +160
Every year as the draft gets closer, it seems some quarterbacks end up jumping up and going higher than expected, and this year I believe that will be the case with Justin Herbert of Oregon. There are already two teams in the top five that are near guaranteed to be taking a quarterback in Cincinnati at one with Burrow and then whoever Miami ends up with their No. 5 pick or even higher if they decide to trade up. Tua Tagovailoa is the presumed runner up to Burrow in terms of draft stock, but two things could still work out well in Herbert's top five chances. One of which is any other number of teams could trade up into the top five to take a quarterback, and the other is there are multiple reports that some teams even have Herbert ranked as the second-best. At more than 1.5-1 odds, there is definite value in rolling the dice on Herbert, and I certainly wouldn't be in any way surprised to see those odds drop as it gets closer to draft date.
PICK: UNDER 5.5 (+160)
Another great place to find 2020 NFL Draft proposition bets is MyBookie! They offer Predictem readers a special 100% real cash bonus on your first deposit of $100 to $300! You must use this special link to sign up and use promo code/bonus code PREDICT100 on the registration page.
---
DERRICK BROWN DRAFT POSITION
OVER 8.5 -170
UNDER 8.5 +130
The Carolina Panthers and Arizona Cardinals are picking 7th and 8th as of now in the draft. With the Panthers, top need being at defensive line and the Cardinals also looking for help up front, I can't imagine Derrick Brown slipping past both of them as easily the highest-rated player at his position on the board. In any mock draft pool, I will have Brown going to Carolina, and as such, I will be taking the better odds and going with him to go earlier than the experts believe.
PICK: UNDER 8.5 (+130)
---
JEDRICK WILLS
OVER 10.5 +135
UNDER 105 -175
Jedrick Wills and Tristan Wirfs are considered the top two offensive linemen in the draft with Andrew Thomas and Mekhi Becton close behind them. Multiple teams in the top ten picks need offensive line help, most notably Arizona at eighth and the Browns at tenth, and with that in mind have no issue laying the additional odds on the Alabama tackle Wills to be one of the initial ten to go.
PICK: UNDER 10.5 (-175)
---
MEKHI BECTON
OVER 8.5 -110
UNDER 8.5 -130
I have Becton as the four rated offensive lineman on the board and with the Cardinals at 8th the first team fully expected to take a player at Becton's position, I believe there are better options and can't imagine Becton getting taken over Wills, Wirfs, and Thomas to warrant taking the favorite side.
PICK: OVER 8.5 (-110)
---
JAVON KINLAW DRAFT POSITION
OVER 13.5 -120
UNDER 13.5 -120
A defensive lineman out of the University of South Carolina, Javon Kinlaw is easily rated as the second-best player at his position in the draft. With multiple teams in the top 13 needing help up front, including Carolina, Arizona, Jacksonville, Cleveland, Las Vegas, and San Francisco, I would be greatly surprised if Kinlaw somehow slipped past all of them and didn't clear his draft day mark.
PICK: UNDER 13.5 (-120)
---
HENRY RUGGS III DRAFT POSITION
OVER 14.5 +105
UNDER 14.5 -145
A teammate at Alabama to top wide receiver in draft Jerry Jeudy, Ruggs is expected to be the third wide receiver taken off the board after CeeDee Lamb. For Ruggs to go in the top 14, it would mean that all three teams that needed receivers (Jets, Raiders, 49ers), all took them with their first when they choose consecutively from 11th-13th. This is also barring any one of them trading down to someone who might be looking to move up for a quarterback like Jordan Love or other positional help. I can't see all three teams going with receivers, and because of that will be picking Ruggs to go over his projected draft mark.
PICK: OVER 14.5 (+105)
---
JALEN REAGOR DRAFT POSITION
OVER 32.5 -175
UNDER 32.5 +135
With around seven receivers ranked ahead of Reagor on most draft boards (Jerry Jeudy, CeeDee Lamb, Henry Ruggs III, Justin Jefferson, Brandon Aiyuk, Tee Higgins and Laviska Shenault Jr.) along with outliers such as Michael Pittman and Denzel Mims, I just can not see that many teams are going with receivers in the first round to make the chances of Reagor going in the top 32 anywhere near worth wagering on positively.
PICK: UNDER 32.5 (-175)
---
JEFF GLADNEY DRAFT POSITION
OVER 32.5 -190
UNDER 32.5 +145
Similar to the Jalen Reagor pick above, this is simply a matter of a log jam of players ranked higher at the position, this time at cornerback, that are better than Gladney, most notably Jeff Okudah, C.J Henderson, Trevon Diggs, Kristian Fulton, and A.J Terrell. He would also need to jump ranked similar to him, such as Damon Arnette, Jaylon Johnson, Noah Igboghene, and Camaron Dantzler. With all those ahead of and around him, I just don't see Gladney making the necessary jump to be a worthwhile wager.
PICK: UNDER 32.5 (-190)
---
Best of luck in all your draft day wagers and pools, hopefully, some winning picks can distract from the disappointment of missing out on the great day one draft day tradition that is hearing the cascade of boos that always rains down on Goodell every time he steps to the podium and with his mere despicable presence continues to disgrace the league and sports itself. 
For the most prop bets and the best (lowest) wagering odds on the planet (including Vegas), check out 5Dimes Sportsbook! No frills, just discount odds and a long history of paying winners when they request their winnings!