NFL Odds To Win Each Division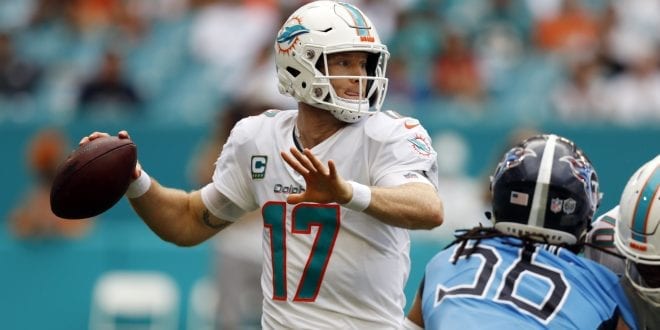 NFL Odds and Picks to Win Each Division
This is a very reasonable bet to make. When betting on futures, a lot of bettors try for something too difficult—betting on which team will win their conference or who will win the Super Bowl. That's a lot to ask. And when betting on teams that might not be listed among the top contenders, you don't really need to go that deep. If you have a feeling that a team being overlooked by some will be better than advertised, a bet to win the division will do the trick. We don't always have to go for the gusto.
There are eight divisions to deal with here, each with four teams apiece. It's eight four-team races amongst teams that will play each other twice. We're going to take a lot into consideration—offseason player moves, coaching changes, late-season form from last year, schedule, and any other conditions that have changed. You will see odds for each team to win their division, along with a "Field" bet, which means any other team except the one being listed. Let's break it down division by division, starting with the AFC West!
AFC East Division Winner
New England Patriots +380 vs. Field to Wins AFC East -475
Analysis/Pick: When a team wins ten straight division titles and 15 of their last 16, a -475 quote isn't out-of-line. And trying to time their downfall has proven to be a costly proposition. But with age and an improving division, the case is there to be made that the gravy-period is coming to an end. They had an interesting draft that could help replenish some losses, while also adding Michael Bennett, Demaryius Thomas, and others. Again, waiting for the shoe to drop hasn't been a profitable play with the Patriots and until we see otherwise, they are the class of the division and rightfully favored heavily to once again reign supreme in this division.
New York Jets +600 vs. Field Wins AFC East +600
With Adam Gase at the helm, look for Darnold to improve. The added a lot of weaponry, including difference-making back Le'Veon Bell, along with linebacker CJ Mosley and WR Jamison Crowder. Rookie Quinnen Williams should boost the D-line, while other draft picks should also help them along the line-of-scrimmage. This team should see improvement across all major areas, but with so far to travel, is a year long enough for them to orchestrate a complete turnaround? Either way, the Jets are heading in the right direction. Enough to win the division? Probably not. But for forward-thinking people, +600 might be worth it.
Buffalo Bills win AFC East +950 vs. Field wins AFC East -1450
Analysis/Pick: Their schedule appears to be cooperative if they can get it together. Look for a better season from second-year QB Josh Allen, who now has some weapons added to his offense. Their backfield is now pretty deep, with both sides of the line-of-scrimmage boosted from the draft, including first-rounder DT Ed Oliver. If their D-line can step up, the only gaping hole on the team is a lack of aerial weapons. Adding Cole Beasley was nice, but not enough to really let Allen's arm do the damage it needs to do in order to get the Bills' offense on the right track. And while +950 is tantalizing on some level, you'd almost want more in the event that you called this one right.
Miami Dolphins win AFC East +9000 vs. Field wins AFC East -25000
Analysis/Pick: With new head coach Brian Flores, the Dolphins are far and away the longest shot on the board for this bet at an immense +9000. Their schedule gets off to a halfway-negotiable start, so who knows? The schedule ramps up late, but they've played the Patriots pretty tough the last few years—especially at home. Granted, the Ryan Fitzpatrick/Josh Rosen QB package fails to elicit promise, along with a pretty thin cast of playmakers on offense. It's a cast that got even thinner over the offseason, with a complete dearth of difference-makers on that side of the ball. They made some interesting moves on the other side of the ball, but probably not enough for Flores to immediately work his magic. If you like big longshots, this certainly qualifies. But those odds are definitely there for a reason.
AFC North Division – Winner
Cleveland Browns win AFC North +125 vs. Field wins AFC North -145
Analysis/Pick: My feeling is that when teams throw together a lot of pieces, it never manifests as well as people would tend to project. You can't argue with their logic, as a rising team with a lot of pieces in place added Odell Beckham, Kareem Hunt, and Olivier Vernon, among others. They also went heavy on defense in the draft, which could also pay off… and they may even win a playoff game? Their late-season schedule certainly shakes out for a potential division-winning campaign, but are they really this much of a lock to outrun both the Steelers and Ravens? Certainly a solid pick, just not one with an abundance of value at just +125.
Pittsburgh Steelers win AFC North +195 vs. Field wins AFC North -235
Analysis/Pick: After missing the playoffs, the Steelers who are Allen's pick here, look for better fortune in 2019. They lost Antonio Brown and look for someone to fill that gap. On paper, it's probably the least-impressive offense Big Ben has had in many seasons. Their defense, however, looks very strong, as a youth movement has taken full hold on that side of the ball. And they even added some juice in the draft and free agency. But with a run-game that is a bit pedestrian and reduced juice aerially, it's hard to see how they will vastly improve this season with the rest of the division on the rise. At the end of the day +195 just isn't good enough.
Baltimore Ravens win AFC North +305 vs. Field wins AFC North -365
Analysis/Pick: They ended the season strongly and the new-look Ravens are starting to really put it together. Their defense got super-strong late in the season, though losing Terrell Suggs, Eric Weddle, and CJ Mosley has to hurt. They did, however, add Earl Thomas, though that hardly addresses all the losses. They should still be solid on "D." Offensively, they look to help blossoming Lamar Jackson with more tools, including RB Mark Ingram. The run-game will be hard to stop and if they can stand relatively pat on defense, they look to be a real contender with decent value at +305.
Cincinnati Bengals win AFC North +2000 vs. Field wins AFC North -4000
Analysis/Pick: The clear longshot choice in the AFC North, they are now under first-year head coach Zac Taylor. Having an offense that features Andy Dalton and AJ Green is a formula that has lost its effectiveness. Not a ton of offseason moves were made to address this. And a tough schedule doesn't seem to cooperate with a team struggling to rediscover its bearings. The O-line could be improved, though they lack juice on the other line-of-scrimmage. A young imaginative coach like Taylor could turn things around ahead of schedule, but it's hard to imagine all the holes getting patched up in time for them to make a serious division run.
AFC South Division – Winner
Indianapolis Colts win AFC South +100 vs. Field wins AFC South -120
Analysis/Pick: The one thing that stands out is that it's hard to lay an even-money price on a team whose entire fortunes are wrapped up in a quarterback with a dicey injury track-record. But in last season's 10-6 mark, they showed they could be a team on the rise. The defense was as good as we've seen from Indy in a number of years. Luck also was able to rely on a three-pronged run-game that really opened things up on offense. WR TY Hilton and TE Eric Ebron were big and maybe they can find another aerial source, like maybe rookie second-rounder Parris Campbell or newly-signed Devin Funchess. Getting Justin Houston and Spencer Ware from the Chiefs could also pay off. Are they worth a tickle at even-money to win this division? That price isn't great, but they appear to be the clear frontrunners in the AFC South.
Houston Texans win AFC South +255 vs. Field wins AFC South -310
Analysis/Pick: Typically, they're one of the harder teams to get a read on in preseason. Injuries always loom as a constant X-factor, with some of their key guys always a threat to get hurt. And Coach O'Brien sometimes extracts an awful lot out of what appears to be very little. By signing Tashaun Gipson, Jahleel Addae, and Bradley Roby, they look to boost their secondary, which sagged last season, also drafting rookie corner Lonnie Johnson, Jr. They added some beef up-front with first-rounder Tytus Howard, who looks like a stud, also adding T Matt Kalil, who looks to bounce back with Houston. Starting in week 6, they play four of five on the road, including a trip to London. That patch will likely play a big role, but if they can get through that, Houston could still very well be a factor in this equation at decent +255 odds.
Jacksonville Jaguars win AFC South +380 vs. Field wins AFC South -475
Analysis/Pick: Have they fallen from grace? After almost making it to the Super Bowl the previous season, they fell to 5-11 and back into the ranks of irrelevancy in 2018. Still, the addition of Nick Foles offers some promise, as will a better overall shake from the injury-bug. Rookie first-rounder LB Josh Allen could help get this defense back on the right track, as they weren't nearly as rigid or the playmaking unit from 2017. And while they have some up-and-comers on offense, it's not a unit replete with difference-making weapons, either. A tough schedule and a 34-day break between home games in midseason have them looking more like an 8-8 team than a division champion.
Tennessee Titans win AFC South +665 vs. Field wins AFC South -1030
Analysis/Pick: A definite X-factor after going 9-7 in a season where they could have easily been 11-5. Adding WR Adam Humphries, G Rodger Saffold, DE Cameron Wake, C Hroniss Grasu, and rookie first-rounder DT Jeffrey Simmons could really pay off. If Mariota stays healthy and some young receivers continue to blossom, along with RB Derrick Henry, the offense could be improved. The D-line should also be better and help get a team that wasn't that far off in 2018 get over the hump in 2019. Definitely the best value in the South at +665.
AFC West Division – Winner
Kansas City Chiefs win AFC West -170 vs. Field wins AFC West +150
Analysis/Pick: On one hand, they had a lot go right last season and still beat the Chargers based only on in-division records. They lost Tyreek Hill for the time being, along with some guys on defense. But additions of Tyrann Mathieu, Frank Clark, Emmanuel Ogbah, Carlos Hyde, and maybe some guys from the draft can help and they should. Some people seem to have soured on the Chiefs, but the feeling here is that they're still the team to beat until shown otherwise. When a team with a lot of youth does as well as they did, expecting a downturn seems counterintuitive. They should be right in the thick of this. At -170, one could understand avoiding this one on the basis of value.
Los Angeles Chargers win AFC West +205 vs. Field wins AFC West -245
Analysis/Pick: They get 4 primetime spots this season and a tougher schedule following a 12-4 mark in 2018. Some darkhorse picks in the draft could also help, but their defense is pretty solid in an all-around sense. A lot of youth has resonated well and they are strong on both lines-of-scrimmage for a change. There are difference-makers on both sides of the ball. They lack depth in some areas, but if they can stay healthy, they should be right in the thick of things. And after going 12-4, they are now +205, considerably better than another 12-4 team in the Chiefs at -170.
Denver Broncos win AFC West +1250 vs. Field wins AFC West -2000
Analysis/Pick: In Vic Fangio's first season at the helm, they have some tough patches on the schedule, facing 7 playoff teams from last season. They had three picks in the first 42 selections, adding a dynamite young TE in Noah Fant, along with QB Drew Lock and a potential starter at tackle in Dalton Risner. Other additions like Joe Flacco and Kareem Jackson could also pay off. Having a young 1-2 punch at running back in Phillip Lindsay and Royce Freeman should help, with Bradley Chubb looking to up his game after a great rookie campaign. But aerially, both on defense and offense, there look to be enough issues to keep them from really threatening. Still, they're an interesting X-factor in the West.
Oakland Raiders win AFC West +1850 vs. Field wins AFC West -3700
Analysis/Pick: Last season really crystallized how far the Raiders need to travel before arriving at contender status. Still, there was enough player turnover to warrant a look, as they added Antonio Brown, Isaiah Crowell, Tyrell Williams, Ryan Grant, Luke Willson, Mike Glennon, and rookie first-rounder Joshua Jacobs on offense. That side of the ball should be better. On defense, they are hoping fourth overall pick Clellin Ferrell pans out, as well as another first-rounder in Johnathan Abram and second-rounder CB Trayvon Mullen. This is more a work-in-progress, as this season's goal is just to get things pointed in the right direction. Somehow beating out two 12-win teams from last season in the Chiefs and Chargers seems to be asking for too much, even at these odds.
NFC East Division – Winner
Philadelphia Eagles win NFC East -120 vs. Field wins NFC East +100
Analysis/Pick: Last season's defending Bowl champs found their legs late with 6 of 7 wins to close the season, adding a playoff win to make it a pretty good season. They added some interesting pieces, like RB Jordan Howard, LB Zach Brown, Andrew Sendejo, while getting old players back like Vinny Curry and DeSean Jackson. They lost a key piece of insurance with Nick Foles departing, but still look to be among the class of this division. If some opponents on their schedule have bounce-back seasons, the schedule will be tough. They are certainly a solid choice to win the division, but at -120 odds?
Dallas Cowboys win NFC East +140 vs. Field wins NFC East -160
Analysis/Pick: Last season's NFC East champ has strong competition within the division, also with games against the Saints, Packers, Vikings, Patriots, and Rams along the way in a tough 2019 schedule. But with a rising defense, an offense with some more variety, and a sense of urgency on the part of key players and coaches, they should be pretty dangerous. Randall Cobb and a returning Jason Witten should boost the aerial attack. Some key moves up-front keep their losses to a minimum. A definite factor in this equation, if not an exceptional value at +140.
Washington Redskins win NFC East +1040 vs. Field wins NFC East -1580
Analysis/Pick: Kind of a wild card in this division, with a wide range of possible outcomes in 2019. With Alex Smith's career in limbo, they added first-round QB Dwayne Haskins and veteran Case Keenum. Some players in the draft could make an impact. But their aerial targets are few and an average defense might not improve enough to make them a legitimate contender. Still, before Smith went down last season, they were in control of the division and it wasn't just QB play that got them in that position. I'm not so sure about them winning the division, but at +1040, I think they are the best value of all NFC East teams in this wager.
New York Giants win NFC East +1400 vs. Field wins NFC East -2500
Analysis/Pick: Even if you were inclined to think the Giants will be better than advertised, I'd be looking for more than 14-1 if they somehow beat out the other three teams in their division. Eli isn't getting any better and he lost his best target in OBJ. They added some juice up-front, which will help, while adding guys like Golden Tate to give Manning some viable aerial weaponry. I'd be looking for a position on an "over" bet on projected season wins perhaps. But this seems to be a little out of range, as there were too many team-wide issues to address in one offseason.
NFC North Division – Winner
Chicago Bears win NFC North +170 vs. Field wins NFC North -200
Analysis/Pick: A critical season, where the Bears will either further their strong position or show that last season's 12-4 mark was a fluke. They have a tough schedule with a difficult conference and games at Denver, Washington, Philly, and the Rams. Still, a rising defense really came into its own last season and even added some juice in the secondary with Ha Ha Clinton-Dix and Buster Skrine. Who knows, maybe they even figure out how to utilize Cordarrelle Patterson's speed. Trubisky is coming into his own at quarterback and the offense doesn't even have to be great with the defense they have. It's hard to not make them your top pick to win the black-and-blue division.
Green Bay Packers win NFC North +195 vs. Field wins NFC North -235
Analysis/Pick: Maybe Matt LaFleur can breathe some new life into a team that is 9-18 in their last 27 games. I think he will. A healthy Aaron Rodgers gives them a big leg-up. There are some growing youngsters on the roster who could flourish and a respectable-enough core on both sides of the ball to warrant a look. I tend to side with what seems to be a growing notion that we will see a better Packers team than what has been on the field in the last few seasons. If most of the player additions on defense pan out, they could be a force in that area. The D-line still looks a bit dicey without a plethora of compelling weapons on offense. And if I were of the mind that they can somehow usurp both the Bears and the Vikes this season, I'd tend to want more than a +195 return on my money.
Minnesota Vikings win NFC North +215 vs. Field wins NFC North -255
Analysis/Pick: An 8-7-1 season was a letdown in 2018. Despite some big numbers, the Kirk Cousins addition didn't seem to always resonate well. Their defense was still well above average, but they lost some power up-front. Some new faces in the draft and elsewhere could help, as will some better breaks on the injury-front, especially on offense. They're going to have to win some big spotlight games this season against tough opposition. The schedule starts off tough and doesn't really let up. They still get three divisional games at home in their last 4 games of the season and if the standings are close, that could be big. A +215 price isn't so bad for this pick.
Detroit Lions win NFC North +1175 vs. Field wins NFC North -1850
Analysis/Pick: The Lions look for more in Matt Patricia's second season at the helm. After going 6-10 last season, maybe some blossoming youngsters on offense blow up, like Kerryon Johnson, Kenny Golladay, or their two new tight ends, Jesse James and first-rounder TK Hockenson. The added CJ Anderson in the backfield, while accumulating a few pieces on defense, including some interesting draft picks that could resonate. And their defense was on the cusp of being pretty darned good, so maybe they can be an impactful group. The offense needs a lot to go right. An 8-8 record would be nice, but leapfrogging three teams is likely out of range.
NFC South Division – Winner
New Orleans Saints win NFC South -225 vs. Field wins NFC South +185
Analysis/Pick: A 13-3 season nearly turned into something special, with the Saints coming up just short in controversial fashion against the eventual conference representative in the Rams. They lost Ingram, but still have a stocked offense with a lot of variety and added a little depth in their aerial weaponry. Their most-needed area of concern, their pass-defense, was also addressed in the draft and with the acquisition of Eli Apple. Clearly the class of the NFC South, are they worth a spin at -225? Or are Atlanta and Carolina on their heels?
Atlanta Falcons win NFC South +375 vs. Field wins NFC South -470
Analysis/Pick: Four of their first six games are on the road, with 6 of their first 9 games against playoff teams from last season. If they can get through that intact, who knows? They added two offensive linemen in the first round, which could have the offense in better shape. And getting some guys back healthy will help. They still have ample weaponry on offense. In this division, though, do they have enough defense? That side of the ball suffered last season, but coach Quinn takes over the defense this season and hopes to get them going in the right direction. I'd look for them to improve on their 7-9 mark from last season, as they represent an interesting choice at +375.
Carolina Panthers win NFC South +725 vs. Field wins NFC South -1135
Analysis/Pick: A fast start evaporated late last season for the Panthers, who look for a more-complete effort this year. They have some good things in place, like a blossoming Christian McCaffrey and the offseason pickups were impressive. They added WR Chris Hogan and a nice offensive lineman in Matt Paradis. The draft also helped them up-front, while also picking up a potential difference-making linebacker in the first round in Brian Burns. Not to conclude that they'll outrun the Falcons and Saints, but at +725, there are a lot worse choices on this board to be sure. Probably the best betting value in this division.
Tampa Bay Buccaneers win NFC South +1300 vs. Field wins NFC South -2150
Analysis/Pick: The definite longshot on the board for this division, there are still some things to like. The hiring of Bruce Arians was a gutsy move and could pay off. They went all-defense in the draft and likely found a few major contributors, including fifth overall pick LB Devin White. They also went D-heavy in free agency and landed Ndamukong Suh and some other potentially useful veterans. They have a vital aerial attack and look for more variety on offense. Their run-game still looks iffy, as does their line on both sides of the ball. They could surprise, but in a tough division, winning it all seems like a tall order.
NFC West Division – Winner
Los Angeles Rams win NFC West -165 vs. Field wins NFC West +145
Analysis/Pick: Last season's conference champion would appear to be the frontrunner once again, though there isn't much value to be had at just -165 odds. Adding Eric Weddle and Clay Matthews could also help, along with four picks in the first three rounds of the draft. And the core they do have was enough to nearly win it all last season. On offense, Goff was superb, slinging it to a pair of 1000-yard receivers in Woods and Cooks, with Gurley having another big season. With monsters like Aaron Donald on the other side of the ball, they could again be the class of the division and the conference. But it's easy to see the other three teams in the division improving and with how fickle this league is, there might not be a ton of value on this one.
Seattle Seahawks win NFC West +290 vs. Field wins NFC West -350
Analysis/Pick: With how well they played last year in a season many thought was a throwaway, they deserve a hard look in 2019. Drafting defensive end LJ Collier, S Marquise Blair, and WR DK Metcalf could pay off right away and they still wield a strong running-game and a defense that showed they were ahead of the learning-curve last season. They have typically been great in prime-time games and have five of them this season. With both sides of the ball coming together nicely and ten wins last year, the Seahawks could be overlooked and if the Rams were to dip, they could be right in there at +290 odds.
San Francisco 49ers win NFC West +450 vs. Field wins NFC West -600
Analysis/Pick: Granted, they have been so snake-bitten by injuries that it makes it a hard team to evaluate if they catch more breaks on that front. One positive byproduct of that is they cultivated a lot of depth and found some contributors along the way. DE Nick Bosa, the second pick overall, should help up-front where they look pretty strong, having also added Dee Ford. If QB Jimmy Garoppolo can stay healthy, he has a cast of improving supporters and even added a few pieces in the draft and contributors like Tevin Coleman. At full-power, they could really be a factor. It might be asking for a lot, but with some good fortune, it's not inconceivable that they could pull this off.
Arizona Cardinals win NFC West +2600 vs. Field wins NFC West -5400
Analysis/Pick: The addition of the familiar coach-QB duo of Kliff Kingsbury and Kyler Murray adds promise for a team that struggled last season to a 3-13 record. The Cardinals were also busy in signing help in the secondary by getting DJ Swearinger, Robert Alford, Tremaine Brock, and rookie second-rounder CB Byron Murphy. They should be good against the pass, but against the run is a different story and that makes it very hard in this division. One can definitely envision improvement, but too many remaining vestiges from a lost 2018 season remain to make them terribly viable in this proposition.
50% Cash up to $250