Tennessee Titans -1.5 vs. Miami Dolphins Pick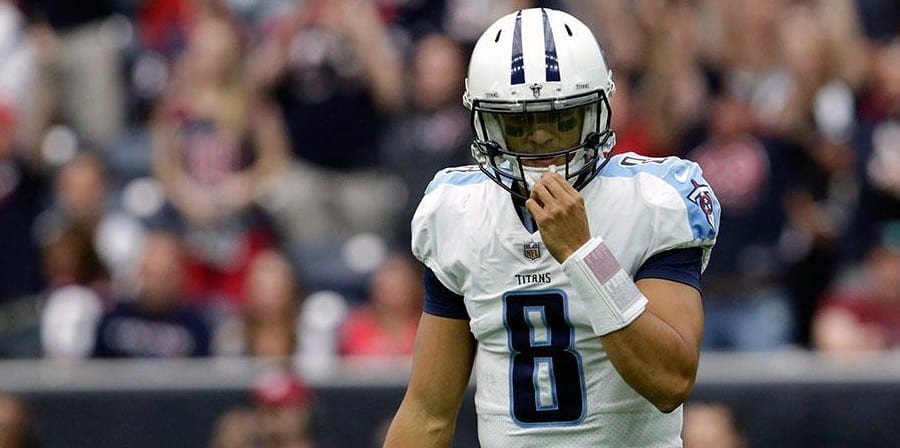 Tennessee Titans vs. Miami Dolphins
NFL Week 1
Date: Sunday, September 9th, 1:00pm EST
Where: Hard Rock Stadium - Miami Gardens, Florida
TV: FOX
by: Bob Clark, NFL Football Handicapper, Predictem.com

Spread: TEN -1.5/MIA +1.5
Total: 45
This Sunday down in Miami there is an AFC match-up between two teams that are both hoping to be on the rise. At 1:00pm at Hard Rock Stadium in Miami, the Tennessee Titans will come in and take on the Miami Dolphins. In 2017, the Tennessee Titans finished with a record of 9-7 and not only made the playoffs as a Wild Card team, but they also won their Wild Card Round game against Kansas City before falling a week later to the New England Patriots (Pats vs Texans). For Miami, their season was doomed from the get go when quarterback, RyanTannehill, suffered a season ending knee injury in early August. The Dolphins won a couple of games, including a 16-10 win over Tennessee but finished the season with a 6-10 record and obviously not making the postseason. Well, 2018 is here and Miami has high hopes…at least they have hopes that they are improving and can potentially make a run at one of the Wild Card Berths in the AFC.

NEW LOOK TITANS: Although Tennessee made a tiny postseason run last year, they come into 2018 with a new head coach and new offensive coordinator. Mike Vrabel will take over as the head man in charge while much of the excitement and optimism is over the hiring of Matt LaFleur as the Titans new OC. Many Titans fans think that LaFleur could be the one to get this offense on the next level. Just two years ago, LaFleur was on staff with the Atlanta Falcons and worked with Matt Ryan who won MVP and put up historically great numbers. Tennessee boasts a great, young roster on offense with Marcus Mariota at QB and a stable of talented backs including Derrick Henry and Dion Lewis. The offense is talented and getting better and better but the defense is also becoming strong for this team. Tennessee was ranked in the top 15 in total team defense but they were 28th in passing defense in 2017. Mike Vrabel will more than likely be able to improve upon that and if the Titans can defend the pass this season, the future could be very bright for these guys. I like this team coming into 2018…I like them a lot.
MIAMI…PUT UP OR SHUT UP! For the last four to five seasons all I have heard is that Miami is on the cusp of being a great team. If it isn't their overrated defensive line, it is them saying that Ryan Tannehill is a legit franchise QB and year after year, with the exception of 2016, they miss the playoffs  but this team still finds a way to under perform. There is now no more room for excuses. Tannehill is back, the team is healthy…no… more… excuses. The time is now. Like I mentioned earlier, the Dolphins finished 2017 with a 6-10 record but that is understandable seeing as how they were a mess at quarterback. So here we go…Tannehill is back. Yes, the Dolphins did lose Jarvis Landry at wide receiver but they still have Kenny Stills, Danny Amendola, and Albert Wilson so there are plenty of options. At running back, Miami will rely mostly on Kenyan Drake to carry the load. The offense should and probably will be improved. The defense though, they MUST improve to have any shot of taking that step to being a contender in the AFC. Last season, the Miami defense was ranked 29th in scoring but lets not forget that they started eight rookies on defense. Yes, you read that right…eight rookie starters on defense. This coming season should show some growth and also remember that they  added Minkah Fitzpatrick in this past draft and so far he has looked as good as advertised. The pieces are there. The Dolphins have a shot to have a great season but now it is time to perform ON THE FIELD not just on paper.
WHAT'S GONNA HAPPEN? This is actually going to be a very fun game to watch. Two young teams that both have playoff hopes and expectations. Just like the Dallas and Carolina game, this could be a week one game that comes back to haunt or help one of these teams come week 17. As much as I typically like the home teams in games like this, I just think Tennessee is the better team coming into this season. I have to see this Miami defense grow up and make some plays before I praise them and I also want to see how Ryan Tannehill plays after being out for so long. I can see this game being close all the way through but in the end I like the Titans to pull out a 24-20 type win to get the cover on the road. It's going to be a good one but until I see otherwise, I will bet against Miami in games like this.
Bob's Pick: TAKE THE TENNESSEE TITANS -1.5 OVER THE MIAMI DOLPHINS