[et_pb_dcsbcm_divi_breadcrumbs_module hide_homebreadcrumb="off" homebreadcrumbtext="Home" separator="sep-raquo" hide_currentbreadcrumb="off" homebreadcrumborientation="left" _builder_version="3.8″ fontsbreadcrumbs_font="Lato||||||||" fontsbreadcrumbs_text_color="#000000″ fontsbreadcrumbs_font_size="15px" fontsbreadcrumbs_line_height="16px" fontsseperator_font="||||||||" fontsbreadcrumblinks_font="||||||||" fontsbreadcrumblinks_text_color="#2567cf" custom_margin="25px|||" custom_margin_phone="30px|||" custom_margin_last_edited="off|desktop" custom_css_main_element="font-family: Helvetica Regular;" global_module="3641″ saved_tabs="all" /]
2019 AFC Conference Champion Odds and Pick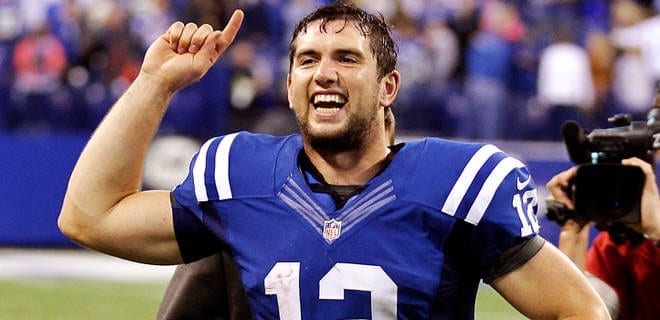 Who will represent the AFC in Super Bowl 53
By Keith Allen, NFL Handicapper, Predictem.com
We are on the verge of the 2018 NFL season and every team along with their fans are dreaming of making it to Mercedes Benz Arena in Atlanta for Super Bowl 53. Sportsbooks have posted lines on teams winning their divisions, their conferences and the big game along with some unique props. Here we will take a look at the AFC's road to Atlanta and which teams are worth playing.
The AFC is the polar opposite of the NFC. Where the NFC has 6 to 8 teams that have close to an equal shot of getting to Atlanta, the AFC road to Atlanta goes through New England. The Patriots have so many Lamar Hunt trophies that Bill Belichick almost refuses to accept the trophy. Jacksonville almost shocked the world, and there will be surprise teams again this year.
Patriot bettors cashed +190 tickets, and left Jaguar bettors, who were holding +4000 tickets, waiting for next year. Well next year is here and there are teams that might have what it takes to dethrone the Pats. Below are the odds for each team from 5dimes by division. Let's look at each team and see who could make it to Atlanta, and where there is value.
Patriots +275
New England has represented the AFC in the super bowl for 8 of the 17 years Tom Brady has been the quarterback. There are some cracks starting to show in the foundation of the "Patriot Way" but nothing that makes us think that the Dolphins, Jets or Bills could win the AFC East, and nothing that makes us think the Steelers, Jaguars, Chargers or any other AFC team could go into Foxboro in January and be favored to beat the Pats. There are some challenges in New England this year, Brandin Cooks was traded away, Danny Amendola left for Miami and Julian Edleman will be suspended for the first 4 games of '17, so Tom Brady will have to break in some new receivers. Brady may instead just opt to throw to all-world tight end Rob Gronkowski or whichever running back lines up behind him – this year including first round pick Sony Michel. New England plays bend but don't break defense, knowing that they can give up 3 points and rely on Brady to get 7. Defensive speed is a concern that opponents will look to exploit. There is often a letdown with super bowl losers but New England has been immune to this in the past. The team is so well coached and so disciplined that opponents have to earn everything they get. Barring a Tom Brady injury, the Pats should get over 11 wins, be expected to win the division, and earn a first round bye  as the playoff favorite. The +275 price actually has value for New England to again make a super bowl appearance.
Dolphins +4100
Miami struggled to 6 wins last year and then spent the off-season watching their best players Ndamukong Suh and Jarvis Landry leave adding to the trade of Jay Ajai during last season. They were replaced with Robert Quinn, Danny Amendola, Albert Wilson and Frank Gore. This is an interesting team building strategy. Coach Adam Gase believes his system can score points and win games and wants players that buy into the system. Ryan Tannehill will be back from his torn ACL to run Gase's offense. Tannehill was starting to show progress in 2016 and should certainly be an upgrade over Jay Cutler. But Tannehill has never shown any signs of being more than an average NFL QB at best, and may be one of the bottom 5 starters in the league. The Fins defense finished last year 29th in the league and there is little optimism for improvement. This team looks destined to finish with 3-7 wins and then blow up the roster for 2019. I see no chance the Dolphins make it to the playoffs, let alone the super bowl.
Bills +4100
Buffalo ended their 17 year playoff drought last year and played the Jaguars close before losing 10-3 in the playoffs. This year the Bills will start a new streak of not making the playoffs. This is the worst team in the league. Their best offensive player is 30 year old running back LeSean McCoy. Due to off field issues it would be surprising if McCoy suits up this year meaning the best offensive player is… I have no idea. They have the worst quarterback situation in the league with A.J. McCarron brought in to start until 7th overall pick Josh Allen is ready. Allen, +900 rookie of the year odds, is an athletically gifted player that may have the best arm of any NFL QB but he struggled with accuracy and is jumping from Wyoming to the NFL. He may develop into the next Jim Kelly but it's not happening in 2018. If this isn't enough offensive woes, the O-Line that was a strength last year saw left tackle Cordy Glenn get traded and Richie Incognito and Eric Wood retire. Coach Sean McDermott's defense was solid in '17 and they should be again but they will need to be because they will be on the field all day. I think 2 wins is a reasonable expectation for the Bills.
Jets +4100
New York is the only AFC East team not named New England that is moving in the right direction. They drafted their quarterback of the future in Sam Darnold 3rd overall and have a solid placeholder in Josh McCown. Coach Todd Bowles has had a rough go of it winning only 10 games in the last 2 years and the offensive talent is limited. McCown performed well last year and developed a good chemistry with WR Robbie Anderson but there are no other play makers on the offense. The Jets defense played better as the year went along and has some good young talent but not at a level to dominate a game. I think the Jets are the best of the rest in the AFC East but they have no chance to represent the AFC in super bowl 53.
Steelers +410
Pittsburgh is the obvious alternative to the Patriots. They have won the AFC North 3 of the last 4 years and won 45 games over that time span. Their AFC North competition does not appear to be strong this year meaning the Steelers are the most likely winners of the other 1st round bye in the AFC. However, the Black and Gold have some issues. On defense, opposing offenses easily took advantage of the middle of the field after Ryan Shazier was hurt and will continue to do so. Le'veon Bell will play under the franchise tag again and may not be around at the start of the season. Pittsburgh does not have a good back up option which would force the offense to be one dimensional if Bell is not available. This isn't all bad as QB Ben Roethlisberger is throwing to Antonio Brown and JuJu Smith-Schuster while working behind one of the best lines in the league. I believe Pittsburgh has started on the downward slope. They can beat the soft teams in their division but are struggling in big games. The Patriots have won the last 5 contests against Pittsburgh and Jacksonville came into Heinz field and beat them in the playoffs last year after stomping them in the regular season. I do not expect we see Mike Tomlin's squad in Super Bowl 53.
Ravens +1650
Baltimore is the most difficult to figure out this year. I think they have a range of outcomes from 4 to 12 wins. They are an aging team with mediocre receivers, only one pass rusher (who is old) and their quarterback has been bottom 10 in the league the last 2 years (and plays old). On the other hand, they have a great coach, a solid defense and offensive line and they generally win more games than we expect. The Ravens offense was 9th in scoring last year but that is deceptive as they were 31st in yards per play and 29th in passing yards. Joe Flacco has played with back injuries the past few years. GM Ozzie Newsome drafted QB Lamar Jackson in the first round to push Flacco and eventually take over. It's possible the Ravens put it all together one last time and make a deep playoff run and +1650 is a reasonable price for this possibility. If the Ravens get to the playoffs they are one of the teams that have proven they can take down New England in January as they have a 2-2 playoff record against the Pats under Harbaugh. I think it is more likely Flacco struggles again and Jackson replaces him mid-year. When this happens, Jackson will have some great moments but he is not taking the team to the super bowl in his rookie year. Baltimore gets Buffalo in week 1.
Bengals +3550
Cincinnati is projected to fall to the bottom of the league this year as their odds to reach the super bowl rise above 30-1. This happens after 2 consecutive years of losing 9 games and retaining Marvin Lewis to run the team. Andy Dalton led the offense to 26th in points scored in '17 and will lead the offense again in '18. The offense could surprise to the up side after picking up left tackle Cordy Glenn and selecting interior lineman Billy Price in the first round of the draft. If the line improves and running back Joe Mixon reaches his potential in his second year to compliment A.J. Green on the outside the offense could be a pleasant surprise. The defense was middle of the pack so it is the Bengal offense that would have to drive any big improvement this year. Even if everything goes perfect and the Bengals get back to the playoffs, they haven't won a playoff game since Marvin Lewis has been coach, so winning three in a row to win the conference is almost impossible to imagine.
Cleveland has won 1 game in 2 years and now is only +3050 or less at most sportsbooks to win a combination of at least 12 regular season and playoff games. Tyrod Taylor comes over to guide the offense until 1st overall pick Baker Mayfield is ready to take the field. Taylor is the ultimate game manager in that he will protect the ball but will not throw his team to wins in the 4th quarter. The Browns lost multiple games last year by making mistakes in games they could have won so Taylor is a big upgrade. Combined with Todd Haley taking over as play caller and a roster that has talent should produce better results on the shores of Lake Erie. But not good enough results to go from 0 wins to the super bowl. This year probably sets up for Hue Jackson to be fired and Baker Mayfield to hit the field early in the year. The Browns then should start their upward trend.
Jaguars, +850
Jacksonville was one or two good offensive series away from playing in the big game last year. The Jags improved from 3 wins in '16 to 10 wins and an AFC South championship in '17. They played a stifling defense finishing 2nd in the league in points allowed and 1st in yards per play. The Jags were definitely led by their defense, but the offense was also very efficient and finished 5th in the league in points and 11th in yards per play. Blake Bortles was mostly a serviceable quarterback and played well in the playoffs. Leonard Fournette set the tone for the offense with his bruising running style although he averaged less than 4 yards per carry. Last year the Jags benefited from division QBs Deshaun Watson and Andrew Luck being sidelined with injuries so the division will be more challenging with them back in action this year. There is no reason to expect Jacksonville's defense to step back this year. At some point a running game can't carry you so this team will go as far as Bortles can take them. His playoff performances show that he can play at a high level for a short period of time. The Jags can win the AFC, but +850 is a little steep. The Jags open to the Giants in week 1. 
Texans, +960
DeShaun Watson took the NFL by storm last year after taking over for Tom Savage in week 1. Watson started the next 6 games and the Texans, (who get the Pats in week 1) averaged over 30 points per game with him on the field. Unfortunately, Watson suffered a torn ACL in practice before week 9 and was shelved for the year. The offense would only score more than 20 points in one game after that. The defense suffered injuries to J.J. Watt and Whitney Mercilus that devastated their line and pass rush and left behind a defense that allowed the most points in the league. But this defense led the Texans to division championships in '15 and '16 with mediocre quarterback play. Watson expects to be 100% in 2018 as does Mercilus and Watt is expected to be close to 100%. Despite Watson's stats, the team was only 3-3 in his starts and it's impossible to know if he will be the same player after his second torn ACL. The offensive line is one of the worst in the league which will not help Watson's development. There is reason to be optimistic in Houston, but that optimism has caused the Texans to get expensive. This team only won 4 games last year and now they are the 5th most expensive team in the conference. The +960 5dimes Sportsbook is offering is too rich to play.
Titans, +1600
Tennessee managed their second consecutive 9 win season last year and won a road playoff game. This wasn't enough to keep Mike Mularkey's job and he was replaced by Mike Vrabel. Mularkey's "exotic smash mouth" offense will be replaced by new offensive coordinator Matt LaFleur's offense that should look somewhat like last year's Rams scheme. LeFleur will look to get Marcus Mariota back on track after he struggled to a 13:15 touchdown to interception ratio. Dion Lewis joins Derrick Henry to form a very strong backfield combination and last year's first round pick Cory Davis should be healthy on the outside. The Titans have brought in Malcom Butler to join Adoree' Jackson and Logan Ryan and form one of the best trio of cornerbacks in the league. The Titans had a lot of good breaks to get to the playoffs last year. This year's team has more talent which makes getting to the super bowl a possibility. If the coaching is better and Mariota steps up this team could make a deep playoff run.
Colts, +2650
Andrew Luck hasn't played since New Year's Day of 2017 but all signs point to him being under center for week 1 of 2018. Indianapolis will welcome him back after finishing 30th in points last year and 32nd in yards per play. Luck should help the offense but will not be able to help a defense that was 30th in points allowed and 29th in yards per play. Indy has fortified the offensive line by drafting guards Quentin Nelson and Braden Smith. The Colts used three 2nd round picks on defensive players so the defense should start to trend in the right direction. Frank Reich takes over as head coach and will oversee the rebuild. If Luck is close to 100% the Colts should be taken seriously and with some breaks they could be this year's surprise team.
Chargers, +800
Los Angeles won 9 of their final 12 games last year after new coach Anthony Lynn got his sea legs, finishing 13th in points scored and 3rd in points allowed. Philip Rivers can play at a super bowl level and has a solid group of receivers including one of the game's best in Keenan Allen. Melvin Gordon is a top 10 running back giving the Bolts a balanced attack on the offensive side of the ball. The D boasts possibly the best pass rushing combo in the league in Joey Bosa and Melvin Ingram. The 2 combined for 23 sacks last year. The secondary is also one of the elite groups in the league and managed 18 interceptions last year. This defense should continue to shut down opposing passing offenses and playing at an elite level. The Chargers traditionally struggle to put it all together and continually shoot themselves in the foot but this is a roster that has the talent to make a super bowl run. The Chargers will have to improve against the league's best to make a playoff run. Last year they were 1-4 against AFC playoff teams and that one win came when Nathan Peterman started for the Bills. I like the Chargers to be strong this year but I don't see them winning 2 or 3 in a row against the league's elite to get to the super bowl.
Chiefs, +1250
Kansas City looked like they would be the AFC's super bowl representative last year when they were sitting at 5-0 but they limped in to finish 10-6 and then lose to the Titans in the first round of the playoffs. Alex Smith won a lot of games for the Chiefs but Andy Reid determined he had a better chance to win in January with Patrick Mahomes so Smith was sent packing. KC added Sammy Watkins to the receiving corps and now they may have the best set of skill players in the league. The offense will have to score a lot of points because the defense will give up a lot. Last year they were 29th in passing yards allowed and they have traded their best defensive back. I like the Chiefs to have a solid year and get back to the playoffs and the Chiefs are one of the few teams that have winning record against New England in the recent past, posting a 2-1 mark since 2014. The +1250 odds would have to be a little more generous for me to consider playing the Chiefs. I suggest looking at the Chiefs over 8 season wins bet.
Raiders +1450
Jon Gruden has swooped in to save the day for the Raiders, but the Silver and Black defense is not very good. They were 20th in points allowed and 26th in yards per play against. Gruden brought in Paul Gunther to coordinate the D which may help but with no talent infusion joining the 2018 roster, the defense is a huge liability. The offense may improve with a healthier Derek Carr and Gruden calling the shots. But the Raiders wont get to 9 wins this year and have only won more than 7 games once in the last 6 years so looking for them to make the playoffs then win 3 games is a stretch. There may be some incremental improvement in Oakland this year and Gruden may eventually lead the Raiders to the big game but probably not in 2018.
Broncos, +1500
Denver had reeled off five 9+ win seasons in a row before hitting hard times last year and only winning 5. The quarterback play was poor as starter Trevor Siemian was constantly injured and didn't play very well when he wasn't. GM John Elway signed Case Keenum from the Vikings to stabilize the position. Keenum played far above expectations last year and if he can continue at that pace the Broncos can be in the hunt. Wide receivers Demaryius Thomas and Emmanuel Sanders are a very good tandem so the offense should carry their own weight. The best pass rusher in the draft Bradley Chubb will take up residency in the Mile-High city and play opposite Von Miller. Denver has lost some talent in the secondary but this pass rush will improve the whole defense. Rookie coach Vance Joseph appeared over-matched at times and will have to rebound to keep his job. I think the Broncos would have been a good play if their odds reflected a 5 win team in a tough division but at only +1500 there is not enough value in this play.
The best bet on this board is the Patriots +275. Belichick has had his team in the big game 3 of the last 4 years but +275 imply they have about a 33% chance of making it this year. New England may struggle again early in the year but their division is weak so Belichick will have time to tune his team and be ready for January games that will most likely be played in Foxboro. As Brady approaches the end of his career I see him being more driven to win another super bowl ring. Play the Pats at +275.
The team I would play if I thought this was the year the Patriots stumble would be the Titans +1600. Tennessee's defense should be improved and Mariota played hurt last year. That has inflated the payout on the Titans. The Titans were not as good as their record last year but they still won a road playoff game so the talent is there. They could be the third best team in the conference but there are 8 teams with better odds than them. With better play from Mariota and better coaching this team has a chance.
My long shot to win the AFC would be the Colts +2650. This is totally a play on Andrew Luck returning to 100% and being the player he was 3 years ago. Luck has been able to rest his shoulder for 18 months and has received the best medical care in the world so it's reasonable to expect him to be very close to 100%. If he is near 100% the offense could become one of the best in the AFC as they were early in Luck's career. The defensive rookies would have to come in and immediately make a difference but if the offense is scoring points it makes life a little easier on the defense.
<div class="widget105"><!-- [et_pb_line_break_holder] --><h4 class="parlays">Best Parlays</h4><!-- [et_pb_line_break_holder] --><!-- [et_pb_line_break_holder] --><table id="parlay"><!-- [et_pb_line_break_holder] --> <tr><!-- [et_pb_line_break_holder] --> <th><span class="team"></span></th><!-- [et_pb_line_break_holder] --> <th>2 Team Parlay</th><!-- [et_pb_line_break_holder] --> <th>3 Team Parlay</th><!-- [et_pb_line_break_holder] --> <th>4 Team Parlay</th><!-- [et_pb_line_break_holder] --> </tr><!-- [et_pb_line_break_holder] --> <tr><!-- [et_pb_line_break_holder] --> <td><a href="https://affiliates.sportbet.com/tracking/Affiliate.aspx?idBook=2&mediaTypeID=220&AffUrlID=80&LandingPageID=55"><img src="https://www.predictem.com/wp-content/uploads/2018/06/sportbet-sm.png"></a></td><!-- [et_pb_line_break_holder] --> <td>2.74 to 1</td><!-- [et_pb_line_break_holder] --> <td>6.24 to 1</td><!-- [et_pb_line_break_holder] --> <td>13 to 1</td><!-- [et_pb_line_break_holder] --> </tr><!-- [et_pb_line_break_holder] --> <tr><!-- [et_pb_line_break_holder] --> <td><a href="https://record.bettingpartners.com/_5vfuDOH_H2wWPf2JTsWUjGNd7ZgqdRLk/1/"><img src="https://www.predictem.com/wp-content/uploads/2018/06/bovada_sm.png"></a></td><!-- [et_pb_line_break_holder] --> <td>2.64 to 1</td><!-- [et_pb_line_break_holder] --> <td>6 to 1</td><!-- [et_pb_line_break_holder] --> <td>12.3 to 1</td><!-- [et_pb_line_break_holder] --> </tr><!-- [et_pb_line_break_holder] --> <tr><!-- [et_pb_line_break_holder] --> <td><a href="https://record.webpartners.co/_jGZUKO3JWgwmunhzcKAZ62Nd7ZgqdRLk/1/"><img src="https://www.predictem.com/wp-content/uploads/2018/06/mybookie-sm.png"></a></td><!-- [et_pb_line_break_holder] --> <td>2.64 to 1</td><!-- [et_pb_line_break_holder] --> <td>6 to 1</td><!-- [et_pb_line_break_holder] --> <td>12 to 1</td><!-- [et_pb_line_break_holder] --> </tr><!-- [et_pb_line_break_holder] --></table><!-- [et_pb_line_break_holder] --><div class="widget-footer"><a href="https://www.predictem.com/best-sportsbooks/parlays-odds/">See all Sportsbook Parlays</a></div><!-- [et_pb_line_break_holder] --></div><!-- [et_pb_line_break_holder] --><!-- [et_pb_line_break_holder] --><!-- [et_pb_line_break_holder] --><style><!-- [et_pb_line_break_holder] --> #parlay {border-collapse: collapse;<!-- [et_pb_line_break_holder] --> width: 100%; border: 0px;<!-- [et_pb_line_break_holder] --> font-size: 14px!important;}<!-- [et_pb_line_break_holder] --> #parlay td, #parlay th {<!-- [et_pb_line_break_holder] --> border: 0px;<!-- [et_pb_line_break_holder] --> padding: 8px;<!-- [et_pb_line_break_holder] --> text-align: left;}<!-- [et_pb_line_break_holder] --> #parlay th {<!-- [et_pb_line_break_holder] --> padding-top: 5px;<!-- [et_pb_line_break_holder] --> padding-bottom: 5px;<!-- [et_pb_line_break_holder] --> font-weight: bold;<!-- [et_pb_line_break_holder] --> line-height: 14px;<!-- [et_pb_line_break_holder] --> text-align: center;<!-- [et_pb_line_break_holder] --> color: #000;}<!-- [et_pb_line_break_holder] --> #parlay tr {border-bottom: 1px solid #edeef0;}<!-- [et_pb_line_break_holder] --> .team {font-size: 16px;}<!-- [et_pb_line_break_holder] --></style>