Seahawks at Falcons Week 1 Odds & Pick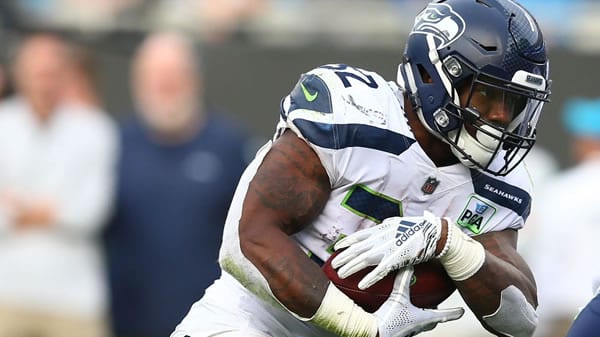 Seattle Seahawks (0-0 SU, 0-0 ATS) vs. Atlanta Falcons (0-0 SU, 0-0 ATS)
Week 1 NFL
Date/Time: Sunday, September 13, 2020 at 1PM EDT
Where: Mercedes-Benz Stadium, Atlanta, Georgia
TV: Fox
Point Spread: SEA -1.5/ATL +1.5 (Find the Best Bonus)
Over/Under Total: 49
The Seattle Seahawks come into Mercedes-Benz Stadium for a Week 1 showdown with the Atlanta Falcons on Sunday. Each team approaches the season with abundant hope. Those hopes are considered to be well-placed for Seattle, especially since they've made the playoffs 7 of the last eight seasons and were 11-5 in 2019 without everything really going right. Atlanta, meanwhile, is coming off consecutive 7-win seasons and is looking for a surge in 2020. Who can get this season off to a good start?
Changes
Atlanta added a few pieces, attempting to give Matt Ryan more tools with which to work. Tight End Hayden Hurst could prove to be a nice signing, as could Todd Gurley if he can bounce back from a rough 2019. The addition of Dante Fowler on defense gives them another pass-rusher to go along with Grady Jarrett, while first-round rookie CB AJ Terrell could help a beleaguered secondary.
Seattle made one of the more splashy acquisitions in the offseason with S Jamal Adams, trading for the big-time safety to help address a porous secondary—and paying out the nose to do so. Quinton Dunbar was brought in to help with that, as well, following a transcendent 2019 season. Russell Wilson also gets a few new pieces on his offense, as Carlos Hyde joins their cast of backs, while veteran tight end Greg Olsen looks to show there is still some gas in the tank.
Last Season
In Week 8 of last season, Seattle came into this very building, handing the Falcons a 27-20 loss. With Ryan out, Atlanta worked with Matt Schaub, and it didn't really come off. Seattle used three TDs in the second quarter to effectively put the game away against a pedestrian Atlanta offense. Seattle will look to run the ball well, as they did last season while taking advantage of Atlanta's continued weakness along both lines of scrimmage.
Matchup Issues for the Falcons
Over the last few years, success has been elusive for the Falcons, and a lot of that can be attributed to their work in the trenches. Sure, the depreciation of their run-game, along with the slipping production of Ryan with a more-limited toolbox, is also to blame, but it's hard working behind that O-line, one of the worst in the conference. Guys returning from injury and projected growth could help, but if this line doesn't come around, it puts all aspects of the offense into a funk. And even a Seattle defense, with a lack of real go-getters up front, can thrive against this lot.
Getting Fowler to go along with underappreciated pass-rusher Grady Jarrett gives Atlanta more heat on defense in the pass-rush. Still, their run-stop looks dicey, and that's a bad thing with Seattle rotating in fresh backs, all of whom have proven production. But with Wilson becoming more of a passer in recent years and now working with a decent cast with Tyler Lockett, DK Metcalf, Olsen, and others, he could really make life hard on the ATL secondary. Last season, they were a laughingstock, and after losing their best player from that group, there are rightful fears about what they will look like in 2020.
Seattle: The Most Flawed Good Team?
It's a bit perplexing how Seattle continues to overcome/camouflage their liabilities. It's not normal to see a team that struggles along both lines of scrimmage make it to the playoffs and be such a thorn in the side of good teams. Having Wilson and good backs can take a sad song and make it better on their offensive line, but make no mistake, it's still bad. And Atlanta's defense will be reduced to preying on this part of the Seattle offense with a heavy pass-rush if the secondary doesn't deliver some big plays.
While Seattle addressed their secondary and put a lot of money and value into Jamal Adams, we will wait and see if that part of the Seattle "D" can hit the ground running. With Ryan back there slinging to Julio Jones, Calvin Ridley, and others, Seattle better not deliver the form we saw throughout much of last season, or it could be trouble. Making life potentially easier for Ryan and the Falcons is that without Jadeveon Clowney, the Seattle pass-rush is really dicey heading into 2020. But if the secondary comes around, as it might do with Dunbar, Adams, and more growth from guys like Shaquil Griffith, they should be OK, And that linebacking corps is still one of the best in the conference.
Identifying Week One Factors
Do we have any reason to change our perspective on Atlanta after two straight 7-9 seasons, or are we looking at more of the same from this group? There could be some extra urgency, as Matt Ryan looks for a career renaissance, while Dan Quinn, who is facing his former team, would appear to have his job on the line this season if the Falcons don't fire. This whole ATL regime needs to deliver in 2020, or sweeping changes could be forthcoming, and that sort of desperation could resonate. And Seattle coming to a dome in their season-debut isn't ideal for them, and after a one-score win last season without Ryan, Atlanta has to be feeling good about their chances in this spot. I just expect to see a fired-up Atlanta squad looking to latch onto some success against a team where they match up fairly well.
Take the Small Road Favorite
This is a spot where people can outsmart themselves. Not to condemn a position on Atlanta. It's actually not a bad spot for them in a game that should be close. But other than having the best receiver on the field in Julio Jones and what appears to be a more disruptive defensive front, there aren't any areas where they have an edge. Seattle has the more-dynamic quarterback, a way more impactful run-game, with infinitely more playmaking ability and stoutness in the back-seven on defense. In a week one game where making a pick isn't easy, I'm tempted to defer to those points and hope Seattle can cross the finish line a nose ahead. I'll take the Seahawks.
Loot's Prediction to Cover the Point Spread: I'm betting on the Seattle Seahawks minus 1.5 points.