SNF Pick: Pittsburgh Steelers vs. Buffalo Bills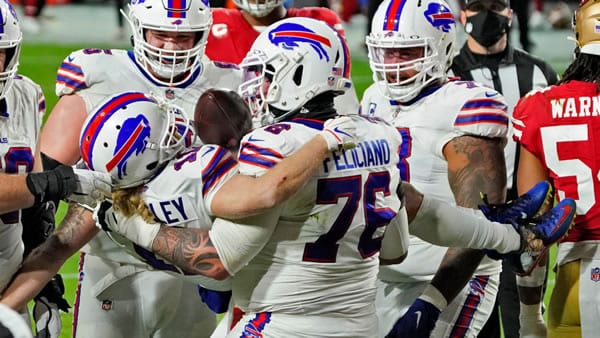 Pittsburgh Steelers (11-1 SU, 8-4 ATS) vs. Buffalo Bills (9-3 SU, 7-5 ATS)
Week 14 NFL
Date/Time: Sunday Night Football, December 13, 2020 at 8:20PM EDT
Where: Bills Stadium, Orchard Park, New York
TV: NBC
Point Spread: PIT +2/BUF -2 (Bet Using Bitcoin - Super easy to get in and out! A great investment to hold as well!)
Over/Under Total: 46.5
In a high-stakes AFC battle, the Pittsburgh Steelers take on the Buffalo Bills in a game that could have major ramifications. The Steelers are coming off their first defeat of the season on Monday, a 23-17 loss to Washington. If they are, in fact going through a little slump, this could be a really hard spot—taking on a Buffalo Bills team that is seeing things clicking nicely at 9-3. If not for that miracle win for the Cardinals a few weeks back, the Bills would have won six in a row. Can the Steelers get back on the winning track, or will the Bills score a win that serves notice that they are for real? Let's break it down.
Trouble for Pittsburgh?
After an 11-0 start, the Steelers are heading into a tell-tale time of the season where we will see how legit they truly are. A team losing as they did on Monday is no major deal for an 11-0 team. A clunker here and there in the regular season is understandable. But with the Bills, Colts, and Browns, along with three road spots in their last four games, this could be a trying time for a Steelers team that looked to at least be cooling off some the last few weeks.
Offensively, the Steelers are a contradictory team in many ways. While the Steelers are known as a team that muscles opponents around, that appears to only be the case on defense. Offensively, they're a bit more delicate, depending on a high-octane aerial game. When trying to run the ball lately, it's the Steelers who are getting pushed around. And sure, James Conner is out, and it's taken some steam off their ground-attack, but we're starting to see some of the byproducts of having an offense that consists of a prolific but aging and banged-up Ben Roethlisberger, with a gaggle of good receivers, without really having that number-one guy. It's in many ways atypical of a winning Steelers' team. You also have to wonder if all the rescheduling has maybe taken a little wind out of their sails. One could maybe expect a more-focused effort against a fellow conference contender this week.
The Powerful Buffalo Offense
The growth of Josh Allen at quarterback makes the Bills a real contender. We're seeing quarterback play on this team that we haven't seen since the '90s when the Bills were a major factor in this conference. He puts up enormous stats, with a ton of completions to a slew of good targets, like Stefon Diggs, Cole Beasley, Gabriel Davis, and others. Zack Moss and Devin Singletary are two solid weapons in the backfield, with Allen chipping in with big runs, as well.
Seeing them face a defense like what Pittsburgh brings to the table should be a compelling matchup. The idea of Buffalo being able to run the ball well against the Steelers is a dicey proposition, as they sometimes even struggle against middling defenses. At any rate, they will be up against it. The Steelers' front is robust and really applies the pressure. The Bills' offensive line will be tested along lines it hasn't experienced yet this season. The problem for the Bills with the Steelers defense is that there is no relief, as they are strong across all areas. A stout and playmaking secondary that excels in being disruptive and in taking the ball away could be a major thorn in the side of the Bills' passing-game.
Prospects for the Steelers' Offense
The strength of the Steelers' offense is Big Ben, a front that does a good job in keeping him protected and a lot of depth in the pass-catching department. They really don't have what you would call a great leading pass-catcher, but between Diontae Johnson, Chase Claypool, JuJu Smith-Schuster. Eric Ebron, and James Washington, they can do a lot of damage. And their sheer variety could trouble a Buffalo defense that isn't always stellar.
When a team's offense is flying high, and a team is winning, no one asks questions. But a closer look at the Buffalo defense shows what is really a bottom-half group. They play with a wide range of forms. On occasion this season, we have seen them hit low depths—giving up scores in bunches, as well as some late-game foibles that have surfaced. They've been playing better the last few weeks, and they sometimes make up for their leakiness with some big plays, timely stops, and turnovers here and there. Still, it's a group where the Steelers offense could have success.
Food for Thought
With wins over the Dolphins, Rams, Raiders, Patriots, and Seahawks, there is an air of quality to the Bills' work so far this season. With Pittsburgh, even though they have more wins, their best work came against the Titans, Browns, and two wins over the Ravens. You can say the Steelers have beaten better teams, though Buffalo has seen their formula work more against actual winning teams, whereas the Steelers have seven wins over opponents who are currently below .500.
Take the Home Favorite
The Steelers could be even more irritated than they would have been if they had just beaten Washington last week. I just sense a little lull in the Steelers' season. It doesn't mean they won't emerge in this conference later in the postseason, but something seems slightly amiss heading into this spot, not a terribly-easy road-assignment. I see a competitive game where a little extra pop on the Bills' offense is enough to get them over the hump for the big win. I'll take Buffalo.
Loot's Prediction to Cover the Point Spread: I'm betting on the Buffalo Bills minus 2 points.  Bet your Week 14 NFL picks FREE by taking advantage of a 100% real cash bonus on your first deposit of $100 to $500 at GTBets!