Tennessee Titans vs. Denver Broncos Pick 12/14/20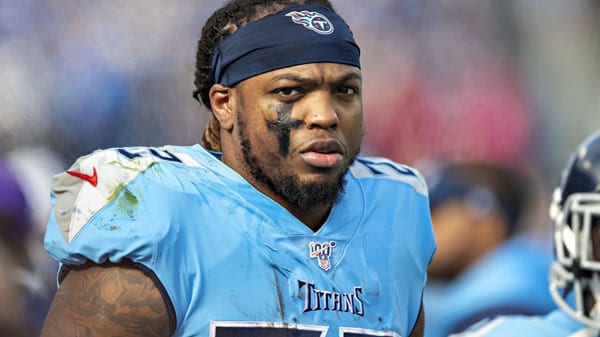 Tennessee Titans (0-0 SU, 0-0 ATS) vs. Denver Broncos (0-0 SU, 0-0 ATS)
Week 1 NFL
Date/Time: Monday Night Football, September 14, 2020 at 10:10PM EDT
Where: Empower Field at Mile High, Denver, Colorado
TV: ESPN
Point Spread: TEN -2.5/DEN +2.5 (BetNow - Currently offering a 100% Bonus!)
Over/Under Total: 41
The Tennessee Titans come into Mile High to take on the Denver Broncos on Monday Night Football, as both teams kick off their 2020 regular season. For the Broncos, the future offers hope, as good signs from last year coupled with strong additions in the offseason have them headed in the right direction. Tennessee, meanwhile, is coming off a season where only the Chiefs kept them out of the Super Bowl, scoring some upsets and surging late in the season to do some big things. It's an interesting spot for both teams and an challenging game for bettors also looking for a good start to the season. Let's break down this MNF battle!
Sweeping Changes for Denver
After a promising season under first-year head coach Vic Fangio, it was still evident that the Broncos needed a big boost, especially on offense. It has been a part of their team that fell apart since winning it all and seeing Peyton walk off into the sunset. Their defense has actually held up remarkably well from that period. But the offense slipped. The upsurge started with the promising play of Drew Lock last season at quarterback and along with Courtland Sutton, TE Noah Fant, and backs Phillip Lindsay and Royce Freeman, it was a good core, but not one that could really carry this team to big things.
In the draft, Denver looks to score big with receivers Jerry Jeudy and KJ Hamler (out), two guys that give the Broncos some needed athleticism on offense. Adding Melvin Gordon, a versatile back, to go along with the two they already have, Denver now has a lot of firepower in place. But it's still dependent on a lot of things. Sometimes, a slew of moves don't always pan out and a lot is riding on rookies where we just don't know until we know. Drew Lock looked really good, but that continued upward trajectory is no guarantee, especially with this offensive line. Inside, they should actually be pretty good, but Garrett Bolles on one side and Ja'Wuan James opting out, leaving that spot iffy, leaves a lot of questions at the important tackle positions. It's enough to upend this offense if it doesn't go halfway-well.
Can Tennessee Step Forward?
You don't normally see a team make the conference title game and catch so much flack in the offseason. A lot of people are down-rating the Titans. You have a resurgent QB in Ryan Tannehill who had a great season. They rode Derrick Henry to big things, as he really showed his muscle last season as one of the few backs in the league who can completely take over a game. And while their defense was leaky in spots last season, they closed the season strong, as youngsters started coming around. The late addition of Jadaveon Clowney gives them a real weapon on the edge and opens up things for existing pass-rushers on the defense, many who came around last season like Harold Landry. With playmakers Malcolm Butler and Kevin Byard in the secondary, the possible growth of a 100% Jeffery Simmons, and Vrabel's handiwork, they could improve on last season where they were still a respectable 12th in points allowed.
More Picks: Loot's Steelers versus Giants MNF ATS Play
Week One Intangibles
For the purposes of this high-altitude setting, it's only fair to bring up the shortened preseason and levels or preparation for the Titans. In the second-half, how certain are we that Derrick Henry is going to have the wind to carry this team on his back? Sometimes, defense resonates early and if that's the case, can Tennessee hang in there in week one where they might not be completely up-to-speed yet? Was making a late-stab at Jadeveon Clowney the best use of their money or did the Titans lose a little from a personnel standpoint from last season in an almost-imperceptible way?
Does Denver Match Up Well?
Last season only counts for so much now, especially considering what we're all going through, but for what it's worth the Broncos beat the Titans 16-0. And this is when they were still working with Flacco behind center, in a season where their opponent went to the AFC title game. That one was in Mile High too. Derrick Henry got nowhere on that day, while a besieged Tannehill couldn't gain any foothold. Denver registered seven sacks in what may have been the worst outing all season for the Titans—at least on offense. What can be taken from this game is questionable, but I think it offers a suggestion that Denver isn't in that bad of shape against this Titans squad from a match-up sense.
In the Trenches
After losing a really good tackle in Jack Conklin in the offseason, Tennessee replaced him with first-rounder Isaiah Wilson, but with him out, they're going to have to patch something together. They are still pretty complete in an all-around sense up front, though Tannehill gets sacked an awful lot. If this O-line takes a pronounced step back it could be trouble, though they are intact on the inside and should still be able to spring Henry loose. With Bradley Chubb and others bearing down, Tennessee hopes to avoid anything like last season's performance. But Denver just got the bad news that Von Miller might miss a lot of time, which is a bad hit to this defense. Tennessee still didn't hold up a lick last season in this stadium. Still, I think Tennessee has the advantage in terms of offensive line quality. I just think Denver's defense in an overall sense matches up better, though the loss of Miller doesn't do wonder for that equation for Denver. Adding a penetrating run-stopper like Jurrell Casey only makes life easier for the rest of the Denver defense. The Titans getting Clowney definitely adds another dimension to this matchup, but adding him a week before the season-opener might equal non-immediate results. I see the action up-front giving Tannehill a harder time in this game than Lock.
Take the Small Number on the Home Fave
It's a conflicting pick, being that I'm not a Tennessee naysayer and still think they're a legitimate X-factor in this conference. With crowds out of the picture, I see this as the toughest week one road spot on the board. And whether right or wrong, I don't know how wonderful this Tennessee offense is going to look in the second half in this setting against this defense, a healthy week one group. And even with more moving pieces in the Denver offense, I see them being more likely to hit the ground running. I'll lay the points on the Broncos.
Loot's Prediction to Cover the Point Spread: I'm betting on the Denver Broncos plus 2.5 points. Bet your Week One NFL predictions for FREE by depositing $100 to $300 and getting a dollar for dollar REAL CASH BONUS at MyBookie!