NFL Week 1 Pick: 49ers vs Vikings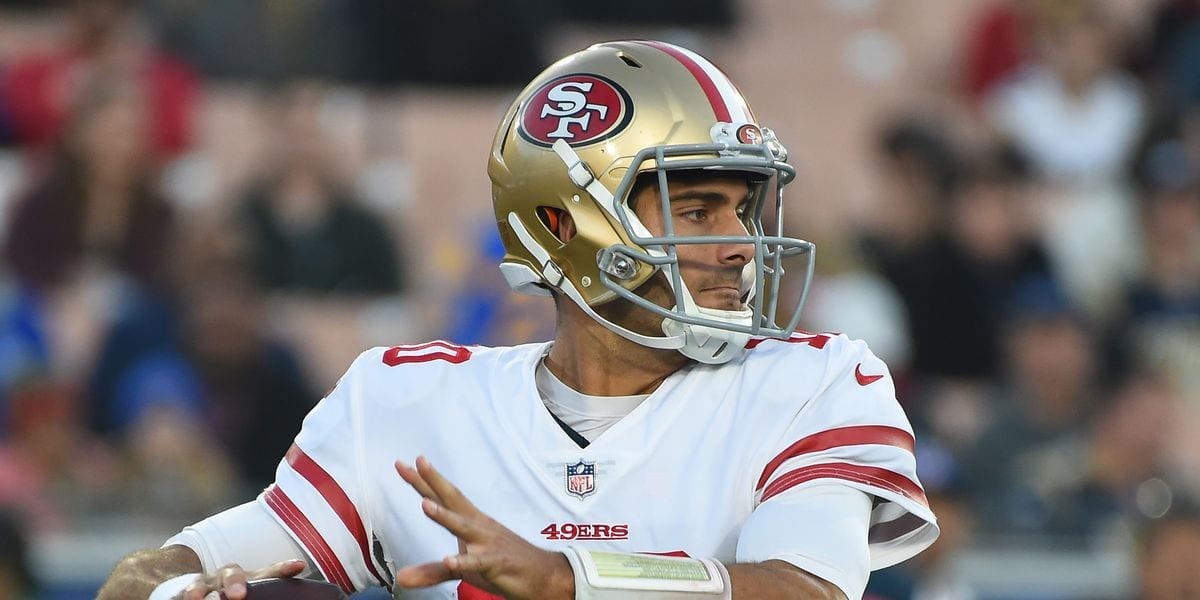 SF 49ers (2017: 6-10 SU, 9-7 ATS) vs. Minnesota Vikings (2017: 14-4 SU, 11-7 ATS)
Date/Time: Sunday September 9, 1 PM EST
Where: U.S. Bank Stadium, Minneapolis
TV: Fox
by Keith Allen, Football Handicapper, Predictem.com
Point Spread: SF + 5½ / Min – 5½
Over/Under Total: 46.5
The Vikings and 49ers meet in a week 1 clash of two teams with high hopes for the 2019 season. Minnesota reached the NFC Championship game last year and was smoked by the eventual super bowl champion Eagles. The Vikings finished the year with a combined record of 14-4 between the regular season and playoffs. They had defeated the Saints the prior week on the Minneapolis Miracle but then ran out of gas in Philly.
San Francisco had the opposite season. The 49ers stood at 1-10 when Jimmy Garoppolo took over at quarterback and reeled off 5 wins to close the season. Garoppolo was excellent in coach Kyle Shanahan's offense and they teamed to beat 3 playoff teams in those 5 wins, although one was a week 17 game against the Rams' backups. The Niners are one of the darlings of the off-season with prognosticators expecting big things in the Bay.
Jimmy G vs the Purple People Eaters
Jimmy G is 7-0 as a starter in the NFL but this will be his biggest challenge. The 49ers scored 144 points over his 5 starts last year but Garoppolo only threw 7 touchdown passes during that span. He will have Pierre Garcon at his disposal in week 1 to play opposite of Marquise Goodwin which is a significant upgrade. Jerick McKinnon was one of the bright spots on Minnesota's offense last year, but this year he will line up behind Garoppolo. He is Shanahan's hand picked running back to be the dual threat weapon that Shanahan loves to utilize. With a full off-season for Shanahan to refine his offense for his 2018 weapons and Garoppolo to learn the intricacies of the system, this offense should be potent. The O-line still has some question marks and the receivers are not elite but the upside is very high.
Minnesota's new version of the Purple People Eaters will be ready for Jimmy G. Last year they were 1st in points allowed and 2nd in yards per play and were flat out stifling. Mike Zimmer has stamped his image on the team as a whole but specifically on the defense and they play intense in-your-face defense. The Niners did play the Jaguars last year, but the Vikings in their dome will be a daunting challenge. Minnesota's cornerbacks match up very well with San Fran's receivers and the linebackers are fast enough to cover anything Shanahan draws up for his running backs. This match-up favors the Vikings.

Kirk Cousins 2.0
It took Cousins 3 years to get out of Washington, but the Redskins finally ran out of franchise tags and Cousins landed an $84 million contract to take his 26-30-1 lifetime record to the twin cities. He has thrown for over 4000 yards and at least 25 touchdowns in each of the last 3 seasons and will have more talented skill players to work with. Case Keenum led the Viking offense to 10th in points last year with an attack equally capable on the ground or the air. Adam Thielen and Stefon Diggs form one of the league's best receiver tandems and Dalvin Cook returns from his ACL injury hoping to pick up where he left off – averaging 4.8 yards per carry and looking like a potential rookie of the year. Cousins is an upgrade over Keenum, though there could be a learning curve with new Offensive Coordinator John DeFilippo's scheme.
San Francisco's defense will have their hands full with the Viking offense. The Niners were 25th in points allowed last year and 22nd in yards allowed against both the pass and run. Richard Sherman joins the secondary but he is recovering from Achilles injuries and may not be 100% in week 1. Reuben Foster is a stud linebacker but he is suspended for the first 2 game of 2018. The 49ers have some very good young players on the defensive side of the ball but they don't have a pass rusher and their linebackers are weak behind Foster. It's hard to see them shutting down the Viking offense.
Get Your Skol Chants Ready
I like the Purple and Gold to win and cover the 5½ point spread in this game. They are 44-23 ATS under Zimmer. Minnesota's home field advantage is one of the best in the league and worth at least 3 points meaning a game between these 2 teams on a neutral field would have a line less than a field goal. The Vikings were 13-3 last year and Niners were 6-10 and now they are almost even? Shanahan has the ability to use his skill players to exploit opponent's weaknesses but there is not a match-up that favors the 49ers offense in this one. Zimmer will have his team focused and ready to start another championship run and will be up to the challenge of giving Jimmy G his first NFL loss – and by at least 6 points.
Play the Vikings -5½