Bayer Leverkusen vs. Borussia Monchengladbach Predictions 5/23/20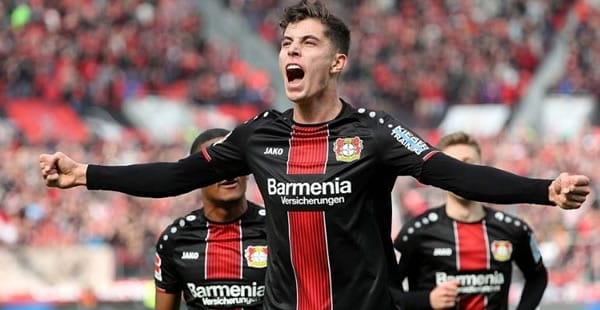 Bayer Leverkusen (15-6-5, 50 points, 5th place) vs. Borussia Monchengladbach (16-6-4, 52 points, 3rd place)
When: Saturday, May 23, 9:30 a.m.
Where: Borussia-Park, Monchengladbach, Germany
TV: FS2
Point Spread: Bayer 0/Monchengladbach 0
Moneyline: Bayer +185/ Monchengladbach +135/Draw +240
Total: Over 2.5 (-189)/Under 2.5 (+140)
(Odds provided by 5Dimes)
Last Time Out:
Bayer Leverkusen beat Werder Bremen 4-1 on Monday; Monchengladbach beat Eintrachgt Frankfurt 3-1 on Saturday.
Previous meeting:
Monchengladbach defeated Bayer Leverkusen 2-1 on Nov. 2 at Leverkusen's BayArena.
About the Matchup:
This game is one of the biggest matches of both of these teams' campaigns, as they're both chasing down a Champions League place and trying to avoid being the odd team out. Both sides restarted nicely by handling lower-level teams, which is an excellent sign for the future given that this match and Bayern Munich will be the only matches either squad still has against a potential Champions League squad. Leverkusen will be looking to reverse its poor recent history against Monchengladbach, as the Foals have taken each of the past three meetings between the teams, all by a single goal.
Scouting Bayer Leverkusen:
It took Leverkusen a little longer than it should have to get going against Werder Bremen, but once the ice cracked, the Worker's Eleven were on point, as Kai Havertz scored twice in a matter of minutes to seize control of the match and wear out Werder over the remaining hour. Leverkusen has been in a fine run of form as of late, as it's now undefeated in its past six matches and has taken 16 out of a possible 18 points in that stretch.
But there's more to that fine run of form than just Leverkusen's performances. The schedule has gotten quite a bit easier as of late, as four of their five wins have come against teams in the bottom half of the standings, including the win over relegation-threatened Werder. In their one road match against quality competition, they took a 1-1 draw against RB Leipzig, which marked the first time all season they've shared the points on the road. Chances are, Monchengladbach isn't going to lose Kai Havertz twice the way Werder did.
More Picks: RB Leipzig vs. FSV Mainz Analysis & Predictions 5/24/20
Scouting Borussia Monchengladbach
:
On the one hand, Borussia-Park has been a fortress this season. The Foals have picked up a win in nine of 13 matches at home, and only twice have they been beaten. That's a pretty impressive run of form, but it comes with a caveat: Monchengladbach hasn't always been able to beat the big teams at home. The two losses have come to two of the three best teams in the Bundesliga, Borussia Dortmund and RB Leipzig. However, if you've been paying attention to our Bundesliga coverage, you might have noticed a name missing from that list. The third team was Bayern Munich, and Monchengladbach did win that match, a 2-1 win on Dec. 7.
The Foals also showed no signs of rust in their first match of the restart, as leading scorer Alassane Plea needed all of 30 seconds to find the net in the win over Eintracht Frankfurt. Monchengladbach is a side that takes care of business, seems to have Leverkusen's number, and badly wants to hang on to its place, as it hasn't played Champions League soccer since 2016. The Foals would love nothing more than to return at the expense of Leverkusen, as the Worker's Eleven nosed them out by three points a year ago for Germany's last spot in the competition.
Dan's Best Bets:
These teams don't get shut out. Leverkusen has found the net in 10 consecutive matches, while Monchengladbach has seen both sides find the goal in each of their past nine games. Plus, Monchengladbach has scored in its last 12 home matches. Of course, Vegas isn't stupid, which is why both teams to score is going off at -223. That's far too much juice for my taste.
Instead, I'd rather take Monchengladbach to win and both teams to score, which is paying off at +260. If you don't feel that adventurous, there's nothing wrong with going for plus money on the Foals, but these teams both attack well and have every reason to go for the win, given that both sides need the match and still have a chance at first place if Bayern Munich stubs its toe at any point in the remaining season. I really like both teams to score in this matchup, and I want to make sure that I'm getting a good return if I'm right.
Dan's Score Prediction:
Leverkusen has lost three in a row to Monchengladbach, and the Foals looked by far to be the more prepared side against stronger opposition in the first matchday after the resumption. Based on the history and the fact that Monchengladbach has been excellent at home, I've got to lean toward the Foals to pull out a close win here.
If you've read this far, you probably know the pick I'm about to make here, but I'll spell it out anyway. I think a 2-1 win for Monchengladbach is the right way to go here, and it's paying off at +900, a pretty healthy return for a match that should be tightly contested from beginning to end.
100% REAL CASH up to $300

USE BONUS CODE:
PREDICT100