Bayern Munich vs. Union Berlin Picks 5/17/2020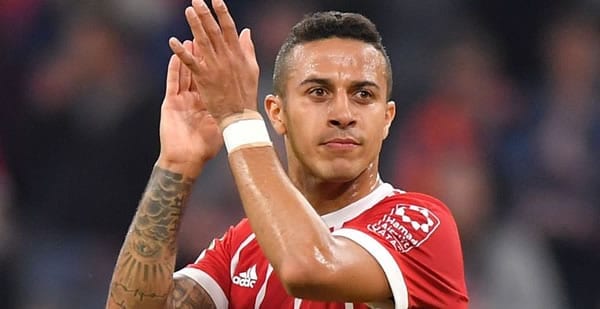 Bayern Munich (17-4-4, 55 points, 1st place) vs. Union Berlin (9-13-3, 30 points, 11th place)
When: Sunday, May 17, Noon
Where: Stadion An der Alten Försterei, Berlin
TV: TBD
Point Spread: Bayern -2/Union Berlin +2. Find the absolute lowest odds on this match at 5Dimes Sportsbook.
Moneyline: Bayern -400/Union Berlin +1050/Draw +525
Total: Over 3.5 (+105)/Under 3.5 (-143)
Last Time Out:
Bayern defeated FC Augsburg 2-0 on March 8; Union Berlin lost 3-1 to SC Freiburg on March 7.
Previous meeting:
Bayern defeated Union Berlin 2-1 on October 26 at Bayern's Allianz Arena.
About the Matchup:
The fact that Bayern Munich, Germany's premier club, is making a visit to Union Berlin for a Bundesliga match is a minor miracle in itself. Just over a decade ago, Union Berlin was in the fourth tier of German soccer, making this roughly the equivalent of Alabama football playing a road game at Northwest Missouri State. The talent disparity won't be quite that wide because Union Berlin earned its way to the top league by winning in each of the three lower leagues, and the Berlin side showed no fear of Bayern in their first matchup, keeping up the attack until the end of the match.
It's an absolute shame that this match will be played with no fans because Union Berlin's promotion to the Bundesliga last year made it the first team from East Berlin to compete in the top level of the Bundesliga. That makes this the first time that Bayern Munich will compete in East Berlin, a truly historic moment.
Scouting Bayern Munich:
At the start of the year, Bayern looked as vulnerable as it has in years. The Bavarians drew three of their first nine matches and lost two others, which seemed to suggest that the seven-year stranglehold they've had on the Bundesliga was about to end.
Guess again. Since a loss to Borussia Monchengladbach, Bayern has been the best team in the Bundesliga by a mile. Winners of 10 of its last 11 games and taking 31 of 33 points to go four points ahead of its closest rival for the title. Playing on the road also hasn't been much of an obstacle for Bayern. All of its last five matches away from home have resulted in a win by at least two goals.
But that said, Bayern isn't coming out of the COVID-19 pause at full strength. Leading scorer Robert Lewandowski (25 goals) has picked up an injury and will be held out of this match and the next one in order to save him for their match at Borussia Dortmund. Bayern still has the most dangerous talisman in the league in Thomas Muller, however, and with 15 assists in 18 games to his name, Muller remains a threat to set someone up at any point in the match, even if he doesn't have Lewandowski around to finish off the scoring chance.
There's also the Bayern defense to worry about. Like most teams, Bayern tends to give up a few more chances away from home, and it's conceded a goal in eight of its 12 away matches this year.
Scouting Union Berlin:
Union Berlin has made a credible effort in its first year in the Bundesliga. The Iron Ones have proven to be a difficult side for opponents to get a handle on, as they've scored nine goals in their past five matches and have found the net in 20 of their 25 games. Sebastian Andersson has been the main threat for the East Berlin squad, scoring in each of Union Berlin's past three Bundesliga matches.
But playing an attacking style does come with its drawbacks, all of which are on display on the defensive side of the pitch. Only Augsburg and Freiburg have come to Berlin and failed to put at least one ball in the net, and over Union Berlin's past four matches, there's been a total of 16 goals scored.
That makes Union Berlin a fun team to watch and a heck of a story. The Iron Ones also have much more to play for than mere survival. With Schalke in freefall, Union Berlin could reasonably make a run at the Europa League, as they sit seven points behind Schalke with nine matches to play. Even if they don't finish top 6, this season has already gone better than anyone connected to Union Berlin could have hoped would happen. With no realistic threat of relegation, only good things can happen to Union Berlin at this point, which means the pressure is off and they can play as open as they wish.
Dan's Best Bets:
I really like both teams to score in this one. Bayern winning looks like a foregone conclusion, but Union Berlin has nothing to lose and is likely going to play an open, attacking game that allows it a few genuine chances at the Bayern net. Backing both teams to score is going off at -115, and that's reasonable juice to lay for this kind of bet, given that Union Berlin has only failed to score at home twice this year.
For the match itself, I'm a little bit skittish on taking Bayern to cover without Lewandowski in the lineup. Given that I like both teams to score and the spread is two goals, that means that Bayern would need to score four times in order for me to win both bets. Quite frankly, I don't think that Bayern is going to score four without their leading scorer. So in this situation, I want Union Berlin and the two-goal cushion, figuring that I'm going to get no worse than a push. That's the only bet that makes sense to me on the result, as you'll get no value on Bayern on the money line, I don't expect a win to nil, and I see little chance that Union Berlin pulls the upset.
Dan's Score Prediction:
Without Lewandowski in the lineup, Bayern's potent offense is likely to get bogged down in this one. That said, Bayern wouldn't be resting Lewandowski if they thought they needed him to win this game or the next one. Every point is critical now, so there's no way that Bayern is going to risk leaving two points on the table with Borussia Dortmund charging fast behind them.
Bayern is the better side, but I'm sticking to my thought that Union Berlin will draw blood in this match. That gives me two reasonable options: 2-1 (+800) and 3-1 (+950). I think I'll probably split the difference and throw half a unit on each possibility, but if you want a firm score prediction here, I expect a wide-open match, and that leads me to believe a 3-1 Bayern win is the way to go. Bet your pick to win FOR FREE by taking advantage of a 100% REAL CASH bonus on your first deposit of $100 to $300 at MyBookie! You need to use this special link to take advantage of this offer!