FC Barcelona vs. Juventus Pick 10/28/20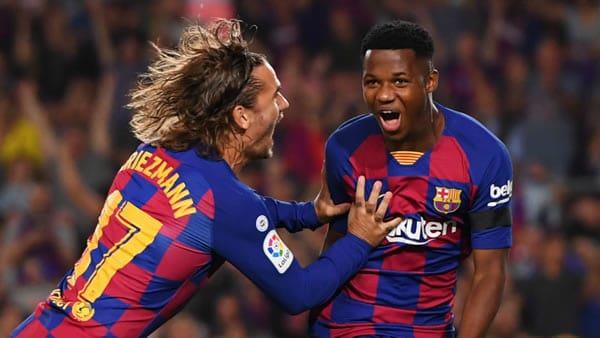 FC Barcelona (1-0-0, 3 points, 1st place Group G) vs. Juventus (1-0-0, 3 points, 2nd place Group G)
When: Wednesday, October 28, 4 p.m.
Where: Juventus Stadium, Turin, Italy
TV: CBS All Access
Point Spread: Barcelona 0/Juventus 0
Moneyline: Barcelona +160/Juventus +155/Draw +240 (BAS - Lowest priced favorites and highest paying underdogs of any sports betting site online! Reduced odds betting saves you BIG $!)
Total: Over 2.5 (-134)/Under 2.5 (+100)
Last Time Out:
Barcelona lost 3-1 to Real Madrid, Juventus drew 1-1 with Verona.
Previous meeting:
The sides played out a scoreless draw on April 19, 2017, at Camp Nou in Barcelona, Spain.
About the Matchup:
The giants of Spain and Italy were drawn together in this year's edition of the Champions League, but fans won't be treated to yet another duel between Lionel Messi and Cristiano Ronaldo, as Ronaldo remains out to keep battling COVID. But both sides still have plenty of star power to carry this day, and both should be hungry after the way they were both unceremoniously dumped out of last year's Champions League.
A year ago, Ronaldo's Juventus couldn't navigate past Olympique Lyon and exited in the round of 16 for the first time since 2016. Messi and Barcelona promptly followed that by getting thrashed 8-2 by eventual champion Bayern Munich, the Spanish titan's worst defeat since 1951. With both sides off to some early-season struggles in their home leagues, which team can shake off their recent past and take control of the group?
Scouting Barcelona:
Beating Hungarian side Ferencvaros in their opening Champions League match won't win over anyone supporting Barca, as fans are far more concerned about the loss Barcelona just took at home to Real Madrid. It wasn't just that Barcelona lost; it was that Real Madrid also dominated the possession and beat Barca at its own game.
However, it goes beyond that for Barcelona. They've now failed to win in any of their past three matches in the Spanish league and seen themselves slip to ninth in La Liga, and some of their big names simply aren't playing up to expectations. In particular, Antoine Griezmann has been a massive disappointment for the Blaugranas, which led to him spending most of the Real Madrid loss on the bench. In truth, neither Griezmann nor fellow Frenchman Ousmane Dembele are getting the job done right now, and midfielder Philippe Coutinho picked up an injury against Real, which has Barcelona looking like a work in progress at best.
BET YOUR FC BARCELONA VS. JUVENTUS PICK FREE! DEPOSIT $100 AND GET A FREE $100 WAGER AT MYBOOKIE SPORTSBOOK!
The one bright spot for head man Ronald Koeman is the emergence of 17-year-old Ansu Fati, who appears to be the next big Spanish star for Barcelona and has taken some of the pressure off the shoulders of Lionel Messi. But the recent run of form suggests that the entire team just isn't where it needs to be right now, and beating a team of Juventus' caliber will be a tall order for this group at the moment.
Scouting Juventus:
Without Ronaldo on the pitch, the Zebras are vulnerable. Juventus hasn't yet been beaten this campaign, but two wins (one via forfeit) and three draws aren't what the nine-time defending Serie A champions were expecting to start this season. The main problem for Juve is exactly what you might expect: finding a plan B without Ronaldo hasn't been an easy thing for Andrea Pirlo and his staff.
New acquisition Alvaro Morata has proven his worth with two goals in Juventus' first four matches in Italy. If midfielder Dejan Kulusevski can continue the form he showed in the draw with Verona, the Zebras will be able to adjust well enough to continue to compete at the top of Serie A. But this is a side that's still finding its way after making several changes in its midfield, including shoving aside Sami Khedira for the likes of Federico Chiesa and Weston McKinnie. Eventually, Juve's push to get younger and faster should pay dividends, but for now, the changes combined with the loss of Ronaldo means that this is a side that's very much trying to decide what it wants to be.
Dan's Best Bets:
These two teams are very much in transition, given their start to the season, and without one of the world's best players on the pitch, this will probably not be the wide-open match that many people expect when two of the world's superpowers meet. Instead, this is likely to be a lower-scoring matchup that sees goals come at a premium, and I wouldn't be surprised if it takes most of the match to find a breakthrough. I think there's an excellent chance that these sides play out a scoreless first half, and you'll get +195 for that possibility.
As for the outcome, I believe the most likely possibility is a draw. Each of Juventus' past three matches in Serie A finished in a draw, and although the Zebras beat Dynamo Kyiv in their first match of the Champions League, Barca is a sterner test than the Ukrainian side and much more on the level of the Serie A sides. You'll get +240 for a draw, and I think that's the best way to play this. I personally expect a draw where both teams find the net, which would payout at +310, but with neither side on form and both having just played on Saturday, I want the insurance against a scoreless draw. I'm perfectly fine with taking $24 in profit on a $10 bet instead of $31 to avoid losing to a match where neither side hits the target.
Finally, you can take a shot on more goals in the second half at +105. If we believe a score draw is the most likely possibility and a scoreless first half has a reasonable chance to hit, then it stands to reason that the goals will come in the second 45 minutes. However, if you're worried about the scoreless draw, it's better to just play the under for even money.
Dan's Score Prediction:
Two of the past four matchups between these sides have been a scoreless draw, and without Ronaldo on the pitch, I'm tempted to pick that to happen again. But Juventus hasn't shut out anyone other than Dynamo Kyiv in its past three matches, and Barcelona still has Messi on the pitch. Given that Barca has allowed its past four opponents to score and three of those teams put home one goal, I think a Juventus goal is a likely possibility as well.
Juventus' past two matches in Serie A have finished 1-1, and I'm going to bank on that happening again at +600. Want a 200% sportsbook bonus? Terms: Deposit $25, get a FREE $50 bet! Use bonus code ROOKIE200 after signing up and depositing 25 bucks at Intertops Sportsbook! Online since the 90's! Rock Solid!