Manchester City at Chelsea Predictions 6/25/20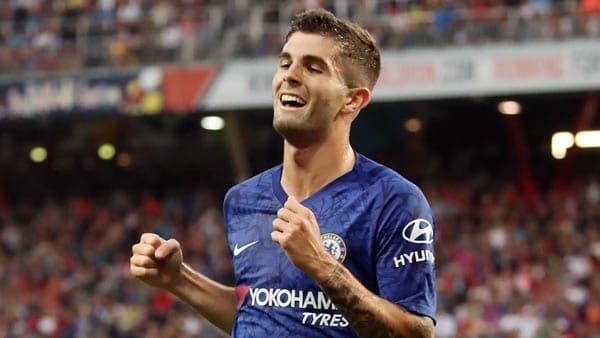 Manchester City (20-7-3, 63 points, 2nd place) at Chelsea (15-9-6, 51 points, 4th place)
When: Thursday, June 25, 3:15 p.m.
Where: Stamford Bridge, London
TV: NBCSN
Point Spread: Manchester City -1/Chelsea +1
Moneyline: Manchester City -125/Chelsea +310/Draw +300
Total: Over 2.5 (-167)/Under 2.5 (+125)
Last Time Out:
Manchester City routed Burnley 5-0; Chelsea edged Aston Villa 2-1.
Previous meeting:
Manchester City defeated Chelsea 2-1 on November 23 at the Etihad Stadium in Manchester.
About the Matchup:
Nobody has looked better out of the pause than Manchester City, which has steamrolled both Arsenal and Burnley and put a vice-grip on second place in the Premier League. With no European competitions likely for two years, the Sky Blues have decided to take out their frustration on the rest of the Premier League, and they've got another chance to do that to a fellow Big Six side here.
But this matchup has been anything but easy for City in recent years, as Chelsea have been very tough on the Sky Blues at Stamford Bridge. In its past four trips to west London, Manchester City has come away with just one win against two defeats and a scoreless draw. City might be the highest-scoring team in the Premier League, but that hasn't been the case when they visit Chelsea; the Blues have held Manchester City to just two goals in their past four meetings at Stamford Bridge.
For more free soccer predictions check out and bookmark >>> Predictem's Soccer Picks!
Scouting Manchester City:
This is the City side that everyone expected to see this year, and the Sky Blues have wasted no time in getting themselves back into form. The first half back was a forgettable one for City, but their past three halves of soccer have been nothing short of majestic. The final five minutes of the first half of the Burnley match was just another example of how quickly City can bury an opponent, as that match went from 1-0 to 3-0 in the blink of an eye and left Burnley in a hole it could never escape.
What makes City so impressive to watch is that the Sky Blues aren't purely an offensive side. In their past seven Premier League matches, City has won five of them, and none of them saw them concede a goal. Only Liverpool, Leicester, and Sheffield United have allowed fewer goals than Manchester City, and the Sky Blues' +45 goal differential is matched only by Liverpool's incredible run of form. Put simply, when it plays together, this is a team without a weakness.
Unfortunately, that is City's one weakness: it doesn't always play together. City has been prone to the occasional head-scratcher this season, which has featured a pair of losses to city rival Manchester United. Still, it's hard to pick against City, as the positives that come with backing them usually far outweigh the negatives.
Scouting Chelsea:
The Blues didn't exactly cover themselves in glory against Aston Villa, but they did manage to win the match, which is more than you can say for some of their rivals for a top-four spot. The good news for Chelsea was that it dominated the possession for the match and forced Villa to chase, but the bad news was that other than a five-minute stretch in which Chelsea scored twice and swung the game away from Villa, the Blues really weren't all that threatening with their finishing.
Fans of American soccer will be thrilled to see Christian Pulisic making the most of his chance as he came off the bench and provided some real excitement for Chelsea, burying the first goal of the match. Chelsea's going to need more from him and the rest of the attack if it hopes to get anything out of this match, as City are one of the best possession sides in the world and aren't going to let the Blues have anything close to the 74 percent possession that they did against Villa. To get a result here, Chelsea will have to pick its spots and be clinical with its finishing.
Dan's Best Bets:
It's crazy to be offered even money to take Chelsea on a double chance at Stamford Bridge. It's even crazier that taking that probably isn't the right way to play this. But the hard reality is that City has looked fantastic since the restart and Chelsea didn't look ready to go against Villa. I think Chelsea has the defense to slow City down, but I don't really think the offense can find a way past this backline.
Given that Stamford Bridge has been a tough place for City to play, however, I think the best way to play this is to take City to win and under 2.5 goals, which pays at +400. The reality is that goals are not flying into the net in England since the restart, and Chelsea's defense is a big step up from Arsenal or Burnley. I can see City getting a goal, perhaps two, but I really don't see them getting more than that. But if you feel less daring, you can give yourself some insurance against a Chelsea goal by taking City and under 3.5 goals, which pays out at a very solid +180.
If you're looking for a more conservative way to play, there's plenty of value in taking a "No" on both teams to score at +120. Not only have the teams' past three meetings at Stamford Bridge ended with one or both sides failing to score, but 10 of City's last 11 matches against English opponents have ended with a zero on the board for at least one team. I think there are better bets on the board, such as City to win to nil at +240, but if you want to limit your risk while getting plus money, it's hard to do better than this. Note: When we have time, we ask our readers where they bet. You wouldn't believe some of the answers we get. Some guys are betting at offshore sportsbooks that aren't properly funded, have crap wagering options, don't offer bonuses or reduced juice or are shams. We're not into using fear mongering, but you should be sure that you're betting into a shop that is going to pay you when you request your winnings. Please take a minute to check out our best sportsbooks list. You should have zero risk tolerance when it comes to your money!
Dan's Score Prediction:
I banked on City putting up a big number against Burnley on Monday, and I ended up one goal short of their final total. I'm not going to count on the big number this time. Chelsea's defense is much more solid, and the Blues are always tough to play against at Stamford Bridge.
But this City side is too good and playing at too high of a level right now to expect anything but a win on this trip. I think Chelsea hangs tight for most of the match, but I think City's attack is just too good right now for them to fail to find the net. I expect Kevin de Bruyne to find one of his teammates with a goal-scoring opportunity at least once in this match, and that's exactly the way I'll pick it: 1-0 to Manchester City, which pays out at +850.