Mexico vs. United States Odds & Predictions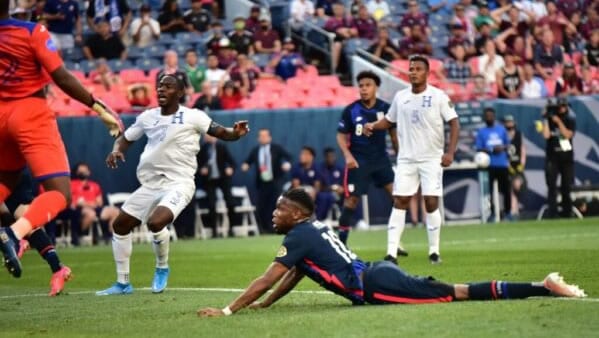 Mexico vs. United States
When: Sunday, June 6, 9 p.m.
Where: Empower Field at Mile High, Denver
TV: CBSSN and Paramount+
Point Spread: Mexico 0/USMNT 0
Moneyline through 90 Minutes: Mexico +154/United States +185/Draw +240 (BAS - Odds cost less here! Walmart style pricing!)
To Win the Trophy: Mexico -118/United States -106
Total: Over 2.5(+123)/Under 2.5 (-148)
Last Time Out:
Mexico drew 0-0 with Costa Rica and won on penalties; United States defeated Honduras 1-0.
Previous meeting:
Mexico bested the United States 1-0 in the 2019 Gold Cup final on July 7, 2019, at Soldier Field in Chicago.
About the Matchup:
The inaugural CONCACAF Nations League final nearly missed out on another edition of North America's biggest soccer rivalry, but some late heroics by Jordan Siebatcheu for the U.S. and Guillermo Ochoa for Mexico ensured that we'd have another meeting between the Yanks and El Tricolores for CONCACAF supremacy. With Gold Cup coming up next month, this won't mean bragging rights for very long, but any time these nations match up, it's always a hard-fought battle no matter what the stakes are.
The big question here is how well each team has recovered after a pair of brutally difficult semifinals on this same field on Thursday. The good news is there was no travel between the semifinals and finals, but having to play in the elevation of Denver might be
Scouting Mexico:
If not for Ochoa's heroics in the penalty shootout, Mexico might very well have lost to Costa Rica and probably should have done exactly that. The Mexicans were all around the Ticos' goal all night long, but couldn't put a solid attack together that would have troubled the Costa Rica defense. Instead, El Tri left it up to penalties, which are always a coin flip.
The good news for Tata Martino's men is that the defense did what it had to do to keep the Ticos from ever being much of a threat. Mexico's defense has struggled at times in recent matches, allowing goals to the likes of Wales, Iceland, and Bermuda, with the latter two being teams that should be nowhere near threatening Mexico at the moment. El Tri has shut out three straight opponents in CONCACAF, but they didn't look impressive at all in just barely escaping the Ticos.
Scouting United States:
It all worked out in the end, but the United States looked no better than Mexico in its semifinal win over Honduras. The Americans didn't get the ball into the box with anything that resembled efficiency, looking lost when Honduras forced them into the middle of the pitch. Too often, the USMNT has struggled to find a plan B when a team refuses to let its main plan work, and Thursday night was more of the same from Gregg Berhalter's young side.
Based on talent, the Yanks are almost always the best side on the pitch when they play in CONCACAF, but matches in CONCACAF are much more based on attrition than they are on flair and brilliance like in Europe. Throw in that stars like Christian Pulisic, Weston McKinnie, and Jordan Sargent have only just recently finished their club seasons in Europe (Pulisic was playing for Chelsea as recently as last week), and it's easy to see why this side is likely to have problems attacking against the likes of Honduras or Mexico.
Dan's Best Bets:
Elevation means a lot in world soccer (just ask any South American nation who's had to go into Bolivia and had to deal with almost 12,000 feet of elevation), and Mexico is much better positioned to take advantage of the situation than the U.S. El Tricolores plays almost all of its home games in Mexico City, which has an elevation of 7,382 feet, more than 2,000 feet higher than Denver. As such, it's hard to think of a worse place for the U.S. to play this match on American soil on short rest.
Because of that, I like Mexico and under 2.5 goals here at +390. The past three matches (granted, two of them were friendlies) have all seen one side end the match with zero goals, and given that both sides had to press to the very end in their Thursday matches, I don't think this match sees more than two goals in it. If you are worried about a Mexican scoring outburst after the finishing wasn't there against Costa Rica, you'll still get great odds by taking Mexico at +310.
Finally, I think it's going to take these teams some time to get much of anything going, so I'd bank on the goal coming in the second half. You'll get +105 odds for the first half to finish tied and +170 for a scoreless first half, and I think there's a lot to like about that bet.
Dan's Score Prediction:
If this match were being held at a lower elevation, I'd probably take the U.S. to get a result here after Mexico struggled to finish against Costa Rica. But the fact is that short of going to Mexico, this is the worst possible place for the U.S. to play its greatest rivals. The crowd will likely be closer to neutral given Denver's large Hispanic population, and the elevation makes it the one major city in the United States that's most similar to what El Tricolores faces all the time.
This game should be a tight battle, but with the crowd and the elevation not being factors in the Yanks' favor, I expect the same result as 2019. I'll take Mexico to again claim CONCACAF superiority with a 1-0 win at +650. Bet this game and ALL your picks this week for FREE by scoring a 100% REAL CASH bonus on your first deposit of $100 to $300 a MyBookie Sportsbook! (Must use bonus code PREDICT100 to receive the special bonus!)