West Ham United vs. Manchester United Pick 3/14/21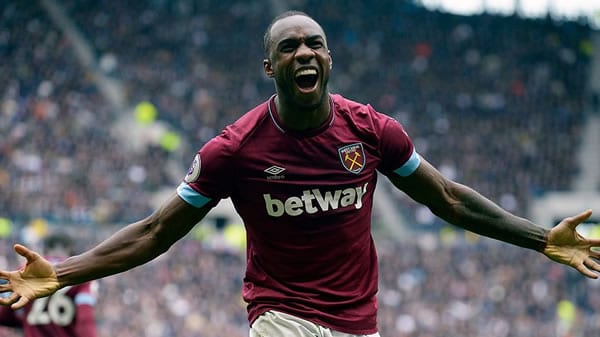 West Ham United (14-7-6, 48 points, 5th place) vs. Manchester United (15-4-9, 54 points, 2nd place)
When: Sunday, March 14, 3:15 p.m.
Where: Old Trafford, Manchester, United Kingdom
TV: NBCSN
Point Spread: West Ham +1.25/Manchester United -1.25 (Bovada)
Moneyline: West Ham +360/Manchester United -125/Draw +260
Total: Over 2.5 (-125)/Under 2.5 (-105)
Last Time Out:
West Ham beat Leeds United 2-0; Manchester United defeated Manchester City 2-0.
Previous meeting:
Manchester United defeated West Ham 3-1 on Dec. 5 at London Stadium.
About the Matchup:
After a week that saw United once again frustrate bitter rival and league kingpin Manchester City, can the Red Devils refocus themselves well enough to hold off a side that sees an opportunity to make history? West Ham has never played in the Champions League, but with Arsenal struggling and Liverpool seemingly falling off a cliff, David Moyes and the Irons are in prime position to take advantage. West Ham is already just one win away from the top four, and with a win here, they'd be only three points out of second place.
However, getting those three points won't be easy because they're facing a United side that has been beaten just once in the past four months and has a seemingly solid hold on second place. Not only that, but United just ended Manchester City's 21-match winning streak by blanking the league leaders on the road. However, that might work against United in this matchup because it's never easy to refocus yourself after such an achievement. Throw in that United's got a home match in the Europa League against Italian side AC Milan to worry about on Thursday, and there are several factors suggesting this might be another opportunity for West Ham. Can the Irons come up big against a foe that's likely to be exhausted?
Scouting West Ham United:
It's Selection Sunday in the hoops world, and West Ham is most like a solid No. 6 seed. The Irons have beaten the teams they're supposed to beat, pulled a couple of surprises here and there, and haven't really taken any bad losses. West Ham has only lost twice in its last 12 matches, and both were reasonable: a 3-1 loss to Liverpool back when the Reds were actually in form and a 2-1 defeat at Manchester City.
The main key for West Ham is not to let things go south because in all seven of the Irons' defeats, they've conceded at least twice. Sometimes, West Ham's been able to fight its way back, such as when it overcame a one-goal deficit to Crystal Palace and emerged with a 3-2 win, but most times, giving up two goals has been a death sentence. West Ham is just 1-7-2 when it gives up two or more in a match, as it's much more comfortable when it gets an early goal and can frustrate its opponent for the rest of the day.
However, getting that early goal might be challenging because striker Jesse Lingard won't be available for this match. Lingard came to West Ham on loan from Manchester United, and Premier League rules prevent players from facing the team that actually owns their contract. West Ham still has other options, namely Mikhail Antonio, but given that Lingard has scored four goals in six matches, the Irons will greatly miss him.
Scouting Manchester United:
As of this writing, United hasn't given up a goal in any competition since Feb. 21 in a 3-1 win over Newcastle United. The Red Devils have played four straight matches where they've shut out the opposition, a streak that's going to be tough to maintain for much longer. Then again, the defense just stood up to Manchester City and a 23-shot barrage and never let anything in, so this might just be the defense coming together for Ole Gunnar Solskjaer.
While the defense is in fine form, United would do well to rediscover its scoring touch, and the win over City doesn't really count because United was able to score off a penalty two minutes in, giving it control over the rest of the match. The last time United generated anything without the help of a whistle was also that victory over Newcastle, as the offense has stagnated ever since that match. Only Bruno Fernandes seems to still have a nose for goal right now; the rest of the Red Devils seem to be expecting someone else to find the net and put the ball home.
Dan's Best Bets:
With one of United's goals against City really being kind of a fluke, I think going low might be the way to go here. United has had enough trouble finding the net, and I think this could easily end up with one goal or less given that the Red Devils will be coming off a match on Thursday. As such, taking the under at 2.5 appeals greatly to me, and I'd even consider giving back a goal at +250 for under 1.5.
For the match itself, taking West Ham on a double chance at even money looks solid, but I like the draw at +260 even more. Five of United's last eight matches have finished in a stalemate, and three of those were scoreless draws. With that being the case, I'd also take a "No" on both teams to score at even money, as I think there's an excellent chance at least one side doesn't find the net.
Dan's Score Prediction:
United is playing great defense, but I think this is a trap game against a motivated side. West Ham has the ability to turn this into a defensive battle, and I think there's an excellent chance that one goal could be enough to win this. Whether that one goal will happen, however, is a significant question mark.
I can easily see West Ham getting the win here and picking up the three points they need to take a major step toward the Champions League, but it's hard to bet against United when it's been on such a run of form. I'm instead going to back a scoreless draw at +725, as I think United will be too tired to give its best performance here. Question: Did you know that there is a GREAT sportsbook out there that allows you to bet on all sports at reduced odds? Why pay more when you could be laying half the juice (vigorish)? Making the switch to reduced juice sports betting will save you THOUSANDS of dollars in risk over the course of your betting career. Be wise! Save Loot! Make the switch to BetanySports Sportsbook today!
Get $60 of FREE member picks & predictions
(NO commitments. NO Credit Card. NO Salesman.)