Alexander Gustafsson vs. Anthony Smith: Fight Night 153 Pick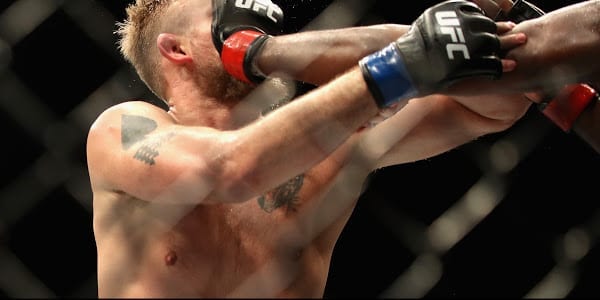 UFC on ESPN 11: Gustafsson vs. Smith Picks
When: Saturday, June 1, 2019
Where: Ericcson Globe, Stockholm, Sweden
TV: ESPN+
By: Loot Levinson of Predictem.com
Fight Analysis:
The 11th installment of UFC on ESPN features a crossroads light heavyweight bout, as two contenders battle it out to remain relevant in the 205-pound division. Alexander Gustafsson and Anthony Smith both tasted defeat the last time they stepped into the octagon. But it wasn't just anybody who beat them, as champion Jon Jones turned back the challenges of both men. The winner of this fight would remain near the top of the light heavyweight rankings, while the loser would go further back in an ever-growing pack of contenders. Let's see what we can come up with for Gustafsson vs. Smith!
Alexander Gustafsson, 18-5 (11 KOs, 3 Submissions), (-270) vs. Anthony Smith, 31-14 (17 KOs, 11 Submissions), (+210)
Alexander Gustafsson takes on Anthony Smith in a light heavyweight battle on UFC on ESPN on June 1. The locale of this fight is in Stockholm, which is in Gustafsson's home-country of Sweden. There should be some nice support for Gustafsson, while this qualifies as a tough road-assignment for Smith. Both 205-pounders look to get back on the winning track to maintain their statuses as top dogs in the division. But each needs a big win to remain in striking positions. There is a lot on the line for these accomplished fighters.
They are similar in the sense that they are both elongated light heavyweights. Gustafsson is a towering six-foot-five, and dwarves most of his 205-pound opposition. But he won't tower over Smith, who is a lanky 6'3." But they are cut from different cloths. Gustafsson, 32, is a ten-year UFC veteran and a technical striker who is a classy-type of fighter. Smith, 30, has only been in the UFC for a couple years, following a long rough-and-tumble MMA career spent in the mid-west. He's more of a blue-collar guy than Gustafsson.
For years, Gustafsson has been a prized UFC product, whereas Smith was overlooked. Smith started his career modestly, scratching and clawing to this point. He fought on small local shows and was still only 5-6 after his first 11 fights—not the typical beginning for a future UFC title challenger, that's for sure. Fighting as a middleweight, he eventually moved up to light heavyweight and got on a nice roll. Smith went to Strikeforce in his first taste of the big-time, but three straight losses sent him tumbling. Later, he would join Bellator and continue fighting on smaller cards and a 7-fight win streak led to a spot on the UFC roster.
Smith started making waves when he won 4 of 5 after joining the UFC, though a 2018 stoppage to Thiago Santos again had him searching for answers. But then KO wins over ex-champs Rashad Evans and Mauricio Rua had people take notice, before a submission over Volkan Oezdemir led to his March 2019 challenge of Jones, where he was showed mettle, but was fairly non-competitive in a unanimous decision loss.
Smith is a hard guy to not root for, considering all he has overcome in getting to this spot. It takes a lot of inner-resolve to do things like turn around a struggling MMA career and last 25 minutes with the best to ever do it in Jon Jones. He's a fairly-ruthless striker who uses his hands, feet, elbows, and knees. And those long limbs he has can snake around different body parts for submissions, namely chokes. He has 11 submissions to go with his 17 KO wins, as there are numerous routes to victory for the hardcore veteran.
50% Cash up to $1,000
Smith's list of accomplishments still fall short of Gustafsson's. He didn't fare as well against Jones, losing by TKO in the third round and not able to be as competitive as he was in 2013 when he nearly beat Jones. Add in wins over guys like Thiago Silva, Rua, Jimi Manuwa, and Glover Teixeira and his resume is a bit better. But at 32 and with a checkered recent history, questions loom over his viability moving forward. Since 2013, he has fought just 7 times and while the opposition has been incredible, he is still just 3-4 over that stretch. And winning 3 times in 6 years isn't going to get it done.
A blessed fighter in many ways, it's fair to ask where Gustafsson's career truly stands at this point. Injuries have been a constant thorn in his side, as his biggest opponent in recent years might be his own body. And those losses didn't help. Sure, there was a split decision loss to champion Cormier where he didn't lose stock and the first Jones fight where he was great. Along the way, however, there have been a few damaging losses, as he was wiped out against Rumble Johnson, before the TKO loss to Jones in his last fight. There have certainly been flashes of greatness, but injuries and the division being so strong at the top have prevented him from achieving clear-cut greatness.
Still, Gustafsson is as long as they come at 205, while bringing a combination of extreme skills into the octagon. He can strike very well and his wrestling is hard to stop. He isn't taken down easily at all and was the first man to score a takedown on the champion Jones. At the end of the day, he's the only fighter who really gave Jones a serious run for his money, as some still think he deserved the nod in their first fight. It's just that the issues that have troubled Gustafsson don't get better with time and added mileage.
UFC 238: Cejudo vs. Moraes
Still, Gustafsson's back is against the wall and it would be hard for him to soldier on if he can't defeat Smith. This is more of a crossroads for Gustafsson than it is for Smith. With Gustafsson, at his age with his mileage and injury-history, it's just not feasible that he can work his way back to the spotlight if he loses this. I expect that urgency to resonate. I also expect talent to resonate, as Gustafsson has more tools in his belt than Smith. Sure, he's also more of the delicate swan in this equation, but I see talent winning out here. I'm taking Gustafsson.
My Pick to Win: I'm betting on Alexander Gustafsson at -270 betting odds. His skills are harder to deny and while Smith is a tough out and more-bankable physically, he has never reached the heights that Gustafsson once occupied. And at the end of the day, talent speaks. And being close to home won't hurt, either.
Who else wants $60 of FREE member picks & predictions?
(NO commitments. NO Credit Card. NO Salesman.)