Conor McGregor vs. Khabib Nurmagomedov Prop Bets – UFC 229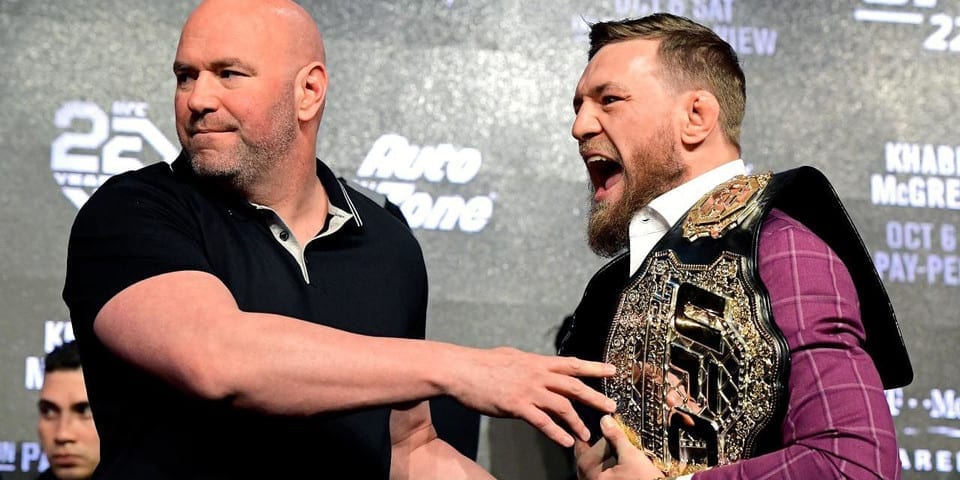 UFC 229 Prop Bets
When: Saturday, October 6, 2018
Where: T-Mobile Arena, Las Vegas, Nevada
TV: PPV
By: Loot Levinson of Predictem.com
Fight Analysis:
For an event as big as the Khabib Nurmagomedov vs. Conor McGregor UFC Lightweight Championship fight, there are going to be a slew of prop bets. What are MMA prop bets? Look at them as bets within a bet. In other words, in any fighting sport, the main bet focuses on who will win the fight. But as we all know, there are innumerable details within that dynamic. Prop bets answer the how, why, where, and when parts of the equation. Let's take a look at some of the different props for the UFC 229 main event, which also happens to be the UFC Fight of the Year. In a fight of this magnitude, if you can conceive it, the sportsbook offers it. We have confirmed that 5dimes, Mybookie, Youwager and BetOnline offer these props. However you will find these props, or similar ones, at most betting sites.
The Over/Under
Also known as the total, this revolves around how long the fight will last. The book puts up a number of rounds and you simply bet if the fight will go "over" that number or "under" that number. It's actually one of the simplest bets to make in MMA. And it doesn't matter who wins when you bet on the over/under. Your stake is based only on how long the fight lasts. Let's look at the total (over/under) for the Khabib-Conor fight,
Conor McGregor vs. Khabib Nurmagomedov
Over 2.5 Rounds +110
Under 2.5 Rounds -130
It's slightly favored that the fight will go under 2.5 rounds at -130, with under fetching a mild underdog quote of +110. So the magic number is 2.5, which means 2.5 rounds, which means 2-and-one-half completed rounds. It does not mean halfway through the second round. It means 2.5 finished rounds, making the line in the sand the 2:30 mark of the third round.
While this bet doesn't rely on who wins the fight, that's a definite consideration for those betting on this proposition. For example, if you like McGregor to win this fight, you would note that when he wins, it's usually by KO. That's not automatic, but he's been more-liable to end fights sooner than his counterpart. Khabib, with his smothering wrestling style, usually takes opponents into the deep rounds. This is not a hard-and-fast guideline here, but your choice in this bet should be tied to who you favor to simply win the fight. If you like McGregor, the "under" would seem to be more in-play. And while a stoppage win inside of 2.5 rounds for Khabib isn't by any means inconceivable, the "over" would seem to be a position favored more by Khabib backers.
Let's look to some more-specific prop bets now. The over/under is more of an entry-level prop bet. Now, we're going to take a stand on some more-exotic props. We understand that some of these bets might be contradictory, with bets on both men making the list. But we just shot for some of the better-value props we saw on the board, ones that could interest fans on both sides of the fence of a fight that has caused a lot of division among the experts. Take a look!
Nurmagomedov Wins 5-Round Unanimous Decision: +485
Again, Khabib is not limited to simply grinding down and wearing out McGregor over the full distance in order to get a win. There are different avenues in which he can become victorious. Let's also point out, though, that in his last 7 octagon appearances, McGregor has seen just two wins occur inside the distance. And if you like Khabib to win this fight, this could be a likely result, nearly 5-to-1 odds on the favored fighter to win by his most-common result. Not bad.
McGregor Wins in Round One: +400
Again, we're operating under the premise that if McGregor's striking ability surfaces, it's more likely to occur early. That's when he will be fresh, not worn down by the draining smothering that is promised when fighting Khabib. In the first round, fighters are certainly going for offense, while also trying to figure each other out. And that's a time where a McGregor assault would seem likely.
McGregor Wins in Round Two: +625
See above. The second round gives you better odds, being that it's getting more into Khabib territory. But McGregor should still be on-point come round two, not too worn-down in the event that Khabib gets off to a fast start. It would also be a round for Conor to take a stand, being that his chances would seem very-diminished if the fight gets out of this round.
Any Other Result Other than a KO or TKO Win for Nurmagomedov: -575
I like this one. Granted, it's a chalky bet, but one that might have some inherent value from a betting standpoint. It's really hard to envision Khabib winning by strikes in this spot. Exchanging strikes with Conor would seem to be a foolhardy approach. The only real way this could occur would be by mere happenstance, with a gassed McGregor being mounted and Khabib getting the fight stopped. But even with Khabib, a principal in this very bet, a strike-induced stoppage seems the least-likely of routes to a win. He could win by decision or by submission—which are both more-likely than a KO. You can have Conor win the fight in any number of ways. In other words, -575 odds don't look too bad. When taking in the full-scope of different possibilities, this specific result would seem to be more in the 12 or 15-to-1 range. And to be getting -575 on any other possible result is pretty juicy.
Want to dramatically increase your UFC 229 payouts? The sportsbooks below, as well as those on our full bonus list, are offering large bonuses, mostly due to it being the start of football season. Risking free money from a bonus, along with your own bet unit, will increase your return on investment. Please read Predictem's explanation of bonus terms or the sportsbook's own terms of service to understand how bonuses work.
<aside><!-- [et_pb_line_break_holder] --><div class="widget105"><!-- [et_pb_line_break_holder] --><h4 class="cash">Best Sportsbook Bonuses</h4><!-- [et_pb_line_break_holder] --><div class="widgetlist"><!-- [et_pb_line_break_holder] --><div class="col1"><!-- [et_pb_line_break_holder] --> <a href="https://www.predictem.com/out/IntertopsB"><img src="https://www.predictem.com/wp-content/uploads/2018/04/intertops.png" width="" alt="Bovada" /></a><!-- [et_pb_line_break_holder] --></div><!-- [et_pb_line_break_holder] --><div class="col2"><!-- [et_pb_line_break_holder] --><span class="list"><b>50% Cash</b></span><br><!-- [et_pb_line_break_holder] --><span class="list">4x Rollover</span><!-- [et_pb_line_break_holder] --> </div><!-- [et_pb_line_break_holder] --> <div class="col3"><!-- [et_pb_line_break_holder] --><a href="https://www.predictem.com/betting-sites/intertops/"><button class="btn-widget">Review</button></a><!-- [et_pb_line_break_holder] --></div><!-- [et_pb_line_break_holder] --></div><!-- [et_pb_line_break_holder] --><div class="widgetlist"><!-- [et_pb_line_break_holder] --><div class="col1"><!-- [et_pb_line_break_holder] --> <a href="https://www.predictem.com/out/BovadaB"><img src="https://www.predictem.com/wp-content/uploads/2018/04/bovada.png" width="" alt="Intertops" /></a><!-- [et_pb_line_break_holder] --></div><!-- [et_pb_line_break_holder] --><div class="col2"><!-- [et_pb_line_break_holder] --><span class="list"><b>50% Cash</b></span><br><!-- [et_pb_line_break_holder] --><span class="list">10x Rollover</span><!-- [et_pb_line_break_holder] --> </div><!-- [et_pb_line_break_holder] --><div class="col3"><!-- [et_pb_line_break_holder] --><a href="https://www.predictem.com/betting-sites/bovada/"><button class="btn-widget">Review</button></a><!-- [et_pb_line_break_holder] --></div><!-- [et_pb_line_break_holder] --></div><!-- [et_pb_line_break_holder] --><div class="widgetlist"><!-- [et_pb_line_break_holder] --><div class="col1"><!-- [et_pb_line_break_holder] --> <a href="https://www.predictem.com/out/GtbetsB"><img src="https://www.predictem.com/wp-content/uploads/2018/05/gt-bets.png" width="" alt="GtBets" /></a><!-- [et_pb_line_break_holder] --></div><!-- [et_pb_line_break_holder] --><div class="col2"><!-- [et_pb_line_break_holder] --><span class="list"><b>100% Cash</b></span><br><!-- [et_pb_line_break_holder] --><span class="list">20x Rollover</span><!-- [et_pb_line_break_holder] --> </div><!-- [et_pb_line_break_holder] --> <div class="col3"><!-- [et_pb_line_break_holder] --> <a href="https://www.predictem.com/betting-sites/gtbets/"><button class="btn-widget">Review</button></a><!-- [et_pb_line_break_holder] --></div><!-- [et_pb_line_break_holder] --></div><!-- [et_pb_line_break_holder] --><div class="widget-footer"><a href="https://www.predictem.com/best-sportsbooks/bonuses/">See all sportsbook bonuses</a></div><!-- [et_pb_line_break_holder] --> </div></aside>