UFC 237 Picks: Rose Namajunas vs. Jessica Andrade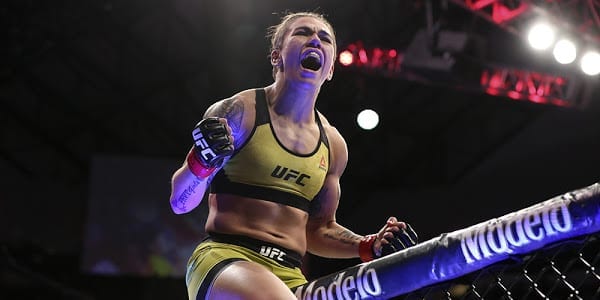 When: Saturday, May 11, 2019
Where: Jeunesse Arena, Rio de Janeiro, Brazil
TV: PPV
Fight Analysis:
UFC 237 from Rio de Janeiro features a pair of popular Brazilians in high-stakes bouts. In the main event, Brazil's Jessica Andrade challenges Rose Namajunas for the UFC Women's Strawweight Championship. Though she is the challenger, the highly-accomplished Andrade is actually the favorite to bring yet another title to her proud country. In the co-main event, former UFC Featherweight Champion Jose Aldo of Brazil looks to get back in the title hunt, taking on streaking contender Alexander Volkanovski. Let's see what we can come up with for UFC 237 betting-wise.
Rose Namajunas 8-3 (1 KO, 5 Submissions), (+125) vs. Jessica Andrade, 19-6 (6 KOs, 7 Submissions), (-145)
Rose Namajunas defends her 115-pound belt against Jessica Andrade in the main event. Some see this as being a really tough spot for Namajunas, even as she is the reigning champion with a title defense under her belt. Other than the two wins over Joanna Jedrzejczyk, her resume is pretty thin and she is just 8-3 overall. And Andrade is a big task—a former contender at 135 pounds now fighting at 115. In addition, Namajunas has fought all her bouts in the states and now faces the daunting task of facing a Brazilian in Rio in a main event.
Boxing Pick: Srisaket Sor Rungvisai vs. Juan Francisco Estrada
Granted, the wins over Jedrzejczyk may have come against a waning champion. Also, Namajunas had a checkered track-record before those bouts. To top that off, she will have been off for over a year by the time she comes into the ring for this fight. She has lost to the likes of Karolina Kowalkiewicz and Carla Esparza. With all that said, fighters are allowed to improve. It has been nearly three years since her last defeat. When you're 26, three years ago can be a different ball of wax. As a big underdog in the first fight and even as an underdog in the rematch, she came up "roses" both times—against a dominant and unbeaten world champion. So this notion of Namajunas being some luck-box who is just keeping the throne warm for somebody else could end up costing bettors a lot of money if it hasn't already.
Andrade, at just 5'2," is a thickly-muscled fighter and has looked good in three straight wins. She throws people around at 115 pounds—just a supremely-strong fighter. She has won 6 of 7 fights since moving down to 115 pounds. She did lose the fighter Rose just beat twice. And she isn't terribly clever as a fighter—more of a straightforward overpowering type of battler who relies on strength. And that's the daylight for Namajunas, who will need to use movement and angles and not allow herself to get tied up in dirty-boxing sequences. Andrade tries to get inside to rough people up by imposing her power and is usually successful.
At the higher levels she has fought, Namajunas has been muscled around at times. And I don't see how she can avoid that in this fight. Namajunas will really have to fight like a dog to find her way to the winner's circle in this one. She will need to stand her ground or threaten Andrade in some way to thwart the tide. While I see Namajunas having some success, I don't see her as being a gifted-enough striker nor a durable enough physical package to completely shine in this context. I'm taking Andrade in this one.
My Pick to Win: I'm betting on Jessica Andrade at -145 odds at Youwager. Namajunas is a great fighter who used a lot of inner-resource to rise to this point. I just see Andrade being a bad matchup for her. The challenger is so much stronger and while success is within Rose's grasp, she appears to have a narrower path to victory than Andrade. In either event, it's not a fight where making a pick is easy and one hesitates in questioning Namajunas' winning-case after her last few fights.
50% Free Play up to $500

Jose Aldo, 28-4 (17 KOs, 1 Submission), (-145) vs. Alexander Volkanovski, 19-1 (11 KOs, 3 Submissions), (+115)
One of Brazil's greatest-ever MMA practitioners Jose Aldo returns home for a battle with Alexander Volkanovski in the co-main event of UFC 237. Aldo came up short against current champion Max Holloway twice, but with two straight wins, he looks to build some momentum for another title run. With Holloway moving up in weight, the division is now hotly-contested by a handful of worthy contenders. One is the longtime former champion Aldo. And another appears to be the 30-year old Australian Volkanovski. A winner of 15 straight, the rising featherweight is a handful and a serious threat in this division.
Aldo might not be the dominant force of old—when he was running roughshod over the best 145-pounders in the world. That doesn't mean he still isn't a handful, as his last two wins showed. He is the most-credentialed featherweight of all time and while he has accrued some mileage and setbacks, he is still only 32 and not quite at the end of his rope. He is still a special fighter. He has done the things that Volkanovski can only think of doing. So where exactly are these fighters' careers intersecting?
More Fights: Jessie Vargas vs. Humberto Soto Pick
It's hard to not be impressed at what we've seen from Volkanovski, even if his 6 fights in the UFC are dwarfed by Aldo's resume. His last win, a KO over Chad Mendes, added a real nugget to his ledger. He is on a big roll. Formerly a welterweight, he eventually pared down his frame and is a hulking featherweight. Volkanovski is stoutly-built and extremely powerful with a wrestling background. He usually gets the position he wants and can really rain down with some vicious ground-and-pound. He is also a pretty crisp striker, throwing short and suddenly-launched shots that catch people by surprise. He can even employ a useful spinning elbow and is a crafty sort in his own right.
Granted, Volkanovski is not as savvy or as dangerous a striker as Aldo, or at least not as cunning. But he can lock in chokes and do damage with his hands, feet, and knees. There is an element of this fight that makes me worry that Volkanovski is the eager piece of wood being fed into the woodchipper that is Aldo. But if he can avoid walking into something hellacious, I think Volkanovski has a heck of a chance, even in hostile territory in Rio. I'm taking the underdog.
My Pick to Win: I'm betting on Alexander Volkanovski at +115 betting odds. Aldo is certainly still a feared fighter, but the youth, energy, and skills of Volkanovski create a package that will be hard for the ex-champ to contain. While not a horrible style matchup for Aldo, I see the versatility and strength of Volkanovski being a little too much at this point.
50% Free Play up to $1,000