UFC 257 Picks: Poirier vs. McGregor Odds & Predictions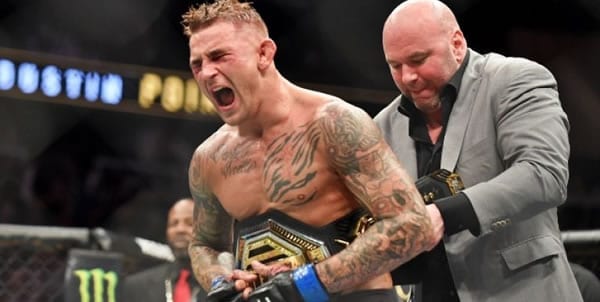 UFC 257: Poirier vs. McGregor Picks
When: Saturday, January 23, 2021
Where: Yas Island, Abu Dhabi, United Arab Emirates
TV: PPV
Fight Analysis:
UFC 257 is headlined by a big-ticket lightweight battle, featuring two of the biggest names in the lightweight division with Dustin Poirier and former featherweight and lightweight champion Conor McGregor. Both men are at a crossroads. The winner goes to the head of the division, while the loser goes further to the back of the line. And since both are veterans nearing the end of the line, neither has the time or interest to rebuild their brand name, making this a monstrously-important fight in the career of both men.
Dustin Poirier, 26-6 (12 KOs, 7 Submissions), (+205) vs. Conor McGregor, 22-4 (19 KOs, 1 Submission), (-240)
Dustin Poirier takes on Conor McGregor in a lightweight five-rounder in the UFC 257 main event. It's the return of a man who might be the biggest star the sport ever created in McGregor. But he hasn't always thrived lately at the higher reaches of the sport, a level that Poirier represents. This is a chance for us to see whether Conor is still a superstar inside the octagon. And if he's not, Poirier is good enough to bring that to light.
This is not the first time these two met. In September of 2014, when both were rising contenders in the featherweight division, McGregor stopped Poirier in under two minutes of the first round. Poirier landed some good strikes and was zeroing in with his leg kicks and even zinged McGregor with a left. But McGregor was controlling range and lashed out with some strikes that soon had Poirier looking a bit wobbly. And before long, a left found its mark and short-circuited Poirier, with McGregor closing the show with some ground-and-pound.
A lot has happened since then. And in this sport, over six years can be a lifetime. When these first two met, they were both hungry up-and-comers where the spoils of life had not yet arrived. It's different now. A lot of high-profile fights and nice paydays have elevated Poirier's station in life. But it's what happened to McGregor that is both awe-inspiring and concerning at the same time.
Bet on the fight winner, distance, TKO, plus more at MyBookie >>> 100% Bonus using promo code PREDICT100
McGregor, now 32, won a few titles, took on Floyd Mayweather, and made a boatload of money. For several years now, he has been a superstar, living the life of a millionaire. Between the losses to Mayweather, Nate Diaz, and Khabib, his star as a celebrity shined brighter than his star as an actual fighting force. He went from the hungry rising fighter whose only focus was kicking butt and taking names to a fighter who may be became motivated by money.
McGregor did look good in his comeback from the Khabib loss, scoring a quickie KO over a worn-out Donald Cerrone in January. One would have maybe liked to have seen more activity since, but this is Conor now. He has only fought inside the octagon twice since 2016. In that same timeframe, Poirier has fought eight times. Over that time, we've heard Conor retire numerous times, get into a little trouble, perhaps deal with some substance issues, and just generally do a lot of things not conducive to achieve longevity in a fighting sport.
Poirier, 31, last fought in June, scoring a five-round decision win over Dan Hooker in June. That followed a loss, also to Khabib, which Poirier suffered in 2019. Prior to that, he had really turned around his career, scoring some big wins along the way. Knockout wins over Justin Gaethje and Eddie Alvarez led to an interim title win over long-unbeaten Max Holloway. The win shot him to the top of the lightweight division, but Khabib put a stop to that. Still, during a time when Poirier was dominating good fighters, Conor was on the sideline. And you wonder if his recent work helped bridge the gap we saw from their first fight. Suffice to say that the version of Poirier that Conor will face this time is a more steely, capable, and experienced fighter than he saw in 2014.
After winning two titles and becoming a millionaire since the last time he fought Poirier, it's hard to say Conor hasn't gotten better. But his career has traveled further since 2014—winning two titles, followed by some setbacks and long spells of inactivity. Poirier's journey since 2014 has been a steady climb, perhaps without some of the success that McGregor had, but also without the setbacks, the softening-up, and the thoughts of retirement—things that may have sapped McGregor of some of his resolve.
We see the -240 quote on McGregor as of press time. It's understandable on some levels, mainly how McGregor got rid of Poirier already in under two minutes. I just think we're dealing with two different guys. Poirier is a lot better than that 2014 version. He added a lot to his arsenal and built upon some things that started giving Conor trouble the first time around.
But more importantly, he's a fighter. Poirier is not a superstar. He's not a businessman. He's not consumed with money. He's a fighter, an athlete on a path trying to accomplish something. And in the last 4+ years, only Khabib was good enough to beat him. Poirier has been beating some of the best around, while Conor has won one fight since 2016, a 40-second win against an over-the-hill Cerrone. And I think all this has to count for something. At the underdog quote, I see some definite upside with Poirier in this fight.
My Pick to Win: I'm betting on Dustin Poirier at +205 betting odds. McGregor might still have it, but in a five-rounder against an improved Poirier, this could be where we see the results of each man's respective career-course over the last several years. This sport waits for no one. Bet the fight LIVE in progress at the fight site with the best live wagering platform on the planet —> Bovada Sportsbook!