UFC 258 Analysis & Picks: Usman vs. Burns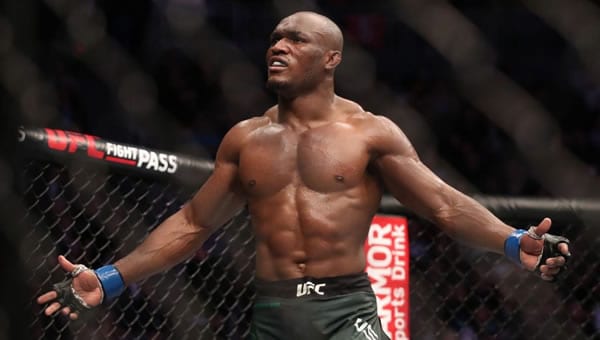 UFC 258: Usman vs. Burns Picks
When: Saturday, February 13, 2021
Where: UFC Apex, Las Vegas
TV: PPV
Fight Analysis:
UFC 258 features a compelling main event with Kamaru Usman taking on Gilbert Burns for the UFC 170-pound belt on February 13. It's a fight that is given to many different viewpoints and opinions, a fascinating matchup between former teammates with whom each are very familiar. Meeting now with the stakes as high as they can get, who can show they are they the top dog in the welterweight division?
Kamaru Usman, 17-1 (7 KOs, 1 Submission), (-250) vs. Gilbert Burns, 19-3 (6 KOs, 8 Submissions), (+210)
Kamaru Usman defends his UFC Welterweight Title against contender Gilbert Burns on February 13. This will be Usman's third title defense, as he continues building his credentials as one of this generation's transcendent welterweights. In order to keep the good momentum going, he has a tough assignment on his hands in the form of Burns, a streaking 170-pounder who appears to have hit another gear in his career. Let's break this one down!
There are some undertones for this fight. First, this is the third time it was supposed to occur, with two postponements last year with Burns catching covid, then Usman pulling out because he wasn't fully recovered from injuries. And with both having worked in south Florida together before Usman moved his training operations to Colorado, the familiarity is certainly there.
I believe there is a chasm as it concerns Usman between hype, popularity, and entertainment value, as opposed to actual merit. A winner of 16 straight fights, he has now won three UFC Welterweight title fights with some degree of separation. After beating Woodley for the belt, he stopped Colby Covington and then widely beat Jorge Masvidal by decision. Those two are considered among the best 170-pounders in the world. Usman's transition into the very top levels of this division has been seamless, and he has managed to even put a little distance between himself and the rest of the division.
Still, when the best fighters in the world are discussed, Usman's name is more of an afterthought. And that's where we get into the territory where bettors need to be cognizant of the separation between entertainment and cashing tickets. Fighters build their reputation not so much on the names they beat, though that's certainly a factor, but more on how memorable their fights are. When thinking of championship fights in the recent past, it's unlikely that an Usman fight would come to mind. His fights tend to be dull. He has stopped under half of his opponents and only one of his last six. And some translate that into meaning he is more-beatable than he actually is.
Usman won't wow crowds with his punching power. He doesn't really have the ability to flatline top welterweights with single strikes. He only has one submission win in his career, so he's not impressive from that standpoint. And he doesn't acquiesce to give-and-take battles where fighters trade shots, much to the amusement of the viewing audience. Where he excels are areas that get less attention. Near the top of the list is his ridiculous conditioning and off-the-charts stamina. Not all welterweights can step on the gas and run it for a full 25 minutes without adverse effect as the champion can. And his wrestling is tops in the division, as he can control opponents for long periods with his superior skills. And it's not just a matter of getting smothered by his physicality, as Usman can slingshots from all angles, making it a rather punishing affair for opponents.
Burns, a year older than Usman at 34, has looked sharp in recent outings. His last fight, where he essentially picked apart former champ Woodley, was really eye-opening and made one think the longtime contender could actually make it work at the highest levels. His striking has developed a real cleanness to it recently. Combine that with his decorated submission background, where he reached the highest levels in Brazilian Jiu-Jitsu, and you can see that Burns is a multidimensional threat, even at this high of a level. He could have some answers for Usman on the ground and is dangerous on his feet with his smooth striking.
Did you know… that you can bet on a fight live-in-progress while it's going on? Find this killer feature at Bovada Sportsbook! Credit cards work there for deposits and you'll receive a 50% bonus too!
Sometimes you have a longtime veteran, and at a time in their careers when you would suspect they'd start to ebb, they find another gear. Something changes, whether it be their training, how they look at the sport, or something just clicks that allows a veteran in his thirties to start actually coming into his own. Burns is a man with a lot of experience, a former top-level BJJ practitioner and longtime MMA vet who has started to see things come together at just the right time. Formerly at 155 pounds, he has seen things working better at 170 pounds, and this is best Burns we've ever seen.
Burns' combination of skills make him a very legitimate upset candidate in this matchup. Theoretically, there are any number of ways he could beat Usman, or any other 170-pounder in the world, for that matter. There are still some issues. His last fight against Woodley was the first five-rounder he ever fought, and it was at a far more relaxed pace than what this figures to be. Usman, meanwhile, has shown no issues going the championship distance. I think Usman is the more-robust and rugged fighter. He's a bigger man.
Again, Burns' prospects, even at this level, can't possibly be discounted. Less-skillful fighters have ended up putting UFC gold around their waists than Burns. He is, in many ways, the complete package. But Usman's recipe for success is hard to resist, and over a 25-minute distance, I see Burns starting to fray a little bit at some point, as Usman cruises to the finish line with another win. I'm taking Usman in this one.
My Pick to Win: I'm betting on Kamaru Usman at -250 betting odds. His stamina, size, adherence to a winning plan, and smothering wrestling pair well with Burns' skills. In a protracted battle, I see Usman's assets serving him better. Bet your pick for FREE by taking advantage of a 100% real cash bonus offer on your first deposit of $100 to $300 at MyBookie Sportsbook! (Must use bonus code PREDICT100).