UFC 259: Blachowitz vs. Adesanya Picks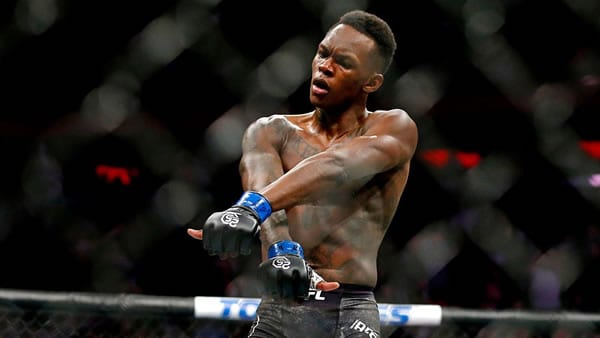 UFC 259: Blachowitz vs. Adesanya Picks
When: Saturday, March 6, 2021
Where: UFC Apex Facility in Las Vegas, Nevada
TV: PPV
Fight Analysis:
UFC 259 is going to be a huge card, a triple-championship bill where the immediate fate of three weight classes will be decided. At the top of the bill is a title many have considered to be the top one in the sport—the UFC Light Heavyweight Title. In September, Jan Blachowitz scored an inspiring upset win with a second-round KO over Dominick Reyes to win the vacant 205-pound belt with Jon Jones inactive. A win here would really take his career to a new level. But standing in his way in unbeaten UFC Middleweight Champion Israel Adesanya, a man some consider to be the finest and most-dominant champion in the sport. Can he rise up in weight and become a double-champion? Or will Blackowitz be too big and strong? Let's break this one down!
Jan Blachowitz, 27-8 (8 KOs, 9 Submissions), (+200) vs. Israel Adesanya, 20-0 (15 KOs), (-260)
Newly-crowned UFC Light Heavyweight Champion Jan Blachowitz defends his belt against Middleweight Champion Israel Adesanya in the UFC 259 main event on March 6. It's a compelling matchup across many different levels. The champion Blachowitz is a hard-bitten veteran, and at 37, he is six years older than Adesanya. Blachowitz' career has gone through many different manifestations. For years, he honed his craft in his native Poland before joining the UFC in 2014. For Adesanya, his climb has been a more-upward ascent. He joined the UFC in 2018 and by the next year, established himself as the top middleweight in the world.
It is important to see how Blachowitz got to this point and when a fighter can turn things around as dramatically as he did, it's worth taking notice. Beyond the X's and O's of this equation, we need to gauge what a fighter has on the inside. For Blachowitz, he really resuscitated his career. From 2015-17, he dropped four of five fights and was on the verge of being cut. At that precise time, he found another gear and has now won 8 of his last nine fights. And on that list are big names like Jimi Manuwa, Jared Cannonier, Luke Rockhold, Jacare Souza, Corey Anderson, and of course, Reyes for the title-win. We've seen him finishing a lot of fights lately, and simply put, he has really come into his own.
This might be a different kettle of fish, though. Adesanya is a superb fighter, a longtime kickboxer who came into MMA and has hardly been tested. It's one thing to go through the best 185-pounders in the world, but to do it with so much flair while hardly getting tested by the best in the world is really eye-opening. Leading up to their fight in September, Paulo Costa was an axe-murderer just going straight through people. Against Adesanya, he was a puppy dog. He had absolutely no answers for the sharp-shooting Adesanya, who seemed to almost-effortlessly extinguish his foe in the second round.
Bet the whole UFC 259 card at
MyBookie
! They will double your deposit up to $300 when you use bonus code: PREDICT100 when registering!
Not to imply that Blachowitz has no hope here because he clearly does. A fighter who was able to find an extra gear later in his career, it took an awful lot of effort to get here, and he won't be easily dissuaded. A bulky light heavyweight at 6'2," Blachowitz is clearly the bigger man. Adesanya is a wispy 185-pounder where even bulkier middleweights look a lot thicker than he does. Against the well put-together Blachowitz, the size difference will be palpable.
But Adesanya has some dimensions of his own. While built somewhat flimsily, perhaps, he has a certain ruggedness that belies his skinny build. And for a guy moving up 20 pounds in weight, he will still enjoy a height advantage of a few inches at six-four while also having a five-inch reach advantage. But this is a dangerous fight for him any way you want to cut it. And that's the way it should be when you're taking on a bigger man who has really come into his own.
It just looks easier than it actually is with Adesanya. There have been cases, like in his last fight, where you can picture an opponent employing superior physicality on Adesanya and roughing him up. Then you tune in and see the opponent showing only a fraction of the eagerness you anticipated. That has everything to do with Adesanya and what he's doing. With his speed and precision, along with every possible strike in the book, opponents start to show less enthusiasm in a fight than what they had when they entered the octagon. Adesanya just has a way of getting opponents to act like how he wants them to act.
Trying to nitpick Blachowitz' actual level of worth could leave us missing the point. But the fact is that he won the title, beating not a champion, but a vacant title win over a fighter whose best performance was a losing effort against the previous champion Jon Jones. Yes, he's a champion. He deserved the shot and made the most of it. But suffice to say, he would still have to cover some ground before being regarded as an esteemed champion like Adesanya is. A win here would certainly get it done.
Moving up twenty pounds is nothing to sneeze at. If he came up short, Adesanya wouldn't be the first good fighter to lose to a bigger man. But when you have a great smaller fighter taking on a very good bigger man, size doesn't always win out in that equation. And make no mistake, Adesanya is great. While Blachowitz has done great things to get to this spot, he lacks that super-special dimension that one would like to see when backing a possible upset-candidate to vanquish the unbeaten Adesanya. I'm taking Adesanya in this one.
My Pick to Win:
I'm betting on Israel Adesanya at -260 betting odds. It's a risk to move up in weight, but a calculated one in this case. Blachowitz isn't the fastest guy, and his stay at the top might be a short-lived one even if Adesanya never fought him. If looking to win the light heavyweight belt is important to him, this is as good a time as any, taking on a man good enough to become champion, but a fighter who is probably not exceptional enough to threaten the magnificent Adesanya. Did you know that you can bet on UFC fights live-in-progress? This is a SUPER exciting way to bet and the best platform to do so can be found at Bovada Sportsbook! Credit cards work there for depositing and they'll give you a 50% bonus too!