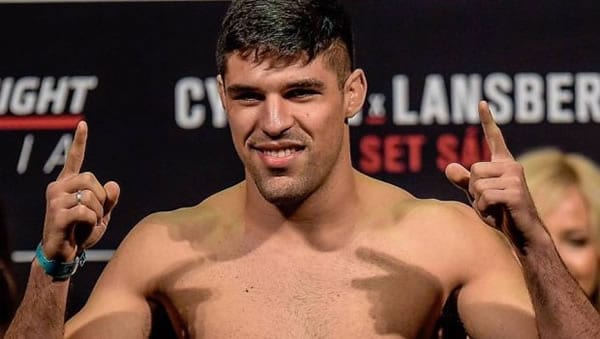 UFC 260 Main Card Picks
When: Saturday, March 27, 2021
Where: UFC Apex, Las Vegas, Nevada
TV: PPV
UFC 260 is a deep event, with important fights running throughout the entire main card. Right below the heavyweight title main event are two big ones. The co-main event will feature UFC Featherweight Champion Alexander Volkanovski taking on top contender Brian Ortega. Also featured is a crossroads 170-pound bout, with former welterweight champion Tyron Woodley taking on surging Vicente Luque. Let's break these fights down!
Alexander Volkanovski, 22-1 (11 KOs, 3 Submissions), (-185) vs. Brian Ortega, 15-1 (3 KOs, 7 Submissions), (+160)
UFC 145-pound champion Alexander Volkanovski makes the second defense of his 145-pound belt against once-beaten contender Brian Flores. It's a tough fight to break down with a lot of dots to connect. Volkanovski was last seen in the octagon controversially beating Max Holloway in a rematch, a fight not everyone thought he won. Ortega, three years younger than Volkanovski at 29, made his return to the cage in October after two years off, scoring a huge win over The Korean Zombie to shoot himself back into the title picture.
Ortega was favored by many to beat Holloway for the belt a few years back, but it went really bad, and he was out for quite some time, with injuries playing a role. Rated as an underdog against the Zombie, he looked terrific in a 25-minute fight—the perfect prelude to this ambitious title try. He is by far the flashier fighter. With the best BJJ in the division and dangerous striking, he stands out as a major threat.
DID YOU KNOW… THAT YOU CAN BET ON FIGHTS LIVE-IN-PROGRESS WHILE THEY'RE GOING ON? FIND THIS AWESOME FEATURE AT BOVADA SPORTSBOOK! 50% BONUS TOO!
Volkanovski is an easy guy to overlook. Not all that flashy or exciting, perhaps. He relies on his wrestling and striking and an immense gas-tank that allows him to maintain a pace some can't handle. Granted, he didn't earn a lot of fans being the recipient of an iffy decision in the rematch with Holloway, a beloved and respected champion. Meanwhile, those who overlook him have done so at their own peril, as Volkanovski has won 19 straight fights. It's hard to criticize what he has done as a former 215-pound rugby player who transformed himself into the best 145-pound MMA fighter in the world.
I don't see Volkanovski wanting to spend much time with Ortega on the ground. Ortega's BJJ is very technical and dangerous. I look for the champion to try to keep this as a measured striking battle. And while he might have the edge with his stand-up game, Ortega showed in his last fight how far he's come in that regard, showing even crisper boxing than before. I see the leg kicks of Volkanovski playing a role as he tries to slow the energetic Ortega. If he can stay off the floor and avoid those nasty Ortega chokes, I see Volkanovski resolutely edging his way to a five-round decision win.
My Pick to Win: I'm betting on Alexander Volkanovski at -185 betting odds. The guy is just a tank, and I don't see the style matchup being in Ortega's favor, with his dangerousness and flash falling flat against the indominable champ.