UFC 267: Blachowitz vs. Teixeira Predictions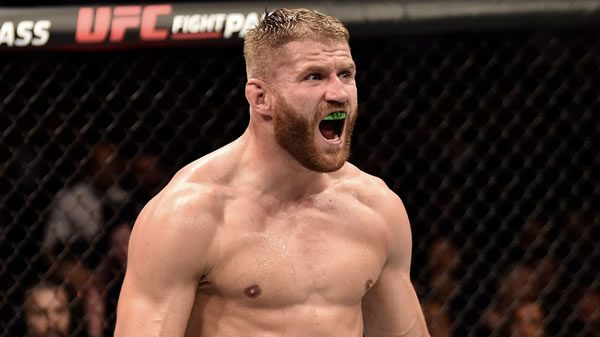 When:
Saturday, October 30, 2021
Where: Etihad Arena, Abu Dhabi, United Arab Emirates
TV: PPV
Fight Analysis:
UFC 267 from Abu Dhabi features a double championship bill, as both the light heavyweight and featherweight titles will be contested on this night. The main event features Jan Blachowitz, fresh off his career-defining win over Israel Adesanya, taking on longtime contender Glover Teixeira in what promises to be an intriguing bout. In the co-main event, we see a rematch of a controversial March bout, when Aljamain Sterling earned a DQ win over reigning UFC Featherweight Champion Petr Yan. Yan will be looking to regain his belt against a current champion he was having his way with before the unfortunate illegal knee.
Jan Blachowitz, 28-8 (8 KOs, 9 Submissions), (-275) vs. Glover Teixeira, 32-7 (18 KOs, 9 Submissions), (+225)
Jan Blachowitz defends his UFC Light Heavyweight Championship against perennial contender Glover Teixeira. Blachowitz really came out of the pack to become one of the signature fighters on the roster. After an up-and-down run, he broke free from the pack. First, he racked up a nice run of wins. Then he took advantage of it by beating Dominick Reyes for the vacant belt. But against Adesanya, he really put it together, beating an unbeaten champion. He was an underdog in both of his title fights and won with room to spare.
Teixeira, three years older at 41, has been around a long time. His career is nearly 20 years old, with a decade-long run in the UFC. He came up short trying to win the belt in 2014 against Jon Jones but has fought, and beaten, many of the relevant 205-pounders in the UFC over the years. He currently rides a five-fight win streak into this bout, with three submission wins. He has revitalized his career once again. You have to consider the inner resource it takes for an aging contender to make another surge as the Brazilian veteran has done.
Blachowitz has become a clever and multi-faceted striker. He out-struck Adesanya in every round of their fight, using his slick counterpunching, accuracy, and timing. It doesn't jump off the screen, perhaps, but it's very effective against the best fighters in the world. He uses different striking styles, mixing up punching distance, range, punch trajectory, and going from righty to lefty. And his kicks make it so opponents can't just key in on one thing. Teixeira, though, is no slouch in this area, and despite some recent wins via submission, he still has 18 KOs on his record and hits like a ton of bricks. He's pretty slick in there, as opponents don't seem to know when it's coming.
I believe that Teixeira is more susceptible to getting hit; however, something that doesn't bode well in the event this turns into a battle of strikers. The thought might be that Teixeira has a big edge on the ground, as he has more recent submissions and he is versed in Brazilian Jiu-Jitsu. But Blachowitz' true power is in how he can mix it upstanding or on the ground. Make no mistake, Blachowitz is not invulnerable, and Teixeira is deadly, both standing or on the mat. I just have a feeling that it will be Blachowitz' better defense standing up that will edge things in his favor. I'll take Blachowitz.
My Prediction to Win: I'm betting on Jan Blachowitz at Bovada at -275 betting odds. The Bovada odds on Blachowitz seem exploitable in this spot, and even though Teixeira is dangerous, I think Blachowitz has established himself as being a cut above with the form he has shown lately in the octagon, especially with whom he has shown it against. Want more Saturday bet recommendations? Check out this week's college football picks!
Aljamain Sterling, 20-3 (2 KOs, 8 Submissions), (+250) vs. Petr Yan, 15-2 (7 KOs, 1 Submission), (-325)
In a rematch from a March fight, current UFC Featherweight Champion Aljamain Sterling defends against former champ Petr Yan. In March, Yan seemed on his way to an easy win over Sterling before an illegal knee turned a successful title defense into a DQ loss the relinquishing of his title. It was a hard pill to swallow for Yan, but it could only be argued so much. For a fighter with such a big lead to do that really proved to be a stupid move. Still, one can understand the rampant optimism for Yan in the rematch.
In the first fight, Sterling started fast and was competitive early. Yan, however, with his frenetic pace, began to separate from Sterling. He was landing strikes, upping the pressure on a fatiguing Sterling, and beginning to open it up on the challenger. Sterling tired, and his hands dropped, with Yan beginning to land to the head. He was also bringing Sterling down with ease when he chose to. It was starting to look all the world like a Yan win was a cinch.
Now, a potential Sterling underdog player could say that all isn't by accident. Obviously, a Yan backer would view that event as more of an aberration. I tend to favor the latter viewpoint, as it was just a twinkle of weirdness in what was otherwise shaping into a Yan rout. Still, Yan being a screwup was a part of it, as was Sterling's steadfastness in still being in the fight by that point. And there's no rule that a dynamic athlete like Sterling can't make adjustments to make life a little easier on himself in the rematch.
I actually am of the feeling that Yan's DQ in the first fight makes him a less attractive choice than what would otherwise be the case. You need poise at the highest level, and he needs to show it here. If he does, though, I'm having a hard time explaining my way out of how he's not going to win this. I think it's a bad style matchup for Sterling and that he's at a deficit in the stamina category, two gaps I don't see him closing by fight night. I'll take Yan to regain his belt.
My Prediction to Win: I'm betting Petr Yan on the MyBookie -325 betting line. I think these odds offer some upside on a fighter who has already shown he is superior and now should be in a position where he actually gets credit for it. You can bet the fight for FREE as well! Simply register for a betting account through this special link, enter bonus code PREDICT100 on the registration page, deposit anywhere from $100 to $300, and they'll match your deposit dollar for dollar with a 100% real cash bonus!