Saul "Canelo" Alvarez vs. Caleb Plant Picks & Analysis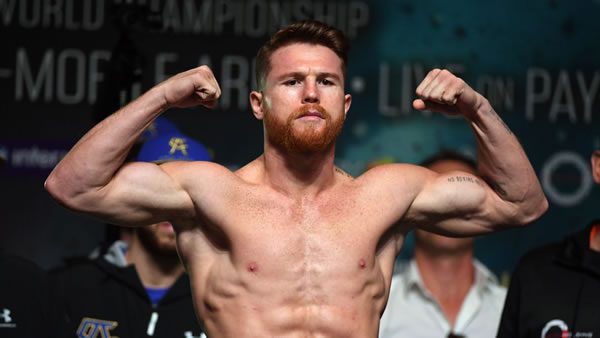 Saul "Canelo" Alvarez (56-1-2, 38 KOs) vs. Caleb Plant (21-0, 12 KOs)
When: Saturday, November 6, 2021
Where: Las Vegas, Nevada
TV: PPV
Weight Class: Undisputed Super Middleweight Title
Betting Odds: Canelo Alvarez (-800), Caleb Plant (+500)
Bet the fight for FREE by taking advantage of a 100% bonus on your first deposit of $100 to $1000 at Betnow Sportsbook!
Fight Analysis:
Saul "Canelo" Alvarez looks to unify the super-middleweight belts when he takes on unbeaten titleholder Caleb Plant. Having already partially consolidated his supremacy at 168, Canelo now aims for Plant's IBF belt. For Canelo, it's a chance for him to become undisputed champ in his first weight class, but for Plant, the stakes are even higher. The unbeaten belt-holder can become a star and basically set himself up for life should he manage to pull off this titanic upset.
Canelo is the known commodity, as less is known about the 21-0 Plant, a fighter who only came fully into public view a few years ago. He has been operating as more of a B-league champion, scoring a nice win over Jose Uzcategui for the title and since scoring three defenses against solid, albeit limited opposition. And he has been inactive, with fights in early 2020 and 2021 being his only ring action in 2.5 years leading up to Canelo. And despite being so much newer to the scene, he's only two years younger than Canelo at 29.
Truth be told, however, some things check out for this lofty upset proposition. Plant has youth and is unbeaten. In other words, we don't know how good he is until we know for sure. For all we know, this could be the beginning of the forging of a new star in the game. He is rich with talent. He's very loose and relaxed in the ring, has good speed, and has good punch awareness. He's a cutie and a slickster. Plant's defense is multi-faceted, as he uses blocks, head movement, foot movement, and parries to offset his opponent's offense. And the IBF king has almost no real mileage on him, unlike Canelo.
What makes this seem more out of reach are his lack of ring-accomplishments. Just looking at him without putting Plant in this context, you'd have nothing to complain about with an unbeaten titleholder moving toward bigger things. But against the best in the game, it bears mentioning that he has yet to tangle with the cream of the crop at 168. Then again, after seeing Canelo defeat all these accomplished fighters who are well-known, maybe it's time to see what a less-proven X-factor whose ceiling isn't known can do.
DEPOSIT $100 TO $300 AND GET A DOLLAR FOR DOLLAR MATCHING REAL CASH DEPOSIT BONUS WHEN YOU USE BONUS CODE PREDICT100 AT MYBOOKIE SPORTSBOOK!
Especially in today's conspiracy-theory age, you have people taking shots at Canelo in an effort to paint him as some sort of a manufactured superstar. They point to what seems like some favorable hand-picked opponent selecting, how he always seems to come out on the sunny side of close decisions, and how he's generally the coddled megastar of the sport of boxing. And in the interests of fairness, some of that is true. There have been fights that appeared even where it was a Canelo landslide. I don't think he won either of the two GGG fights. I'll grant that much.
But all that does is show how Canelo doesn't meet the standards of what is essentially absolute perfection. I see a fighter who has taken on everyone he was supposed to fight. That can't be said about a lot of fighters nowadays. I see a fighter daring to be great, moving up weight divisions, and taking on the best fighters in whatever division he is in. At 154, it was Lara, Trout, and Mayweather. At 160, it was Cotto and two battles with GGG. And he has continued taking on the best at 168, beating unbeaten super middleweight champions Callum Smith and Billy Joe Saunders. The naysayers are really running out of material.
And even some of the critique surrounding Canelo doesn't make him less appealing from any kind of betting standpoint. He's the cash cow of the sport, a tremendous money-maker with a passionate following. And any perks that come with that also go to whoever bets on him. With all the critique and trying to shoot holes through him, bettors have cashed in one single time betting against him, and that was when he was an underdog against Mayweather back in 2012 before he even peaked. And with an opponent like Plant, the notion that he will have to win 8-9 rounds to just get a draw makes it a daunting proposition to go against Alvarez.
The whole time, he has gotten better, and at 31, we might be seeing the tail-end of his prime, as this will be his 60th pro fight. But this is still the best Canelo we've seen. He has perfect fundamentals, is utterly durable, supremely tough and motivated, and never really has an off-night. He seems to have extracted more torque in his punching, as we've seen him hand out some crunching KOs as he has moved up in weight. He really managed to bring his power up with him as he went from 154 to 160, and now at 168.
What this means for this fight and for Plant is that the margin for error is painfully close. Plant is going to have to work as hard as 100 coal miners to pull this off. He's going to need to be on the move, unveiling the full scope of his shiftiness while hoping that his shots curtail Canelo where harder punchers have failed in the past. It's going to need to be like three levels above what Sugar Ray Leonard did when he pulled off his high-wire act against Hagler. Plant will need to be on a razor's edge, and if he slips up once, it's likely to be curtains.
I could potentially see Plant being shifty and quick enough to throw off Canelo. But he can't really make it work with sheer length or even speed, and he's going to be within Canelo's grasp. It's hard to envision Plant getting through 12 rounds unscathed enough to look the part of a winner. I see Canelo closing the show somewhere before the tenth round.
My Prediction to Win the Fight:
I'm betting on Canelo Alvarez at -800. This line could potentially seem like free money when you watch the fight and see Plant struggling to keep his nose above water as he takes his first swim in the deep end of the boxing pool. Are you a small bettor looking for betting action that packs a big punch? We've got the bonus just for you: "Deposit $25 and get an extra $50 added to your betting account!" Simply register for an account at Intertops through this special link, deposit $25 or more and then go directly to their special promotions page and enter bonus code ROOKIE200 and they'll credit your wagering account balance with an extra fifty dollars!