Dayton Flyers vs. Davidson Wildcats Pick 1/8/21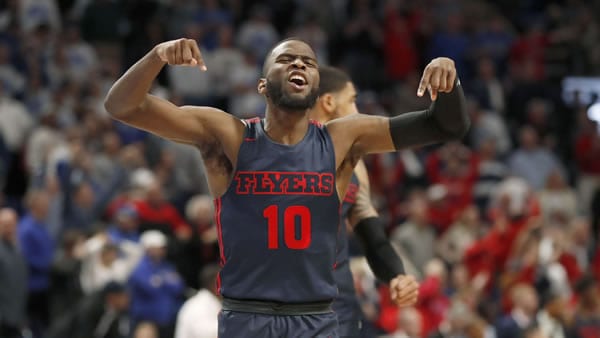 Dayton Flyers (5-3 SU, 3-5 ATS) vs. Davidson Wildcats (6-4 SU, 6-4 ATS)
When: Friday, January 8, 9 p.m.
Where: Belk Arena, Davidson, N.C.
TV: ESPN2
Point Spread: DAY +7/DAV -7 (BAS - Bet on games at -105 here instead of -110! HUGE savings!)
Total: 127.5
Last Time Out:
Dayton lost 55-54 to Fordham; Davidson handled Duquesne 61-48.
About the Matchup:
Davidson looks to further establish itself as firmly in the middle tier of the Atlantic 10, while Dayton, last year's kingpin, looks to avoid falling further out of the race. The Flyers would have been a No. 1 seed if the NCAA tournament, but this year, they're really struggling to find their footing and remain competitive in a conference that looks like it's going to be dominated by Richmond. A loss to a below-average Fordham squad that can't score confirms what most around the Atlantic 10 know: this isn't the same team that was so dominant a year ago.
Davidson isn't dominant either, but the Wildcats gave a good account of themselves against Richmond and appear to be a real threat to reach the NCAA tournament if they can keep the wins coming. The loss to Richmond is the Wildcats' only setback in their past four games, as they've won two of their first three in the league and picked off Vanderbilt in a game that was-n't even close. Can they keep the momentum going against a talented but flawed Dayton team?
Scouting the Flyers:
When you don't have much in the way of depth, you can't afford to have anyone take a night off, and that really came back to hurt Dayton in the loss to Fordham. Seven points and a 0-for-4 from the arc from Ibi Watson isn't going to cut it, especially at the pace that Dayton prefers. The Flyers like to take their time and get the most out of their possessions, so when they aren't hitting from the outside, things tend to go south in a hurry.
At their best, this is a guard-heavy squad that can hit from outside and plays solid defense, but at its worst, Dayton turns it over far too often and is prone to cold streaks from the outside be-cause it's far too dependent on the 3-pointer. The Flyers don't rebound it well, either, which could be a problem against a frontcourt that starts two players over 6'9″
More Picks: Get Dan's Indy at Buffalo Wildcard Betting Predictions >>>
Scouting the Wildcats:
One of the best signs that Davidson is a pretty solid basketball team came in one of its defeats, as the Wildcats gave Texas all it wanted in a 78-76 loss in western North Carolina. Given what the Longhorns have done to their rivals in the Big 12 since that game, that loss is turning out to be better than anything on Davidson's resume.
As usual for a Davidson squad, Bob McKillop's team is all about defense. There's a reason that five of Davidson's past six opponents have scored 65 or fewer, and four of those games went into the win column for the Wildcats. The Wildcats only shoot 45 percent as a team, but they excel because they frustrate opponents and often force them into several bad shots.
Since the Wildcats left the Not Maui Invitational, only one team has managed to shoot better than 42 percent against them. Unsurprisingly, that team was Richmond, the only one all year to score 80 points on the Wildcats. If a game ends up in the high 70s, let alone the 80s, something has gone wrong for Davidson.
X-Factor:
Turnovers. Dayton's issues with holding on to the basketball could really come back to bite it in the backside in this game, given Davidson's ability to hold the score down. These aren't just good defensive teams; they're also two of the slowest-paced teams in the nation. Dayton averages 65 possessions in a game, while Davidson is even slower at 64. (For perspective, Gon-zaga, which ranks seventh in tempo, averages 76 possessions a game). With so few looks at the basket, every shot is critical, and turning the ball over after 20 seconds of looking for a shot is disastrous in a game like this.
Dayton will Cover If:
The Flyers can get hot from the outside. When Dayton is hitting its shots, it's hard for a team to keep pace. The Wildcats are not a team that's built to overcome a deficit, so if the Flyers get off to a good start and get a lead, Davidson can probably forget any thoughts of an easy win. If the Wildcats have to work to get ahead, Dayton likely covers, even if it doesn't win.
Davidson will Cover If:
The Wildcats can turn Dayton possessions into turnovers. The Wildcats are already likely to win the rebounding battle because of how long Dayton's rebounds are, but the easiest way to shut down an opponent is to not even let them get a shot off at all. Dayton's weakness at holding on to the ball should create several chances for the Wildcats to prematurely end possessions.
Dan's Pick to Cover the Spread
Davidson should get the win, but this spread is a little too high. Davidson's three losses this sea-son are by a combined five points, and the Wildcats don't play fast enough to make a blowout into a realistic proposition.
If the Flyers shoot as poorly as they did at Fordham, Davidson likely covers, but I think Dayton's shooting will be a little more accurate this time around, and I'll take the Flyers and the points in this one. Bet your Dayton/Davidson pick LIVE in-progress at a sportsbook where your credit card WILL work for deposits, where you'll receive a generous 50% signup bonus up to $250 and that offers FAST hassle-free payouts: Bovada Sportsbook!
STOP LOSING TODAY! START WINNING WITH DOC'S TEAM OF PROFESSIONALS! GET A FREE NO STRINGS ATTACHED $60 FOR THIS WEEKEND'S GAMES!