Kansas State Wildcats vs. Kansas Jayhawks Pick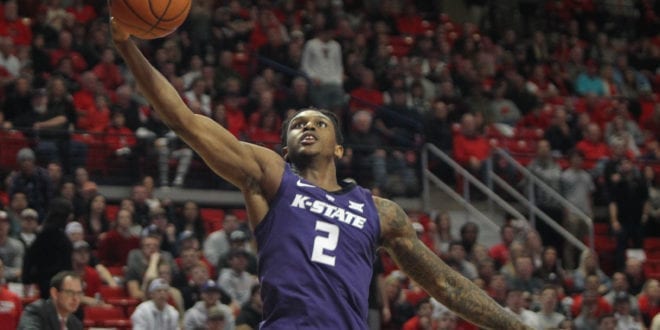 Kansas State Wildcats (21-6 SU, 16-11 ATS) vs. Kansas Jayhawks (20-7 SU, 12-15 ATS)
When: Monday, February 25, 2019 – 9 p.m. ET
Where: Allen Fieldhouse, Lawrence, Kan.
TV: ESPN
By: Dan Jamison, College Basketball Handicapper, Predictem.com
Point Spread: KSU +3.5/KU -3.5 (Opening Line at 5Dimes)
Total: O/U 132.5
Last Time Out: Kansas State crushed Oklahoma State 85-46; Kansas lost 91-62 to Texas Tech.
Scouting the Wildcats:
From an 0-2 start to a shot at claiming the Big 12 crown, the Wildcats have opened some eyes. Kansas State has arguably played the best basketball of anyone in the Midwest for the past month, as the Wildcats have won 11 of their past 13 contests since a road loss at Texas Tech. Only Iowa State has beaten the Wildcats in Big 12 play since that game, and even that game comes with an asterisk because K-State had to finish the game without Dean Wade. That game was also the Wildcats' only incident of giving up 70 points or more in a Big 12 game, a major reason why the Wildcats are on the verge of winning the conference.
Scouting the Jayhawks:
Well, that definitively answered that question: Kansas is not a better team without Lagerald Vick, and its success in the past three games was a product of playing at home and just how inept Oklahoma State and West Virginia are this season, rather than the Jayhawks doing anything special. Throughout this season, Kansas has been the quintessential home-court hero. The Jayhawks have been nothing special away from home, as Kansas is just 2-7 in true road games. But as it almost always is, Allen Fieldhouse has been a fortress for Kansas, which is 15-0 this season in Lawrence. That's been a big boon for a young team that's often made a lot of mistakes, but survived through the force of the Allen Fieldhouse crowd intimidating opponents and forcing them into mistakes as well.
More Basketball Picks: 76ers visit Anthony Davis and co without Embiid
X-Factor:
The Big 12 title. It all comes down to this for the Jayhawks, who have owned the championship for the past 14 years, dating back to Bill Self's second season in Lawrence. Kansas State, which hasn't won a conference title since 1977 (the Wildcats finished tied for first in 2013 with Kansas, but lost the tiebreaker by losing both games to the Jayhawks) can't win the title on Monday night because of Texas Tech sitting just a game behind them, but the Wildcats can knock the Jayhawks out of the running with a victory because they'd be three games up on Kansas with three games to play and two wins over their archrival.
That means both teams will have their emotions heightened when the game tips off. Kansas isn't going to want to watch their streak end at the hands of their in-state rival, and K-State, after three decades of torture at the hands of the Jayhawks, would love nothing more than to finally end the streak on Kansas' home court. Whichever team turns that emotion into positive energy will have the edge.
Kansas State will Cover if:
The Wildcats can properly attack the zone defense. K-State has had no problems picking apart man-to-man defenses, but when a team switches to a zone, as Kansas did for a large chunk of the game in Manhattan, K-State hasn't been the same team. Bruce Weber hasn't had many problems getting through to his team this year, but this is one area where he hasn't yet found the answer. K-State has to find a solution to the zone in order to get a result.
Kansas will Cover if:
Dedric Lawson gets some help. Against Texas Tech, the Red Raiders weren't able to take him out of the game, but they were able to slow him down and shut down all of his teammates, giving the Jayhawks little room to do anything. Lawson is going to score, but he isn't going to be able to do everything himself. Kansas has to find the second and third scorers who can keep K-State's ferocious defense honest and give Lawson enough space to lead his squad.
Dan's Pick to Cover the Spread:
This is the moment that K-State has been waiting decades for. The Wildcats have a difficult finish to nail down the conference title, but if they get this game, they'll not only knock the Jayhawks out of the running, but set themselves up to claim the crown if they can take care of business in the final three games. With three of their four best scorers being seniors and the fourth a junior, there's a real sense that it's now or never for K-State.
Kansas, meanwhile, is young and talented, but hasn't come close to putting everything together. The Jayhawks still can't figure out how to respond to adversity, and it's weighing on their season at the worst time. In a game like this, I want the experience on my side, even if it means going against Kansas in Lawrence.
This might seem like suicide given that KU is 15-0 at Allen Fieldhouse, but the reality is that Texas lost by two and Iowa State lost by four. Kansas might always win in Lawrence, but that doesn't mean that the Jayhawks always cover in Lawrence. I think this one goes down to the wire, and I'm going to take K-State to stick just inside the spread and nail the cover.
Who else wants $60 of FREE member picks & predictions?