[et_pb_dcsbcm_divi_breadcrumbs_module hide_homebreadcrumb="off" homebreadcrumbtext="Home" separator="sep-raquo" hide_currentbreadcrumb="off" homebreadcrumborientation="left" _builder_version="3.8″ fontsbreadcrumbs_font="Lato||||||||" fontsbreadcrumbs_text_color="#000000″ fontsbreadcrumbs_font_size="15px" fontsbreadcrumbs_line_height="16px" fontsseperator_font="||||||||" fontsbreadcrumblinks_font="||||||||" fontsbreadcrumblinks_text_color="#2567cf" custom_margin="25px|||" custom_margin_phone="30px|||" custom_margin_last_edited="off|desktop" custom_css_main_element="font-family: Helvetica Regular;" disabled="on" global_module="3641″ saved_tabs="all"][/et_pb_dcsbcm_divi_breadcrumbs_module]
Saint Mary's Gaels vs. Gonzaga Bulldogs Pick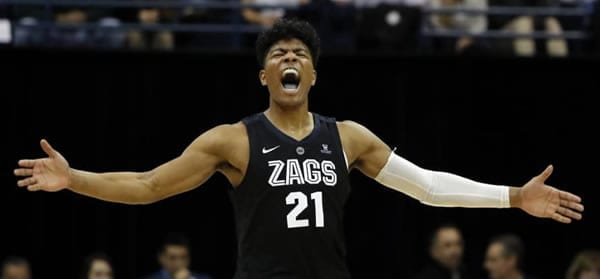 Saint Mary's Gaels (21-11 SU, 18-14 ATS) vs. Gonzaga Bulldogs (30-2 SU, 21-11 ATS)
When: Tuesday, March 12, 2019 – 9 PM ET
Where: Orleans Arena, Las Vegas
TV: ESPN
By: Dan Jamison, College Basketball Handicapper, Predictem.com
Point Spread: GONZ -14.5
Last Time Out: Saint Mary's beat San Diego 69-62; Gonzaga routed Pepperdine 100-74.
Scouting the Gaels:
Saint Mary's didn't get through anywhere near as easily as Gonzaga did, but when all was said and done, the Gaels did make it through, based on the strength of their much-improved defense and the play of Jordan Ford. Ford led the way with 21 points in Monday's contest, but it was the Gaels' defense which stepped up when Saint Mary's needed it most. The 62 points that the Gaels conceded to San Diego marked the seventh straight time that they've held an opponent under 70, a streak that dates back to when Gonzaga throttled Saint Mary's.
Today's NBA: Minnesota Timberwolves vs. Denver Nuggets
Even as the Gaels have rebuilt themselves into being strong on defense, they're still an offensive-minded squad. Against the Toreros, Saint Mary's shot 45 percent from beyond the arc, a big reason why they were able to turn back San Diego's upset bid.
Scouting the Bulldogs:
Gonzaga hit its own standards of excellence and then some against Pepperdine, building a commanding lead before backing off and allowing the Waves to come within shouting distance of the cover at the end. Gonzaga is in the West Coast Conference tournament final yet again, as has been the case every year since 1997. The Bulldogs appear to be a team without a weakness as far as the WCC is concerned, as they boast the league's best player in Rui Hachimura (20.6 points per game), the league's best defender in Brandon Clarke (99 blocks on the season) and the nation's most efficient offense. Teams haven't been able to exploit them on defense until the game is well out of hand, which has left a backdoor cover as really the only real threat to the Bulldogs throughout league play.
Parlay Betting sidenote: A parlay at a lesser ROI is no different than making a bad investment in the stock market. Be sure to know if your sportsbook has 1) above average odds to start with on the team you have an opinion on and 2) High parlay payouts! Don't pay for a below average return and lose in the long run. Remember – there are no sucker bets only sucker payout odds.
X-Factor:
Opportunity. Saint Mary's has a legitimate chance to earn an NCAA bid by either winning or playing tough against Gonzaga in its third opportunity against the Bulldogs. Gonzaga, on the other hand, likely has a No. 1 seed locked up no matter what it does against the Gaels. In a game like this, where one incredible performance can lead to a fantastic reward, it sometimes happens that a lesser team pulls out a fantastic showing and pulls the upset. It hasn't happened often against Gonzaga, which has claimed 16 of the past 20 titles in the WCC tournament, but it has happened, and it's Saint Mary's one reason for hope in this matchup.
Saint Mary's will Cover if:
The Gaels can hit their 3-pointers the way they did against San Diego. Saint Mary's showed an ability to hang with Gonzaga when the shots didn't drop for the Bulldogs, and a little bit better of a performance from the arc by the Gaels would have made the upset happen. What Saint Mary's can't afford to do is shoot the way it did in Spokane, where the Gaels couldn't hit anything and ended up with their worst loss of the Randy Bennett era.
Gonzaga will Cover if:
The Bulldogs can force Saint Mary's into errors. One of the Gaels' big weaknesses is that they don't make good decisions with the basketball, as their assist-to-turnover ratio is only just barely over 1. That's the sign of a team that doesn't handle the ball well, and that's a problem against a defense of Gonzaga's caliber.
Dan's Pick to Cover the Spread:
Yesterday, I thought that Pepperdine was going to sneak its way into a backdoor cover against the Bulldogs based on Gonzaga's history of struggling through its first game at the WCC tournament. That didn't happen, and it didn't happen because Gonzaga looks like a team on a mission. The Bulldogs are still the only team in the nation that's taken on Duke at full strength and won, and that's something that Saint Mary's can't come close to matching.
The Gaels only have one path into the NCAAs, as they likely won't get the at-large bid they're hoping for. But that doesn't mean that they'll be able to upend a team of Gonzaga's caliber. This team doesn't look like it's going to be satisfied until it reaches the Final Four, and that means it shouldn't have a problem dispatching of a bubble team like Saint Mary's. I am taking the Bulldogs -14.5 in their final warmup for a run at the NCAA tournament.
Who else wants $60 of FREE member picks & predictions?