Ball State vs. Notre Dame Pick & Prediction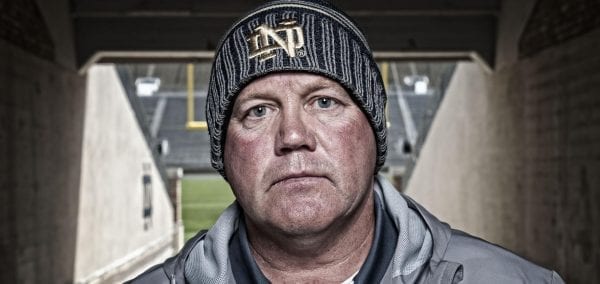 Ball State (1-0 SU, 1-0 ATS) vs. Notre Dame (1-0 SU, 1-0 ATS)
Date/Time: Saturday, September 8th, 3:30 PM
Where: Notre Dame Stadium, South Bend, IN
TV: NBC
By: Mike Mann., NCAA Football Handicapper, Predictem.com
Spread: BALL +33 / ND -33
Total: 62.5
Ball State heads north to South Bend to take on Notre Dame in an interstate showdown between two teams that were able to come away with wins in their opening match ups to start their respective seasons 1-0. This will be the first ever meeting between the teams despite being just 2.5 hours apart in the state of Indiana. Bookmaker currently offers the best line of -34.5 at $1.05 on Notre Dame. 
The Irish enter the game coming off a 24-17 upset win against Michigan. Many expected the Wolverine defense to be the story of the game, but instead it was Notre Dame D that stole the show. They limited the Michigan offense to just ten points (the other seven were from a kickoff return for touchdown) and allowed them to amass just 58 yards on the ground total on their way to the home victory.
Notre Dame's First Game
Notre Dame's offense did nearly all of their damage in the first half, where they scored touchdowns on the first two drives and again later on the in the second quarter as they built a lead that Michigan was never able to overcome. Their depleted offensive line was able to open up holes and provide protection all night for quarterback Brandon Wimbush, who threw for 170 yards with a touchdown and an interception while rushing for an additional 59 to lead the team. Sophomore Jafar Armstrong wasn't able to get much going in terms of yards, rushing for just 35 on 15 carries, but he did score two touchdowns and along with Tony Jones Jr., did a good enough job in helping to replace the departed Josh Adams.
The aforementioned Irish defense never allowed Michigan to build any offensive consistency as they sputtered throughout most of the game until running out of time in the fourth quarter. Notre Dame was able to limit Michigan from throwing down field and instead watched as they attempted to dink and dunk their way to points, a strategy which never ended up paying off on the scoreboard. With nine starters back and a strong front seven led by Jerry Tillery and Te'Von Coney, the Irish will now look forward to facing a one dimensional Ball State offense while coming off a dominant performance against, on paper, a well rounded Wolverine team.
Ball State's First Game
The Cardinals started their season off well with a 42-6 home shellacking of Central Connecticut State. While there is no mistaking their opponent for quality, Ball State was able to post a school record 652 yards of offense and would have had a shutout if not for a meaningless score with 12 seconds left by CCS. While usually focused mainly on their rushing game (last year they finished 73rd in rushing compared to just 104th in passing), the Cardinals had over 300 yards both threw the air and on the ground. Quarterback Riley Neal looked good coming back from a right knee injury that ended his season last year, throwing for two touchdowns while rushing for another. He wasn't alone, as running back James Gilbert scored a touchdown a ran for 100 yards after seeing his season cut short in 2017 thanks to a torn thumb ligament. Ball State's offense had little issue flexing its muscle throughout against their lowly opponent.

The problem for Ball State is that they likely won't have such offensive ease against the Irish defense, and will need to rely heavily on their three-headed attack at running back of James Gilbert, Caleb Huntley and Malik Dunner. Notre Dame has plenty of experience playing against stacked backfields (Navy, Air Force, etc.), and if they are able to get an early lead and keep the Cardinal offense more pass focused, it will likely be a long day in South Bend for the boys from Muncie.
To keep their team in the game, Ball State will hope their defense can continue their momentum after dominating against Central Connecticut State. Despite losing 1st Team All-Mac lineman Anthony Winbush, the Cardinals didn't appear to miss a step, but the going should be a lot tougher when matched up against the Irish compared to the limited FCS challenges a team like CCS could possibly present. They will rely heavily on linebackers Jacob White and Brandon Martin to control the middle of the field, while hoping defensive backs Bryce Crosby and Josh Miller can keep ND quarterback Brandon Wimbush and receivers like Myles Boykin limited in the Irish passing attack. How much they are able to hold back the Notre Dame offensive momentum will be a differentiating factor in a tough road matchup in South Bend.
It's easy to believe that Notre Dame could suffer a letdown against Ball State after their somewhat close victory against Michigan, but they did well last year after big games (crushed Boston College after playing Georgia, covered against NC State after destroying USC) and there is no reason to believe they can't do the same this week against a clearly over-matched Ball State team. 34 points is undoubtedly a lot of points to give, but Notre Dame has also been able to win big of late with five of their previous thirteen victories coming by 29 points or more. The Irish also have two very competent quarterbacks in Brandon Wimbush and Ian Book, so even if one gets rest, the one taking his place could even be an improvement. This initially was not an obvious choice to make, but this week I will be backing Notre Dame to get the very easy win and cover of the giant spread against a one-dimensional Cardinals team.
Mike's Pick to Cover the Point Spread: Notre Dame -33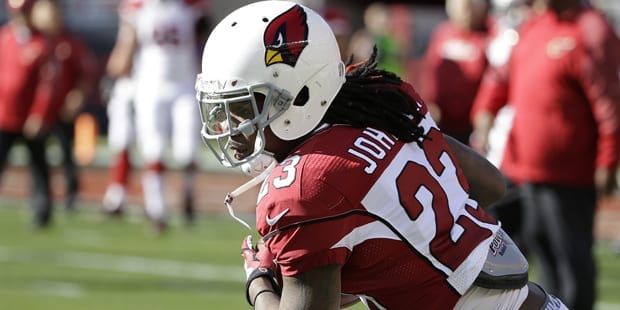 The Redskins travel to the desert to take on the Cardinals to open the 2018 season. Both clubs missed the NFL playoffs last season and are entering transition periods this year. Which team will start their turnaround in week 1?
---
---
---
---
---
<div class="widget105"><!-- [et_pb_line_break_holder] --><h4 class="cash">Best Sportsbook Bonuses</h4><!-- [et_pb_line_break_holder] --><!-- [et_pb_line_break_holder] --> <!-- [et_pb_line_break_holder] --><div class="widgetlist"><!-- [et_pb_line_break_holder] --> <div class="col1"><!-- [et_pb_line_break_holder] --> <img src="https://www.predictem.com/wp-content/uploads/2018/04/bovada.png" width="150" alt="" /><!-- [et_pb_line_break_holder] --> </div><!-- [et_pb_line_break_holder] --> <div class="col2"><!-- [et_pb_line_break_holder] --> <span class="list">50% Cash</span><br><!-- [et_pb_line_break_holder] --> <span class="list">5x Rollover</span><!-- [et_pb_line_break_holder] -->  </div><!-- [et_pb_line_break_holder] -->  <div class="col3"><!-- [et_pb_line_break_holder] --> <button class="btn-widget" href="#">Review</button><!-- [et_pb_line_break_holder] --> </div><!-- [et_pb_line_break_holder] --></div> <!-- [et_pb_line_break_holder] --><!-- [et_pb_line_break_holder] --><div class="widgetlist"><!-- [et_pb_line_break_holder] --> <div class="col1"><!-- [et_pb_line_break_holder] --> <img src="https://www.predictem.com/wp-content/uploads/2018/04/intertops.png" width="150" alt="" /><!-- [et_pb_line_break_holder] --> </div><!-- [et_pb_line_break_holder] --> <div class="col2"><!-- [et_pb_line_break_holder] --> <span class="list">50% Cash</span><br><!-- [et_pb_line_break_holder] --> <span class="list">4x Rollover</span><!-- [et_pb_line_break_holder] -->  </div><!-- [et_pb_line_break_holder] -->  <div class="col3"><!-- [et_pb_line_break_holder] --> <button class="btn-widget" href="#">Review</button><!-- [et_pb_line_break_holder] --> </div><!-- [et_pb_line_break_holder] --></div><!-- [et_pb_line_break_holder] --><!-- [et_pb_line_break_holder] --><div class="widgetlist"><!-- [et_pb_line_break_holder] --> <div class="col1"><!-- [et_pb_line_break_holder] --> <img src="https://www.predictem.com/wp-content/uploads/2018/05/gt-bets.png" width="150" alt="" /><!-- [et_pb_line_break_holder] --> </div><!-- [et_pb_line_break_holder] --> <div class="col2"><!-- [et_pb_line_break_holder] --> <span class="list">150% Cash</span><br><!-- [et_pb_line_break_holder] --> <span class="list">4x Rollover</span><!-- [et_pb_line_break_holder] -->  </div><!-- [et_pb_line_break_holder] -->  <div class="col3"><!-- [et_pb_line_break_holder] --> <button class="btn-widget" href="#">Review</button><!-- [et_pb_line_break_holder] --> </div><!-- [et_pb_line_break_holder] --></div><!-- [et_pb_line_break_holder] --><!-- [et_pb_line_break_holder] --><div class="widget-footer"><a href="#">See all sportsbook bonuses</a></div><!-- [et_pb_line_break_holder] --> <!-- [et_pb_line_break_holder] --></div>