BYU vs. Utah State Odds & Pick 10/1/21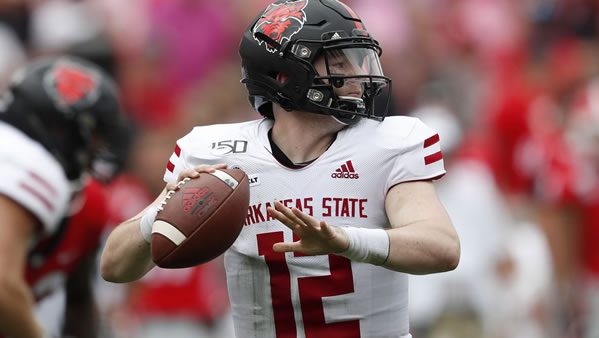 BYU Cougars (4-0 SU, 2-2 ATS) vs. Utah State Aggies (3-1 SU, 3-1 ATS)

College Football Week 5

Date and Time: Friday, October 1, 2021 at 9PM EDT

Where: Maverik Stadium, Logan, Utah

TV: CBS Sports Network
Point Spread: BYU -9/USU +9 (Betanysports.eu)

Over/Under Total: 58.5
The BYU Cougars come to Logan on Friday for a showdown with the Utah State Aggies. This is an annual battle dating back a century, with a few breaks in there due to conference restraints. Even with BYU the more successful program in recent seasons, Utah State has won three of the last six meetings. Last year, a good BYU team beat a sideways Aggies squad, 48-14. But this one might be more competitive judging by Utah State's quick turnaround in form under first-year head coach Blake Anderson. On Saturday, they weren't able to keep it going against Boise State in a 27-3 loss. BYU, meanwhile, beat South Florida on Saturday, 35-27, to go to 4-0. Who can get the cover in Logan on Friday?
From Doormat to Respectability
The different ways that the last few seasons have been hard on the Aggies are too numerous to name. It really bottomed out last season, even in a year that was difficult for everyone. They could barely field a team and keep the squad together. In comes, Blake Anderson and its three straight wins out of the gate, a vital offense, and what really amounts to a 180-degree turn on many ways.
With QB Logan Bonner more the passer and QB Andrew Peasley more a dual-threat guy, they've been having success with both under center. Calvin Tyler, Jr. has been looking good coming out of the backfield, while Deven Thompkins' form at wide receiver has really exploded this season. Whereas last season, the offense languished in this matchup, they could stand a chance with the variety of their attack and their better overall weapons and coaching this season. But it's an offense that still makes mistakes, as we saw last week against Boise. And thus far, in 2021, the BYU defense has been rigid. There is no question that the going will get tougher as they start getting into the more difficult part of their schedule, which we've already begun to see.
Potential Saving Grace for Utah St.
Some possible BYU backers will surely look at what happened to Utah State against Air Force, where their defense was exploitable and saved by a rollicking offense that kept putting up points. But against Washington State on the road, they allowed only 23 points before showing some respectability against a strong Boise offense on Saturday, with their offense not really lending any support. At home and in their wheelhouse against a familiar opponent in a rivalry game, I'd expect the defense to bend but possibly not break under the pressure of the BYU offensive machine.
Utah State putting up 3 points at home against Boise and losing by 24 at home on Saturday isn't perhaps the best sneak preview for Utah State backers heading into this matchup. But that defensive pluckiness might come in handy this week as they look to find answers offensively. And as we saw on Saturday in a game they dominated, BYU let up at the end, letting USF get in there with the cover. It also played out that way in their win against Arizona, where they failed to cover the spread.
More Picks: Get Zman's Iowa at Maryland Predictions >>>
Edges for BYU
While Utah State is nice and dug in at home, BYU doesn't have a long road trip and a program with more overall support that will make it feel like less of a road spot. In addition, BYU's accolades this season have been achieved in a higher context, with three Pac-12 wins leading to their win over South Florida on Saturday. Utah State has seen offensive success this season, appearing to hit a bit of a wall last week against Boise. It's unclear how that equation becomes more favorable for them this week against a BYU team that has been stingy against some dangerous offenses—late-game mini-collapses notwithstanding.
The Cougars' defense will not be easily thrown off-center this week. They're disruptive, make game-changing plays, and have been extremely good in key situations, whether it be fourth down or whenever they need a positive development. They aren't infallible, however. They make stands and deliver when needed, but when playing with a lead for the bulk of a game, they can let up when they have the luxury to do so. But against the Utah State offense we saw on Saturday, they should be in pretty decent shape.
BYU Offense Switching Gears
On Saturday, we saw Baylor Romney under center for the first time this season, and he instantly gave the Cougars' offense some aerial flair. He threw for over 300 yards, with Gunner Rommey and Puka Nacua each going over 100, with RB Tyler Allgeier running for two touchdowns. They did ebb after a 21-point first quarter, but Romney brought a lot out of this offense, and they look for a more complete performance with Romney getting his feet wet and shaking off some rust last week.
Take the Road Favorite
I don't necessarily see this as a case of Utah State having a nice start, and now the reality of the situation will start crushing them, but I think with heightened contexts will come waning results. Their offense is more than alive enough to exert some pressure on a BYU team that wanes late in spots like this where it's not all that close in the second half. The superior firepower and options of the BYU offense will have Utah State holding on for dear life at some point, and I see the Cougars getting to the wire with a win and cover. I'll take Brigham Young.
Loot's Pick to Cover the Point Spread: I'm betting on the BYU Cougars minus 9 points.