Free Picks: Houston Cougars vs. Baylor Bears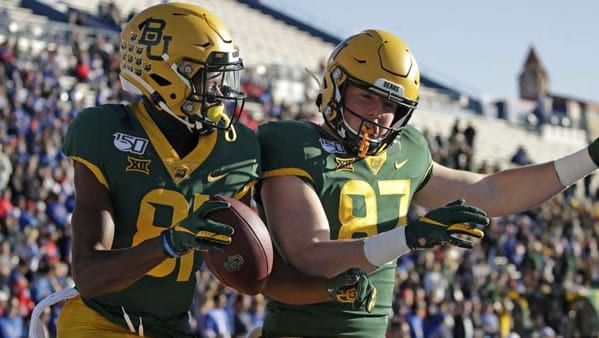 Houston Cougars (0-0 SU, 0-0 ATS) vs. Baylor Bears (0-0 SU, 0-0 ATS)
College Football Week 3
Date and Time: Saturday, September 19, 2020 at 2PM EDT
Where: McLane Stadium, Waco, Texas
TV: Fox
Point Spread: HOU +6.5/BAY -6.5 (Bookmaker - FASTEST PAYOUTS IN THE INDUSTRY!)
Over/Under Total: 60
The Houston Cougars will take on the Baylor Bears at McLane Stadium in Waco on Saturday, as each team looks to kick off their college football season. That's a strange thing to say in week three, but COVID issues have led to both teams' first games being postponed. Houston had to scratch games against Rice and Memphis, while Baylor was supposed to take on Louisiana Tech before an outbreak led to another postponement. Who can shake off the first few weeks and thrive in this unsettled time of uncertainty?
Out of Nowhere
College football games typically have time to ruminate. Teams know well in advance who they will face and where. In this time in college football, where no teams west of Texas are even fielding a team, we have to adjust along with the players and teams. This game was scheduled very late, only just coming together. And there are some matters of convenience that made it so doable, with Houston being less than 200 miles away from Waco, so this crowbarred-in game makes a lot of sense as these teams look to get this year underway already.
Can Houston Step Forward
In Dana Holgorsen's first season at the helm, the Cougars sunk to four wins in a 4-8 campaign that saw the Cougars hit depths they hadn't seen in nearly two decades. They return a ton of starters, and along with some interesting recruits, one could justify some optimism. Losing a good quarterback in D'Eriq King, who transferred to Miami, really hurts, as they had really developed a good player who flew the coup when they most needed him.
Where Baylor Stands
The Bears had a very successful 11-win season in 2019 and made it to the Sugar Bowl, reclaiming their place among the Big 12 elite after falling into a funk for a few years on the heels of some scandals that really derailed a program with significant momentum. As a result of last season's success, coach Matt Rhule was able to snag an NFL head coaching gig in Carolina, as the Bears will now be led by Dave Aranda, who was LSU's defensive coordinator leading to this.
It will be interesting to see what this incarnation of the Bears looks like. Aranda, in his first head coaching gig, comes from a defensive background, and let's just say "D" isn't the first thing that pops into anyone's head when thinking of the Baylor Bears. One should expect the same offensive approach, while perhaps Aranda can use what was an excellent first recruiting season to help bolster the defense so they can hang in there in shootouts with the elite of the Big 12.
The Power of Stability
While Houston looks to replace a long-tenured starter, Baylor will be throwing fourth-year starter Charlie Brewer out there. In this time of uncertainty and limited preparation time, having a quarterback this experienced counts for a lot. Brewer had a big season last year, leading Baylor to the Big 12 title game. He has a big arm, doesn't make many mistakes, and can use his legs well, as his 11 rushing TDs last season would attest. And Brewer isn't the only piece returning. Among the more-heralded returning players include Tyquan Thornton, who is ready to explode as a receiver, as well as playmaking linebacker Terrel Bernard. Bernard gives Aranda a nice piece to work with and build around on "D."
Can Houston's Offense Step Up?
Sure, it can get better. Say what you will about Holgorsen, as he does have his share of naysayers, but more often than not, he's able to field an offense that can hit the scoreboard with some regularity. The state of Houston's aerial offense last season was pretty bad. I would expect that to be better with so much returning talent, such as ball-catchers Marquez Stevenson, Keith Corbin, Tre'Von Bradley, and Jeremy Singleton. Look for new coordinator Shannon Dawson to help bring some of this aerial talent to bear. And for what it's worth, as West Virginia's head coach, Holgorsen was 5-2 in 7 meetings with the Bears. That was a little easier than this will be. His son, Logan, is currently listed as the number-two QB behind Clayton Tune, who needs to show more aptitude with the aerial crew this season, or there could be a change. But I'm not sure a total turnaround will ensue. A wait-and-see approach with this offense would be more called-for.
Intangibles
It's hard to imagine what these kids are going through. Getting your first games called off and then playing in thrown-together games could have a weird mental impact on these youngsters. Having no crowd or limited crowds, whole conferences not playing this season, and all the changes in preseason protocol leading to the regular season—it can sort of resonate in a strange way with players like this. It's hard enough in the NFL, with professionals cashing big checks, but who knows what effect will be felt by college-level players, just starting their season in week three against an opponent they didn't even know they were playing until a few days ago. On some level, football is football, but how sure are we that things will play out according to form amid these bizarre circumstances?
Lay the Points on the Bears
Granted, I wouldn't say I like to bet according to notions, this one being that an 11-win Big 12 team at home should lay to waste a 4-win squad from the American Athletic Conference. New leadership, limited information, and the stop-start-stop nature of the early-season could throw that into a funk. I just feel with their nucleus on offense, new emphasis on defense, and being among the class of the Big 12, the Bears are just a little beyond Houston's depth right now, even if the Cougars are improved. I see Baylor getting some separation and covering the spread on Saturday.
Loot's Pick to Cover the Point Spread: I'm betting on the Baylor Bears minus 6.5 points. Be sure to also check out my Week 2 NFL Football Picks!
STOP LOSING TODAY! START WINNING WITH DOC'S TEAM OF PROFESSIONALS! GET A FREE NO STRINGS ATTACHED $60 FOR THIS WEEKEND'S GAMES!