Michigan State vs. Arizona State Pick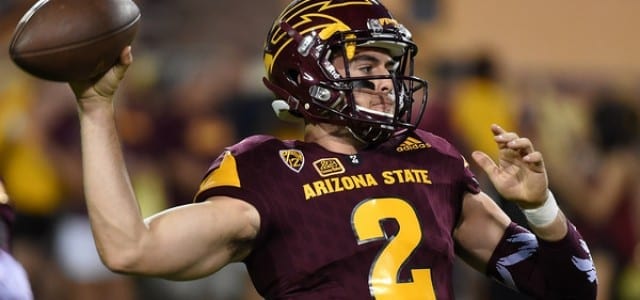 Michigan State Spartans (1-0 SU, 0-1 ATS) vs. Arizona State Sun Devils (1-0 SU, 1-0 ATS)
College Football Week 2
Date/Time: Saturday, September 8th, 2018 –10:45 PM ET
Where: Sun Devil Stadium – Tempe, Arizona
TV: PAC 12 NETWORK
By: Keith Franks, NCAA Football Handicapper, Predictem.com
Point Spread: Michigan State -5 / Arizona State +5
Total: 53.5
The Michigan State Spartans and the Arizona State Sun Devils will lock horns at Sun Devil Stadium in Tempe, Arizona on Saturday, September 8th, 2018 at 10:45 PM ET. The game will be televised on the PAC 12 Network as the featured game in the #PAC12AfterDark. The two teams last met in 1986 where ASU defeated MSU by virtue of field goal.
Free Pick: Clemson vs Texas A&M - 7pm EST
The Herman Edwards Era Begins
The Herman Edwards era began with a bang, as the Sun Devils come into this contest off a thumping of the Road Runners of Texas-San Antonio in Tempe, last weekend. The Sun Devils were seen in many markets spotting lumber hovering around 17.5 points but they covered with ease, smashing UTSA by a score of 42-7. The Sun Devils had far more difficulty dispatching UTSA two years year ago when they were nearly upset as a 21.5-point choice by the Road Runners in the first meeting of their series in 2016. After going 7-6 in 2017, there is heightened optimism in Tempe as Edwards gets back eight starters on offense in 2018.
The Sizzling Sun Devils Attack
The Sun Devils are known as a team that can light up the scoreboard. Last Saturday's performance spoke into ASU's potency as they compiled over 500 yards of offense against Texas San-Antonio. The Sun Devils were well-balanced in both their rushing and passing ambitions (237 passing, 267 rushing). However, what was really impressive was ASU's rushing defense which held the option specialist UTSA to just three yards. Considering that UTSA averaged 184.5 yards on the ground in 2017, this is considered a landmark performance by Arizona State's defense.
Michigan State Survives Utah State
In Week One, the home opener against Utah State did not go according to plan. Despite closing as a three-touchdown plus favorite in hosting the Aggies, Sparty had a very difficult time closing the door on Utah State surviving a 38-31 scare in East Lansing. The #12 Spartans looked uncharacteristically unprepared for their opponent. However, the rushing defense did do its part as it virtually shut the door on Utah State's running game holding it to 25 yards. The fact remains the result was too close for comfort.

Was It Just A Hiccup?
There are many that would say that what transpired last week was a rare hiccup for Coach Mark D'Antonio and company. The fact remains Arizona State is a far more high-profile match-up for the Spartans and perhaps they might have gotten caught up looking forward to the duel in the desert that will be syndicated across the country. However, with Michigan State's penchant for overachievement, one may also think that Sparty could be reaching a bend in the road where the competition catches up to them contrary to MSU coming in off the radar and pulling the upsets.
Football Pick: Arizona State +7
There are several factors here that make Arizona State a true value play in this situation. First off, the conditions of where Arizona State play are extremely different in comparison to the mild and normally chilly Michigan air. Temperatures in Tempe are forecast to reach a maximum of 106 degrees on game day which means it can very well likely be boiling there at night. Arizona State is used to playing in these conditions, Michigan State is not.
Furthermore, there is also the element of jet-lag. The Spartans will be travelling thousands of miles across country and several time zones. The game will be at 8:45 local time for the Sun Devils but it will pushing toward 11:00 pm where the Spartans reside. All of these factors may also create an edge for the Sun Devils in that they may be in better game condition. When you factor these intangibles with the fact that Arizona State will be juiced up off the home crowd that will be amped for a game of this caliber, not only can they cover here but pull an outright upset of Michigan State. While taking the touchdown is the conservative move here, taking the Money Line for this contest is also a viable option if you can get a great market price or even a bonus that will drastically magnify the payout.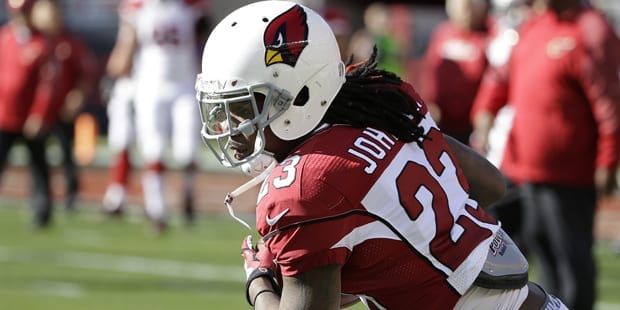 The Redskins travel to the desert to take on the Cardinals to open the 2018 season. Both clubs missed the NFL playoffs last season and are entering transition periods this year. Which team will start their turnaround in week 1?
---
---
---
---
---