Montgomery Bowl Picks: Memphis vs. Florida Atlantic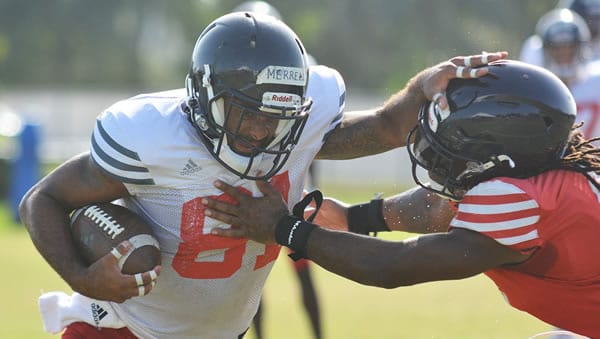 Memphis Tigers (7-3 SU, 3-7 ATS) vs. Florida Atlantic Owls (5-3 SU, 3-5 ATS)
When: Wednesday, December 23, 7 p.m.
Where: Cramton Bowl, Montgomery, Ala.
TV: ESPN
Point Spread: MEM -10.5/FAU +10.5 (Bookmaker - One of the two oldest bookies on the web! Stability and track record matter a ton in today's unstable environment! They accept massive bets and always payout fast; regardless of how much you win!)
Total: O/U 52.5
Outlook
At least it's a trip somewhere for Florida Atlantic? That's about all I can think of as a positive for this game from the Owls' perspective, as they're playing in a bowl that's not in their home stadium for the first time since 2008 when they infamously agreed to give up their entire bowl payout in order to play in the Motor City Bowl. This is a better situation for the Owls, who did manage to win five games in a mess of a season but are really reeling at the moment, coming in off a loss to a bad Southern Mississippi squad.
Memphis has got something to prove here because once Cincinnati ran roughshod over the Tigers, something went out of this team. Memphis went 4-1 down the stretch, but that's rather deceptive given the quality of opposition. Of those four wins, one was against FCS Stephen F. Austin, and the other three were by a combined seven points against also-rans Houston, Navy, and South Florida. Against Tulane, the one team Memphis played in its final five games that actually would have qualified for a bowl if a winning record was required, the Tigers got ripped by a team that clearly wanted the game more than they did. Can Memphis summon enough motivation to take down Florida Atlantic in Alabama's state capital?
How the Public is Betting the Memphis/Florida Atlantic Game
Tickets percentages have yet to be released, but money is coming in on Memphis, as the line has ticked up to-10.5 from the original 10. The total hasn't changed from the opening
DEPOSIT $100 AND GET $100 FREE AT GTBETS!
Injury Concerns
Memphis:
Quarterback Connor Adair is suspended for the season.
Florida Atlantic:
Running back Malcolm Davidson (foot) and running back B.J. Emmons (ankle) are out.
When Memphis Has the Ball
Here's why betting on Memphis has been such a pain this season: The Tigers have an irritating tendency not to go for the throat when they get a team down. Against Houston, that same issue cropped up again, as Memphis managed to blow a 27-6 lead before escaping with a 30-27 win. It didn't have to be this way if Kenneth Gainwell had chosen to play rather than opting out, but that's on the Tigers for failing to find a quality replacement for the All-American halfback.
Brady White has been strong at quarterback, and with two talented wideouts in Calvin Austin III and Tahj Washington, plus a reliable tight end in Sean Dykes, Memphis is never truly out of a game. But without Gainwell, the Tigers don't have a reliable way to burn up the clock, making it a relatively simple task for teams to come back on them. Memphis is a lot like the old 1990s Houston Oilers teams: the only way for them to win is for their offense to keep attacking.
When Florida Atlantic Has the Ball
If you're losing to the likes of Southern Mississippi, something seriously went wrong. If you're losing to the Golden Eagles in a game where you won the turnover battle 3-1, you have to take a long, hard look at your offense. Truth be told, Florida Atlantic's loss to Southern Mississippi was even worse than the 45-31 score suggested because the Golden Eagles gifted the Owls a pair of touchdowns by fumbling inside their own 20 and allowing a scoop and score. Even with that, Florida Atlantic still couldn't stay within two scores.
The one saving grace for FAU is that its quarterbacks do have something to play for in this final game, as both Nick Tronti and Javion Posey are playing for their jobs for next season. The Palm Beach Post reported last week that Penn State sophomore quarterback Michael Johnson has agreed to transfer to FAU and will be eligible to play immediately in 2021, which gives Tronti and Posey one last chance to impress Willie Taggart before he brings in a quarterback of his choosing, as opposed to one recruited by predecessor Lane Kiffin. So far, neither has looked that great. Posey has more rushing yards than passing yards this season, and Tronti hasn't shown any ability to hit the deep pass.
With two talented running backs on the shelf, the job of sparking the offense has fallen to wide receiver T.J. Chase and running back James Charles. Both have been rather pedestrian this season, a large part of why FAU has just 19 offensive touchdowns in eight games.
Betting Trends
Because Memphis plays in the American and has an offense that can't burn the clock, it's easy to think the Tigers would be a great over team. And it's incredibly wrong, as Memphis has only hit the over once in its past seven games. That one wasn't even because the Tigers did anything well; that was because Cincinnati fed Memphis to the wood chipper in a 49-10 rout. The last time the Tigers hit an over in a game where their offense did anything was a 50-49 win against UCF, which plays no defense whatsoever.
On the FAU side of the ledger, it's been a game of how low can you go. Six out of eight games have gone under the total, with the exceptions being when FAU has actually put up a decent day on offense, scoring 73 points in the two games where it went over the total. For the rest of the season, the Owls have just 91 points to their name, an average of just over 15 points per game.
Weather Report
These teams are not going to be happy with the schedule maker. It's supposed to be a great day for football at the start of the day, but by kickoff, things won't look so great. Expect showers, 50-degree weather, and winds blowing 10 miles per hour heading south.
Dan's Pick to Cover the Spread
FAU won't beat itself, but this offense isn't good enough to beat Memphis. Nor are the Tigers likely to put up a shootout against a squad that can actually stop the opposition through the air. A 52 point total on this game is an early Christmas gift, one that I intend to take full advantage of by backing the under.
As for the game itself, Memphis scares me with its recent performances, but there is just no way I'm taking a team that just lost by two touchdowns to Southern Mississippi. Give me the Tigers to cover. Did you know that you could betting on games at -105 instead of -110? We recommend that you sit down and pencil out how many bets you make and for how much, then multiple that by how much you would save over a 30 day or one year period. It adds up to HUNDREDS (if not thousands) of dollars in savings, which also trumps any signup bonus you can receive! Start betting smarter today! Get rolling with Betanysports!